If you're looking to build a new deck – or update an existing one – you can't go wrong with composite decking.
Composite decking is an eco-friendly, low-maintenance, and budget-friendly alternative to timber decking, and it can last for decades to come. Throw in the innovative features that allow modern composite decking to replicate the look and feel of natural timber and it's no wonder more and more Sydney homeowners are making the switch.
That said, not all composite decking options were created equal.
There may be certain composite options that are most appropriate for your budget and your space. To help you manage your money and wake up to a deck you adore, here's everything you need to know about how to choose the best composite decking.
What types of composite decking are available? 
At UrbanArch, we offer a variety of high-quality composite decking options, including:
| Trex Deck | Millboard Deck | AZEK Deck |
| --- | --- | --- |
| Trex Deck is the world's largest manufacturer of timber alternative decking. It's nearly indistinguishable from timber decking, and it's available in a wide variety of colours and styles. | Millboard composite decks are extremely durable, termite-resistent, and eco-friendly, making them a great option for residential and commercial spaces | AZEK decking offers full-spectrum colour options, moisture-resistant options, long-lasting durability and premium performance for any Sydney home. |
All of these composite decking options are made from a combination of wood and plastic. They are also sourced from environmentally-friendly materials to create a final product that is:
Fade-resistant
Heat-resistant
Scratch-resistant
Protected against weathering
Warp and splinter free
UV-resistant
In short, you'll have plenty of advantages whether you're stepping foot on your deck today, tomorrow, or well in the future.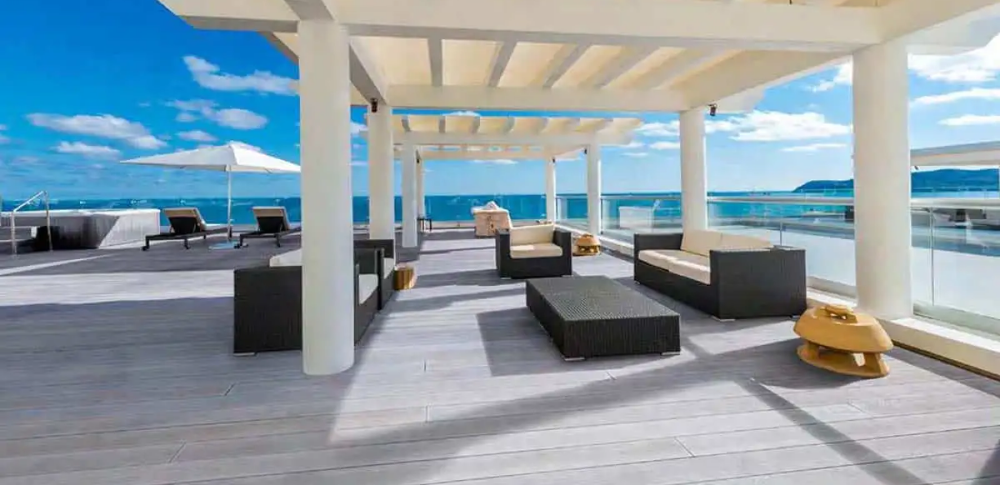 Unsure between timber and composite? Check out our ultimate Timber Decking vs. Composite Decking Guide here
What should I look for when choosing composite decking? 
Composite decking is an important investment, as the deck that you build will stay with your family for decades to come. It's important, then, that you choose a composite decking that you will be happy with in the long-term.
To this end, it's important that you consider the following variables.
Budget: Luckily, composite decking in general is a budget-friendly decking options. And, if you are comfortable with a limited colour palette and a more repetitive grain pattern, you can find a relatively inexpensive option. That said, if you have an ample budget, you can choose a composite decking that's more interesting or high quality.
Location: Is your deck exposed to the hot sun the majority of the time? Then you might want to stay away from dark coloired or dense decking, as it can heat up significantly more than brighter, lighter alternatives.
Style: If you want unique "graining" and a wide range of colours or add-ons, make sure that the composite decking that you choose meets your needs.
Water exposure: Will your deck get wet regularly, like around a pool or a hot tub? This is important to keep in mind, as many smooth composite decking options can get slippery in these conditions.
Site and code requirements: Some areas have specific requirements when it comes to materials, so make sure that your decking of choice is approved before you make your final purchase.
Looking to save money? Check out our Official Composite Decking Price Guide [2022]

What should I look for when hiring a composite deck builder? 
Once you've decided on your decking and your aesthetic, it's time to get building! When you're considering a professional, make sure to ask the following questions:
"Have you built with composite decking before?"
"Can you offer any references or pictures of your previous work?"
"Do you have a specialty or a key area of focus when it comes to decking?"
"What is your lead time for a new deck project?"
"Do you have a business license and proper liability insurance?"
"Can you assist with designing your deck or will I need to provide architectural plans?"
BONUS: Advance questions to ask your potential deck provider
Before moving forward with a composite decking installation, it's also important to ask a potential provider key questions about your composite decking boards. The following questions will help you find the best compsite product and avoid ending up with a lemon.
"How natural will the decking look?" As we mentioned, the overall aesthetic of composite decking varies based on brand and budget, so it's important to align and set expectations about how realistic your composite decking will look.
"What kind of maintenance is involved?" As a rule of thumb, composite decking is much more low-maintenance than timber decking – it's one of the main reasons that many people decide to choose composite decking. That said, it's important to touch base about what cleaning chemicals you can and can't use on your deck so you don't inflict any damage if there are restrictions.
"How long does composite decking last?" Composite decking can last decades, particularly if it is well maintained. It's important, though, that you touch base about specific longevity and warranty details.
Asking these questions ahead of time will help you set expectations with your provider and find a composite decking that will meet your unique needs.

Is it worth hiring a professional composite decking installer? 
In a word: yes.
Though you can install a composite decking on your own, we don't recommend it. That's because there is a lot that goes into choosing and installing a composite deck, and the right professional will offer you:
Extended warranty: this is often voided with a DIY installation
Lower risk: Professional builders know every detail when it comes to building a deck and getting it right. And, if mistakes are made, it's the professional that is on the hook, not you. This can provide peace of mind that's important for such a long-term investment.
Time-savings: A professional will be able to assemble your deck more quickly that you would on your own. They will also make less mess and ensure that your surrounding property goes undamaged.
Compliant building practices: There are often regional or local code requirements. The right professional will make sure that you remain compliant with all local standards.

Still need help choosing the best composite decking products?
If you want a durable, low-maintenance, and long-lasting decking option, it's hard to go past composite decking.
At UrbanArch, we work exclusively with three of the best composite decking companies available on the market, so you're choosing quality no matter what direction you take.
If you have any design or installation questions, or you would like more information about your composite decking or timber decking options, please feel free to call us on 0413 185 735 or reach out directly by filling out the form here.