Combining unique style and sophistication, Timbertech AZEK decking delivers a premium performance product to your Sydney home. Artfully designed to replicate the look of natural wood, enjoy moisture-resistant capping and a range of durable advantages in a deck that will look as stunning as the day it was installed for many years to come.
Engineered with advanced material technology from cap to core, it's never easier to wake up to a robust board resistant to weathering, slips, moisture, and termites. Backed with a market-leading 25-50 year fade and stain warranty and our own Urban Arch Building 8-year installation warranty, you'll have peace of mind underfoot for years and years to come.
At Urban Arch Building, we understand the appeal of true timber and strive to deliver composite decking wood alternatives that meet your high standards. That means choosing from various board sizes and full-spectrum colour options to create a one-of-a-kind outdoor space that instantly feels like home.
When it comes to function,  Timbertech Azek decking Sydney stands out as a modern deck board through its texturised surface and hidden fastener system to retain a traditional timber appearance with consistent minimal gaps between boards. So, while you wake up to a gorgeous timber aesthetic each day, your composite deck won't crack, split, blister, peel, or rot (and that peace of mind is priceless).
Benefits of Timbertech AZEK Decking
What is Timbertech AZEK Decking?
Manufactured as a TimberTech® division, Azek decking offers a composite deck replacement for wood with none of the challenges of a genuine timber board.
A cellular PVC (polyvinyl chloride) material made with weather-resistant technology and capped with a stain and scratch-resistant polymer shell, the board interiors are 100% recyclable for a timber alternative engineered to handle everything thrown at it.
Capped PVC decking is made from polyvinyl chloride (a type of plastic) that doesn't contain any organic material, such as wood flour. Because there's no organic material, PVC is engineered to avoid most of the pitfalls of timber decking — such as susceptibility to moisture — which leads to mould, mildew, rot, and, most noticeably, cupping or warping.
The board is capped with a stain and scratch-resistant polymer shell made from polyvinyl chloride. It is a rigid thermoplastic material and is strongly resistant to weathering, chemical and moisture-based rot and has strong ant-abrasive properties so that it won't scratch or scuff easily. It makes the decking board ideally suited to the environmental conditions we experience in Australia.
Delivering a range of composite solutions, this brand provides completely wood-free finishes with textures and grains that have the rustic aesthetic of hardwood with the undeniable durability of composite materials.
A market leader in innovation and quality, these products are a durable composite choice that's also stain and fade-resistant, meaning you spend less time cleaning and maintaining your new deck and more time enjoying it.
Put simply, this product looks like timber but is a whole lot stronger.

At Urban Arch Building, we have over 12 years of experience working in Sydney homes to deliver custom solutions that turn heads and instantly feel like an extension of your home. If you're ready to seamlessly blend your interior and outdoor space, chat with our experienced team today on 0413 185 735 to discover what an artful AZEK board could do for your home.
How green is Azek decking?
TimberTech takes its environmental responsibilities very seriously. Their capped composite decking boards use up to 80% recycled material, while their capped polymer boards use up to 54% recycled PVC – with most materials falling into the hard-to-recycle category.
In 2021, the company stopped roughly 226,000 tonnes of waste and scrap from ending up in landfills. And, thanks to homeowners choosing composite boards over wood, more than 1 million trees have been spared the axe since 2015.
The company is conscious about doing the right thing for the planet.
Suppose you love the look of hardwood timber but don't love the time spent sanding and staining timber (not to mention dealing with rot, warping boards, and termites). In that case, this composite alternative offers you the advantages of timber without the challenges that come with it.
With a 100% plastic core, this product has been engineered to hold its shape, colour, and strength for years. If you're ready to say goodbye to weathering, warping, splintering, and fading stress, organise a FREE deck consultation to discover more.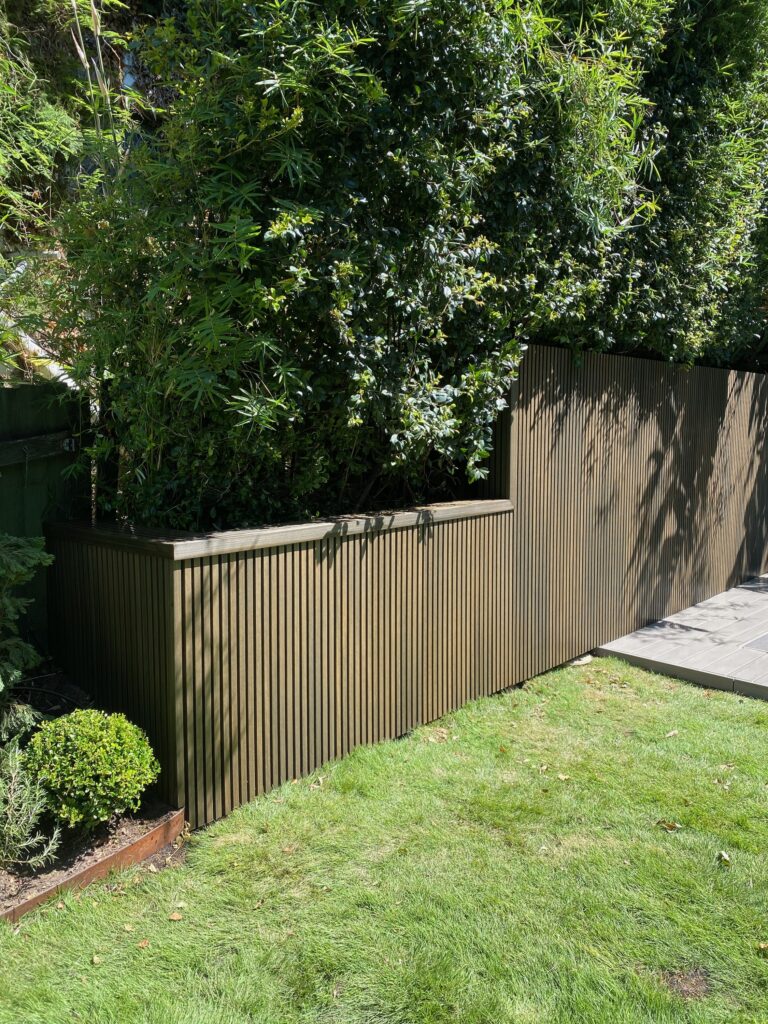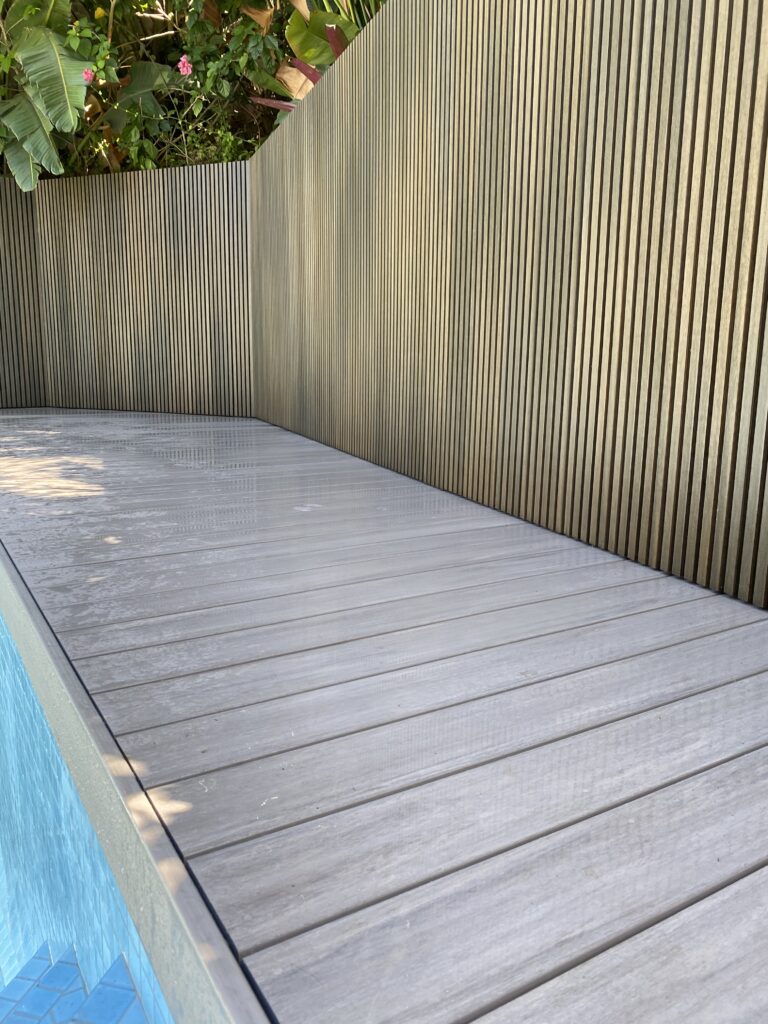 How Much Does Timbertech AZEK Decking Cost?
Your deck is your sanctuary whether you're hosting a BBQ with your mates or enjoying a glass of wine with your partner after a long week. This product is more expensive than timber alternatives but doesn't have the continuing maintenance costs of a timber deck.
An Azek deck starts ar about $15,000 for a smaller deck. The final cost will depend on a number of factors, some of which are listed below.
But the initial cost doesn't tell the whole story. However, the upfront costs can be 30% to 40% higher than a traditional timber hardwood deck like Spotted Gum; once you factor in the savings on maintenance (no sanding, staining, or sealing needed) and a longer lifespan, an Azek composite deck can pay for itself in a matter of years.
Throw in the damage-resistant qualities that prevent mould, mildew, scratches, and stains and you've got a board that's able to handle everything from social events to parties and everyday wear-and-tear without needing ongoing repairs or replacements.
Looking for a quote on an Timbertech AZEK deck? Reach out and speak to a member of the UrbanArch Building team on 0413 185 735 today.
Frequently Asked Questions About Timbertech AZEK Decking in Sydney
Does an AZEK deck get hot in the sun?
While early composite decking products were more sensitive to heat, modern composite products like AZEK and more heat-resistant. AZEK products are cooler to the touch than many alternative deck board products. This means your deck won't get hotter than timber deck products – the darker your decking colour, the hotter they may feel underfoot.
TimberTech AZEK® boards stay up to 30 degrees cooler* than competitive composite products – so kick off your shoes and enjoy your deck knowing that the tender little feet in your home won't suffer.
How do you clean a Timbertech AZEK deck?
No matter how careful you are, it's inevitable that spills and stains will occur. But a protective cap seals each board and simplifies cleaning the protective "cap" with a garden hose and mild household cleaner.
To clean AZEK decking products, simply hose or power wash (on medium setting) any loose dirt or debris. Moisture won't penetrate your composite deck the same way it might with a timber product. For more stubborn stains, use a mild cleaner (isopropyl alcohol, glycerin, and propylene glycol) mixed with warm water.
Avoid solvent-based cleaners (e.g., acetone), which may damage your AZEK finish.
How much maintenance is required?
Not looking to spend time and money on deck upkeep? Then you'll love the AZEK advantage. No yearly staining, sanding, or sealing is required as AZEK retains its beauty thanks to the protective capping and complete lack of timber that protects against everything Mother Nature can throw at it.
Timber decks must be regularly maintained every 12 months (more often if directly exposed to our harsh summer sun). If the maintenance isn't kept up to date, you can look at replacing the deck after ten years or so. This is a costly and time-consuming exercise – think acid washing, sanding, and staining with oil.
A Timbertech Azek deck will last up to  25 years or more and deliver long-term savings that hardwood timber can't match.
If you know that you intend to sell your home and move within that period, you know that you will have saved an awful lot of money on maintenance costs (probably enough to cover the stamp duty on your new home) as well as having an asset that will please the new owner of your home.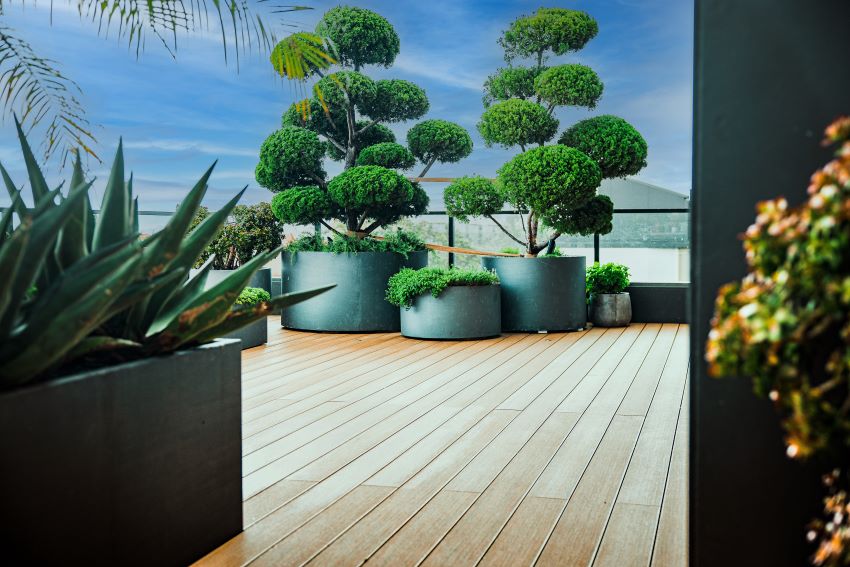 Is AZEK decking a durable decking choice?
Yes.
It's easy to assume all composite products are of equal strength as they're protected by the surface "cap". But it's what's inside that counts! While Trex composite products have a core comprising 95% recycled materials (inc. sawdust, ground-up plastic, and wood), AZEK is made entirely of PVC, which is not a natural material and cannot rot, warp, or become a termite's dinner.
With a TimberTech deck, you won't have to worry about the children or pets scratching your deck or the effects of our harsh summers leeching away the colour. The deck boards come with a rigid outer cap that is anti-abrasive and resistant to scratching, stains, and fading.
When you're looking to upgrade your Sydney home with a long-lasting and reliable deck, AZEK has no competition.
Is Azek decking slippery when it gets wet?
Timbertech Azek decking is designed to have good slip resistance (P5), even when wet. However, like any outdoor surface, it can become slippery when water accumulates on the surface. To maintain optimal safety keeping the deck clean and free of debris that may contribute to slipperiness is essential. 
Here are some tips to minimize slipperiness on any deck surface:
Regular Cleaning: Keep your deck clean by regularly removing leaves, dirt, and other debris. Use a broom, brush, or leaf blower to sweep off the surface. This helps prevent the buildup of organic material that can make the deck slippery.
Regular Maintenance: Periodically clean your deck with mild detergent and water to remove any stains or residue contributing to slipperiness. Follow the manufacturer's guidelines for cleaning and maintenance to ensure the longevity of your AZEK decking.
Adequate Drainage: Ensure proper drainage on your deck to prevent standing water. Water pooling on the surface can increase the risk of slipping. Check that your deck's design and installation allow for adequate water runoff.
If you have specific concerns about slip resistance or safety, it's recommended to consult with the manufacturer, AZEK, or a professional contractor who can provide personalized guidance based on your unique circumstances.
What Azek deck board sizes are available?
Versatile Design Options – TimberTech AZEK was the first to have Multi-Width Decking options. These boards are available in narrow (89mm), standard (140mm), and wide (184mm) widths so you can create a unique space with custom designs and intricate inlays.
Board type

Dimensions

Style

Length

Traditional

89 mm (Wide) x 25 mm (Thick)

Square shouldered

4.88 m and 6.1 m

Standard

140 mm (Wide) x 25 mm (Thick)

Square shouldered

Grooved

4.88 m and 6.1 m

4.88 m and 6.1 m

Wide width

184 mm (Wide) x 25 mm (Thick)

Square shouldered

4.88 m and 6.1 m

MAX Deck Boards

Coastline ONLY

140 mm (Wide) x 38 mm (Thick)

Square shouldered

3,66 m, 4,88 m and 6,10 m

Fascia boards

13 mm x 298 mm

Square shouldered

3.66 m
Benefits Of Choosing
UrbanArch Building


Excellent Local Reputation

Exquisite Timber Products


On-Time, Within-Budget Project Completion

Why Choose UrbanArch Building?

Quality
We understand you are investing your hard-earned funds - so we invest our skill, patience, and energy to deliver your finished vision using quality materials - not second-hand or auction sourced.

On-Time & Within Budget
We arrive on time, and we will stick to the budget agreed upon. You'll receive a schedule of work, explaining the workflow and schedule for your project.

Attention to Detail
We do the job the way it is supposed to be done - no shortcuts and we pay attention to the small details - every single time!

Family Owned
We are a locally and family-owned business. That means, we know exactly what every home and business owner deserves.

Custom Design
We offer a custom design and if you want something a little or a lot different - we can help you out.

We Genuinely Care
We genuinely care and we are committed to our clients with exceptional levels of customer care.

Responsive
We are fast and responsive. If you ring us, we will answer you straight away.

Customer-Focused
You are our client - we will always look after you.
Professional and affordable price. Would be happy to recommend to others.
Very professional and helpful.
"I have just had my deck replaced with Trex. I used your website and contacted 3 of your recommended installers...."
Tony was very professional. The Urbanarch team has completed very top quality work on our deck.
Tony was fantastic through the whole quote process, he communicated well at all times.
Professional and willing to listen to what is wanted.
"Urban Arch was the best company to deal with. Communication from the start was excellent. From the first visit, through to completion of the job. Tony's boys working on the job were great. Happy to give references to anyone considering..."
"Thanks so much tony. Can I just take this opportunity to thank you for the way you and your team approach the work you do. It's the little things that shows the value we are receiving."
"I Just wanted to say a big thank you for the work completed over the past 2 weeks. We are so happy with the final outcome and the service that we have received from Urban Arch Building. From start to finish, the process has been easy and stress free. We are so happy with the final outcome and the quality of work. The guys did a fantastic job and went above and beyond our expectations. I will be recommending you to every one I know. Thank you for your attention to detail and bringing our vison to life. We are so grateful."