Spotted Gum Decking -Beautiful Premium Hardwood decking
Spotted gum decking  is a popular choice among Sydney homeowners. It has an exquisite appearance as well as exceptional durability. It is visually stunning with a natural color variation that is simply eye-catching.
The boards range from light to dark, including blonde, golden brown, and darker brown with some reds. The finish is stunning and will enhance any deck setting.
With a lifespan of more than 40 years, these hardwood timber decks are purpose-built to grow with your family and provide a stunning outdoor space year after year.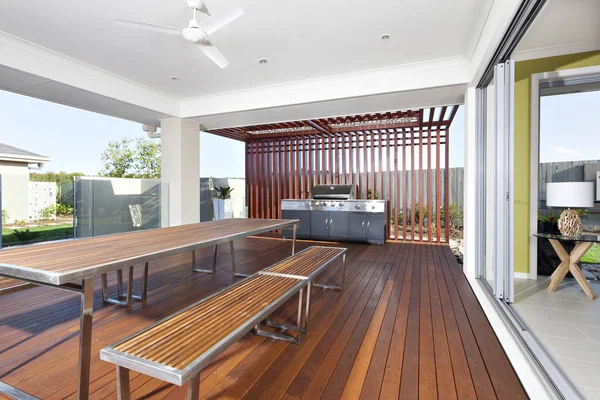 What are the benefits of using Spotted gum decking
Spotted Gum hardwood: A closer look at some of its features and characteristics
  Click on the images below for an enlarged view
Gum veins are common in Spotted Gum decking boards, and can display a wavy grain that produces an attractive fiddle-back figure (pattern). It is one of the most beautiful hardwood deck boards in the Australian market.
Fiddleback is a wood grain pattern characterised by tight curls, curves, and lines closely spaced together. It is named after the wood grain used on the backs of stringed instruments, such as violins and guitars. You can enhance the beauty of the fiddleback grain by using high-quality oil, which accentuates the colour variations within the wood.
Spotted gum is also less prone to tannin bleed through than other hardwoods and is ideally suited as a high-quality decking board.
The timber is sourced from responsibly managed forests and plantations and can be easily recycled or reused at the end of its lifespan. It is a  sustainable and environmentally friendly choice
It is one of our hardest native hardwoods with a Janka rating of 11 (very hard to dent – tough as nails) and has a Class 1 above-ground durability rating. It will easily last up to 40 years when properly installed and maintained, giving you lots of time to enjoy its natural beauty.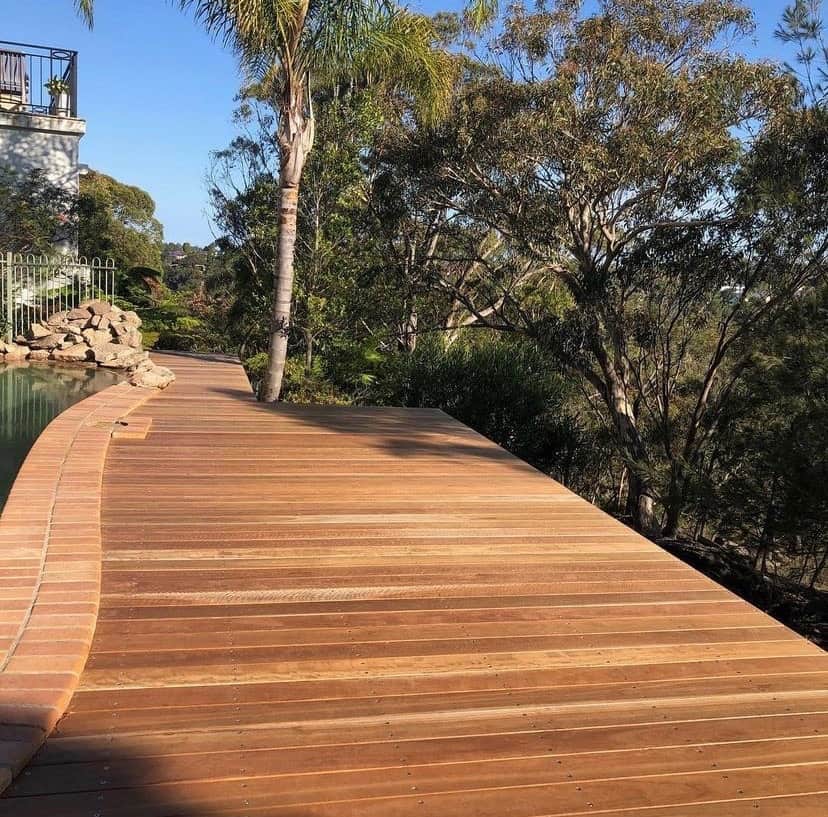 Regardless of the deck material you've got in mind, as licensed and qualified Spotted Gum deck builders, we have you covered at UrbanArch Building.
The advantages of using Spotted Gum timber for your deck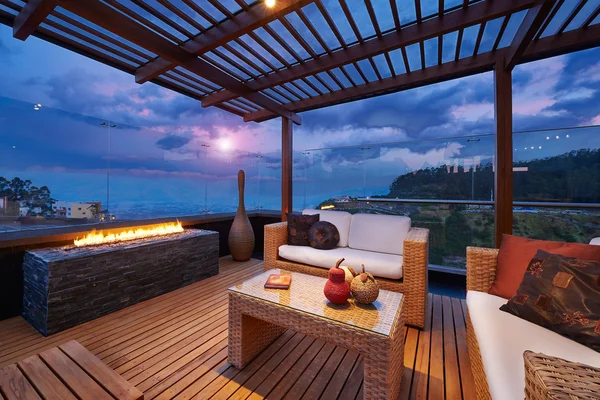 Why use UrbanArch Building for spotted Gum Decking in Sydney ?
At UrbanArch Building, we're a family owned and operated business with over a decade of experience delivering high-quality deck building solutions for our clients. With a passion for bridging the gap between form and function, our eye for detail underpins everything we do. That means meeting your deck  budget and design ideas from project inception to completion.
We understand that outdoor living is a large part of your lifestyle, and we're here to help craft a deck you fall in love with every day.
Frequently Asked Questions About Spotted Gum Decking
Is spotted gum good for decks?
This is is a versatile hardwood with many outdoor applications, including bridges, wharves, railway lines, decking, pergolas, and outdoor furniture. Its unique grain pattern varies from tree to tree, giving it a distinctive appearance that is highly sought after by homeowners and designers.
Today, the timber is as popular as ever with it used in many different architectural areas. You couldn't ask for better decking material for our diverse Australian climate. A strong, hardy, and aesthetically striking timber,  it is one of the premier decking  timbers available. It has also become popular for external cladding, flooring, feature walls, ceiling lings and hardwood decks.
It is particularly useful in areas prone to bushfires because of its natural fire-resistance qualities.
The timber has minimal imperfections and an oily texture. This makes it easy to work with saws and machinery. The finished product can be worked into many shapes and styles.
However, like any natural wood product, this timber can have problems if improperly installed or maintained. Ensuring that the decking is installed with sufficient ventilation is essential to prevent moisture buildup, which can lead to rot and decay.
Regularly oiling or staining the deck boards ensures your deck will look as good as new for a long time to come.
Regular inspections and maintenance should also be carried out to check for any signs of damage or wear and tear and to apply any necessary treatments or repairs.
Spotted Gum timber is an excellent choice for decking in Sydney and Australia, providing strength, durability, and natural beauty. It's a popular choice for outdoor living spaces and outdoor entertaining areas.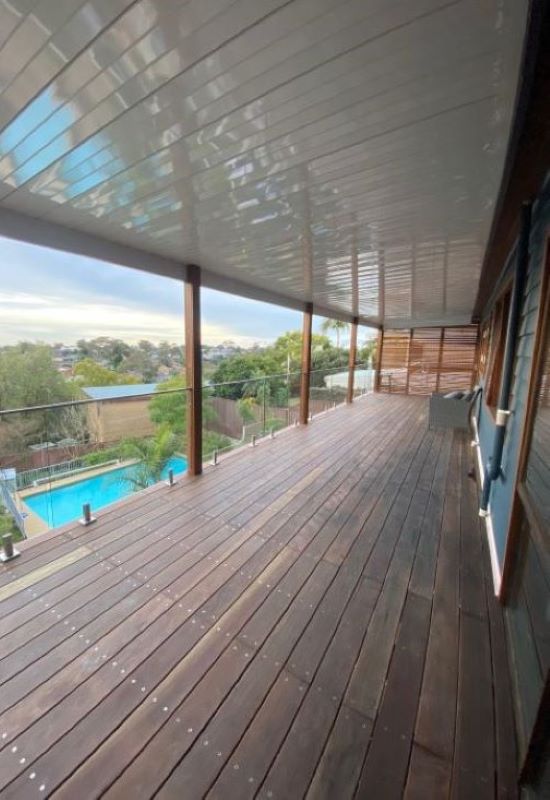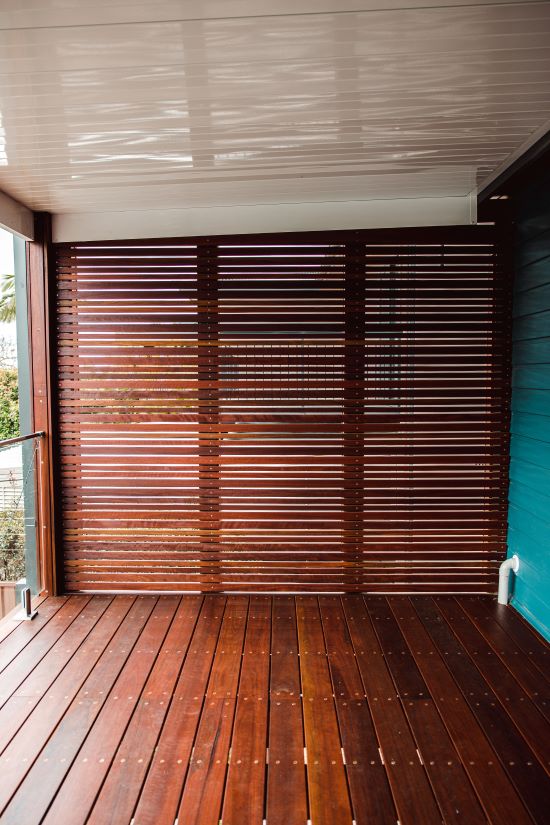 Is spotted Gum Decking Expensive?
The decking boards are priced according to their grade.  The higher the grade, the more expensive is the linear metre rate of the deck board. There are three main grades available: Select, Standard and feature.
Select grade timber stands out for its exceptional clarity and absence of natural characteristics like pin holes, gum veins, and burls. However, it still retains enough subtle features to maintain the authentic and distinct look of real wood. Each piece is chosen with great care to meet the highest industry standards and to ensure a smooth, consistent style.
Standard Grade is an 'A' grade product that contains more natural features than the Select Grade, including gum veins.  The product, however, still maintains a uniform colour and grain. Its long lengths make it a popular choice and industry standard for a wide range of projects. It is ideal for most Australian deck projects.
Feature grade may be perfect for you if If you enjoy unique timber characteristics like gum veins, knots, insect trails, and a wider range of colors. This grade is considered medium in quality and typically includes shorter lengths averaging 2.0/2.4 meters per pack, which is slightly less than the Standard Grade.
spotted Gum decking typically costs more than other hardwood timbers due to its naturally durable characteristics, giving it a longer life span than many other hardwood decking timbers.

All trees have branches, and so sawn timber will have knots. Knots are the remnants of branches that the growing trunk of the tree has captured.
Gum Veins and gum pockets are common characteristics in most eucalypt hardwoods. The gum is a protective response to some tree injury, such as fire, insect attack or mechanical damage.
Borer holes are formed by many types of beetles laying their eggs in the bark or wood of the tree. The escaping adult beetle usually makes the exit holes.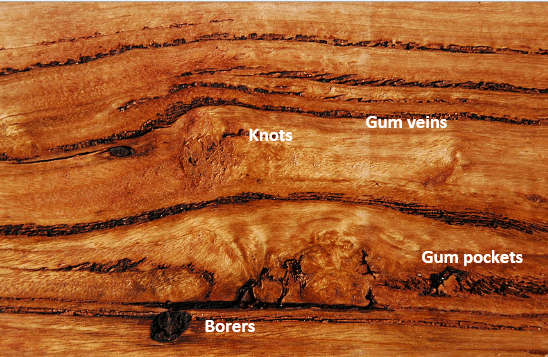 | | | | |
| --- | --- | --- | --- |
| | | | |
| 86 mm (w) x 19 mm (thick) | Random lengths 1.0 m – 5.4 m | | |
| 135 mm (w) x 19 mm (thick) | Random lengths 1.0 m – 5.4 m | | |
 If you prefer to build your deck with longer boards and fewer joins, you can chose to use packs containing 5.4 metre to 6.1 metre long boards only.  This longer pack size is slightly more expensive at around $180/m2. 
Prices for decking boards can vary during the year, you can see current prices here.
With exquisite timber products and competitive pricing across deck boards of all styles and sizes, call and speak to a member of our team today to organise your FREE onsite decking consultation.
What sizes does Spotted Gum decking come in?
Most hardwood deck boards come in random lengths. That means that when you receive your delivery, you can expect the deck boards to vary from 1 metre to 4.8 metres.
The boards are available in a range of widths, typically ranging from 86mm to 136mm. However, the widths available may vary depending on the supplier and manufacturer. Some common widths are:
It's always a good idea to check with your supplier to see their specific sizes. They may also be able to provide you with custom sizes or profiles if needed.
How long does it take to install a spotted gum deck?
The deck installation time can vary due to a range of factors. When budgeting for your deck, these are just some things that need to be considered.
The larger and more complex your deck is, the longer it will take to install. 
There are a range of features that you can add to your deck that have become popular in the Sydney market that will not only make it more functional and attractive but also add to the installation time.
When considering some of these features, make sure they add to the use and pleasure you will get from your  deck, as they can add many thousands of dollars to the final price.
This is a short list of some of the custom features clients have asked us for.
multi-level decks with separate areas for dining & entertaining
planter boxes
storage boxes with hydraulic struts
custom-designed fascia (surrounds)
bleacher steps (extra wide)
inbuilt barbeque with power, hot and cold water, beer/wine fridge, and drainage
deck lighting
enclosed steps
handrails and balustrades
custom-designed deck privacy screens
outside showers on the deck
custom-designed stairs linking a balcony deck to a lower-level deck
and many more features
As installers od Spotted gum decking, we can look at countless design variables as part of the deck design services we offer clients. This ensures that your deck not only satisfies all your functional requirements but also mirrors the way you want it to look and feel – a central part of your family's life that will serve you for many happy decades.Spotted Gum 
Typically, you can expect to have your deck completed within 2 to 4 weeks of commencement. Larger and more complex decks can take a little longer to complete before you sit on your new outdoor furniture with a drink.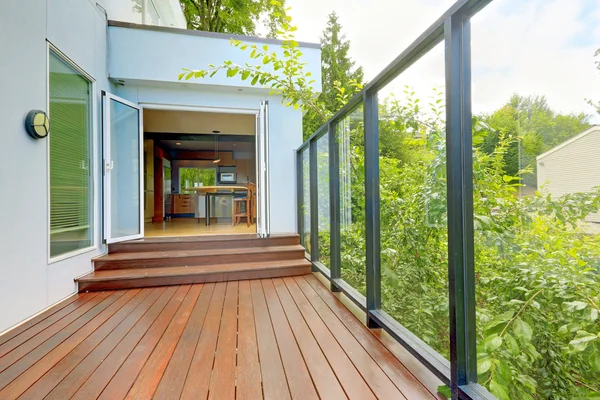 How Strong Is Spotted Gum Decking?
This timber species is Rated Class 1 on the durability scale (the highest possible score) for above-ground use. if installed correctly, your deck will last for 40 years or more with strength and durability that can handle the wear and tear of your family.
The timber is used across various engineering applications such as wharf, bridge construction, and railway sleepers. It is a versatile timber with one of the strongest strength ratings available (F17 – F34). It suits various building applications, such as posts and poles, framing, flooring, lining, decking and cladding.
Able to support the weight of your favourite outdoor furniture, your BBQ, and the guests who will inevitably want to be invited to your house for every holiday, Christmas and Sunday get together, this type of hardwood provides proven strength no matter how you plan to enjoy your deck.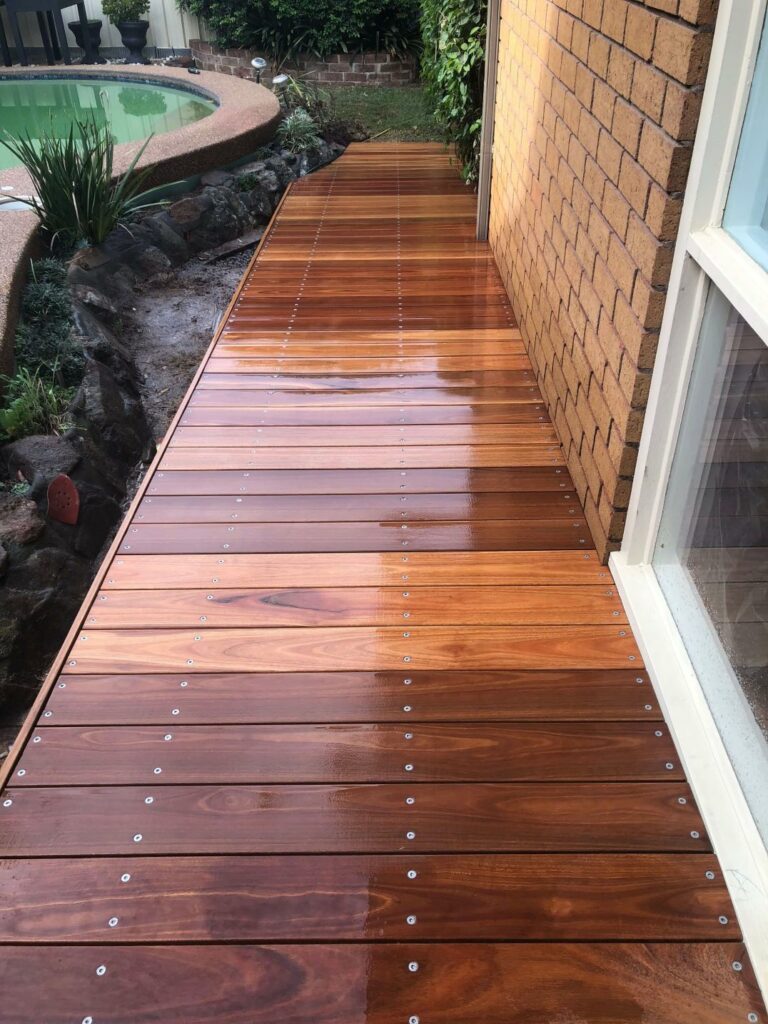 Does Spotted Gum Decking Need Oiling?
Like any other hardwood, this hardwood  deck  timber needs to be acid washed and reoiled every 9 to 12 months to keep it looking fresh and vivid. This doesn't mean you'll be spending every other weekend doing hard yakka, but knowing how to care for any timber is essential to keep your deck's lustre for the long term. 
Applying oil or sealer  will enhance its natural grain and colour while also providing a protective layer that can help to prevent moisture penetration and minimize the risk of cracking, splitting, and warping. Oiling or sealing the timber can help to prevent fading or discolouration caused by exposure to sunlight.
A protective finish, such as a clear sealant or oil-based stain, will help to enhance further the resistance of the deck boards to chemicals and other types of wear and tear.
Our prefrred deck oil is the Cutek range of deck oils and colour tones
Oiling tip:
If you are going to oil your deck, it needs to dry out for a good two to three days after acid-washing it before applying oil to it. If it's oiled too soon, you will probably notice black spores (markings) starting to show after a week or two. If this happens, the deck must be acid washed again before applying fresh oil.
Testing a small area before applying any oil is a good idea. Pour a small cup of water over a section of decking board – if it beads, it's too soon to oil it. If the wood absorbs it quickly, it usually means it's safe to go ahead and oil the deck.this
Oiling timber should be done to highlight the unique colour of the wood (with no two boards looking identical). Instead of using a clear oil (which won't last long under the Australian sun), opt for oil with some pigmentation. (Cutek makes a good quality oil well suited to this decking type.)
  Click on the images below for an enlarged view
This will protect your new deck boards against harsh UV rays and help your deck's gorgeous reds, pinks, and golden browns stand out.
Yearly oiling with high-quality oil is the simple secret to maintaining a beautiful  hardwood deck that looks like the premium timber decking that it is.
Colour tone options available with Cutek decking oil and the Cutek Colour tone range
Our preferred deck oil is the Cutek range of Oils and Colour tones.  Click on the images below for an enlarged view of the different tone options available.
How to oil a Spotted Gum deck?
We often get asked this question. "My deck was installed about a year ago, and it's probably time to re-oil it. How do I do it?"
There are several answers to this question.
If you aren't sure that it's something you want to do – contact us, and we'll organise a quote for you. It's an excellent way to keep the natural beauty and durability of your hardwood deck without the worry about whether or not you got it right (as well as spending money on materials and then deciding to have it re-done professionally).
If you'd like to tackle the job yourself, we have assembled a Hardwood Deck Sealing Guide that will show you how to tackle the project successfully. The comprehensive guide covers what you need to know to complete the job correctly. Contact us, and we'll be happy to send you a copy. It covers areas such as:
Does Spotted Gum Decking need weathering before oiling?
Weathering depends on how you would like your timber to look. For a more worn-in, weathered look, leaving the timber exposed to the elements for a few weeks is recommended. Weathering the deck boards for around six weeks will allow the timber to excrete some excess tannins and natural oils.
 Once the timber appears to have greyed and dried somewhat, you should wash it with a quality timber cleaning product and clean water. We suggest Cutek Quick Clean or Cutek Proclean. Once dry, you can apply your oil of choice. If you choose an oil with no colour pigment, the deck boards will take on a greyer or silver look over time.
If you want to keep the rich, fresh look of the timber, we recommend you oil your deck either before or immediately after installation. Doing so ensures the prevention of excess moisture penetrating the timber, which can cause several issues in the long run, even leading to the timber requiring replacement.
How long will a Spotted Gum deck last?
This is a durable and long-lasting decking option that can last for up to 40 years or more with proper maintenance. Factors that can affect the lifespan of your decking include exposure to the elements, the quality of the timber, and how well it is maintained.
Here are a few tips to help extend the life of your deck
Oiling the bottom and sides of the  deck boards before installation gives the added benefit of more even coverage. It gives the oil product a better chance of penetrating and sealing the grain before exposure to the weather. It will increase the life of your hardwood deck. Cutek wood preservative is one of the best options available.
We recommend that the ends of the deck boards are also oiled, as the end grain is the most vulnerable to moisture absorption & retention, which can lead to the growth of bacteria and eventually rot.
A Final Note:   New wood is milled smooth and often has a mill glaze which can significantly restrict oil absorption into the deck board. Better results can be achieved by creating a rougher surface and preparing the wood using Cutek Proclean or by giving the top surface of the board a light sand with 80 grit sandpaper.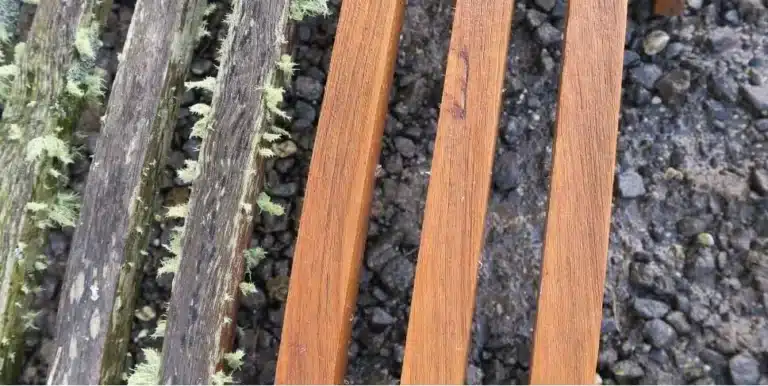 Spotted Gum Decking vs. Composite Decking
Although this decision may seem simple, it's quite complex. But don't worry; we'll unpack the pros and cons of each material to help you find the right option for your needs and budget.
Is Spotted gum decking right for my Home?
With a very few exceptions, the answer is yes.
However, building a deck in an area that is very close to the ground can present a number of problems. If you would like some information about where this timber type may not be appropriate, contact us for our free guide that will cover everything you need to know.
Is Spotted gum decking affected by termites?
Like all timber products, this hardwood is susceptible to termite damage. However, it is highly resistant to termite infestations, making it a popular choice for outdoor living spaces. Termites, in particular, are a common problem for homeowners around Australia and can cause significant damage to wooden structures.
If you notice any signs of termites, contact a pest control professional immediately.
In addition to termites, other common pests like ants and beetles are less likely to be attracted to this hardwood species.  This natural resistance to pests can help reduce the need for chemical treatments, which can harm the environment and human health.
While it is naturally resistant to pests, it's still important to take steps to prevent pest infestations. This can include keeping the decking clean and debris-free, trimming nearby trees and plants, and using appropriate treatments if necessary.
It is is highly resistant to pests, making it a low-maintenance and eco-friendly option for outdoor living spaces. By preventing pest infestations and adequately maintaining the decking, you can enjoy its natural beauty and durability for many years to come.
Hardwoods usually get harder over time, making the timber more resistant to termites. However, the timber can also become more vulnerable, depending on long-term treatment, moisture content, age, and condition.
It is recommended that you maintain your deck regularly and also have it periodically checked for termites.hardwood
Will my spotted gum deck turn grey?
It does take on a greyish colour over time (which many homeowners love). If you'd prefer to maintain your favourite swirling caramels, browns and reds, you can use oils to maintain lustre.
Is spotted gum decking treated?
The deck boards are  usually kiln-dried but not pre-oiled before delivery. The boards are generally oiled on-site before installation. It is essential to treat the bottoms, cut ends and sides of the boards before installation, as these sections of the deck boards can absorb moisture if unprotected and then suffer from warping and cupping over time.
Overall, the longevity of this type of timber decking makes it a wise investment for homeowners who are looking to create a durable, long-lasting outdoor living space. With proper care and maintenance, your deck can provide years of enjoyment and enhance the value of a home while contributing to the environment's sustainability.
If you prefer your deck boards to be pre-oiled before delivery, let us know, and we will organize this for you.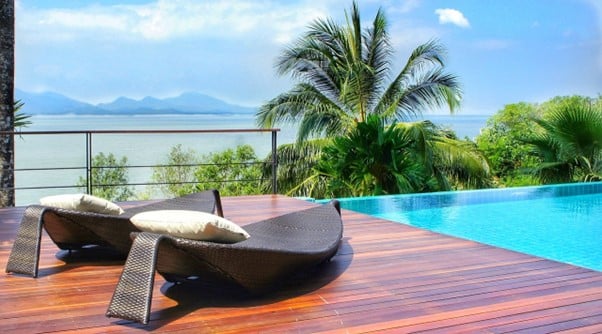 Is spotted gum decking suitable for bushfire prone areas?
This hardwood timber is known for its natural fire resistance, which makes it a popular choice for homes in bushfire-prone areas. The timber has a low flammability rating, which means it is less likely to ignite and spread flames in the event of a fire.
If you're using components that are at least 18mm thick, you won't need to treat them with fire retardant if you're constructing in bush-fire prone areas.
This is partly because it is naturally fire-resistant due to its high density and low resin content. Additionally, the interlocking grain structure of the timber makes it more difficult for flames to penetrate and spread through the wood.
Arguably one of Australia's most bold native hardwoods, it has a naturally high bushfire resistance rating of Bal 29.
However, it is important to note that no building material can be fireproof. While it is less likely to ignite and spread flames in the event of a fire, it can still be damaged or destroyed by intense heat. Homeowners in bushfire-prone areas should still take precautions to protect their homes and outdoor living spaces, such as creating a buffer zone around the property, using fire-resistant landscaping, and having a bushfire plan in place.
What are the disadvantages of spotted gum decking
Cost: it is generally more expensive than some other decking options. While its longevity can offset the initial cost, it is still a significant factor for budget-conscious individuals.
Susceptible to weathering: Like all wood materials, the deck boards are vulnerable to weathering, primarily if not correctly maintained. Exposure to harsh elements such as rain, sun, and temperature fluctuations can lead to fading, splitting, or warping.
High maintenance: Regular maintenance is necessary to keep deck boards in good condition and prolong their life. This maintenance can include periodically sanding, staining, or sealing the deck to protect it from weathering and pest infestations.
Environmental concerns: While this timber is generally considered a sustainable and renewable resource when sourced from responsibly managed forests, some environmentalists raise concerns about the impact of harvesting and transportation on delicate ecosystems.
Prone to splinters: Like many hardwoods, the deck boards can develop fragments over time, especially if not well-maintained. This aspect can concern families with small children or individuals who plan to walk barefoot on the deck regularly.
Labour-intensive installation:Spotted Gum is a dense and heavy wood, making it more labour-intensive than some composite decking materials. This can lead to higher installation costs and potentially longer installation times.
Staining potential: The timber contains natural oils that can "bleed" over time, causing stains on surrounding surfaces, such as walls or concrete patios. This can be a concern, especially if the deck is installed close to structures that could be affected by these stains.
Cupping: If not regularly maintained, the boards can begin to cup as they absorb moisture.
Despite these disadvantages, spotted gum remains a popular choice for decking due to its stunning appearance, durability, and resistance to decay and pests. To make an informed decision, weighing these drawbacks against their many advantages and considering factors like location, budget, and maintenance  is essential.
Why Choose UrbanArch Building?

Quality
We understand you are investing your hard-earned funds - so we invest our skill, patience, and energy to deliver your finished vision using quality materials - not second-hand or auction sourced.

On-Time & Within Budget
We arrive on time, and we will stick to the budget agreed upon. You'll receive a schedule of work, explaining the workflow and schedule for your project.

Attention to Detail
We do the job the way it is supposed to be done - no shortcuts and we pay attention to the small details - every single time!

Family Owned
We are a locally and family-owned business. That means, we know exactly what every home and business owner deserves.

Custom Design
We offer a custom design and if you want something a little or a lot different - we can help you out.

We Genuinely Care
We genuinely care and we are committed to our clients with exceptional levels of customer care.

Responsive
We are fast and responsive. If you ring us, we will answer you straight away.

Customer-Focused
You are our client - we will always look after you.
Benefits Of Choosing
UrbanArch Building


Excellent Local Reputation

Exquisite Timber Products


On-Time, Within-Budget Project Completion

Professional and affordable price. Would be happy to recommend to others.
Very professional and helpful.
"I have just had my deck replaced with Trex. I used your website and contacted 3 of your recommended installers...."
Tony was very professional. The Urbanarch team has completed very top quality work on our deck.
Tony was fantastic through the whole quote process, he communicated well at all times.
Professional and willing to listen to what is wanted.
"Urban Arch was the best company to deal with. Communication from the start was excellent. From the first visit, through to completion of the job. Tony's boys working on the job were great. Happy to give references to anyone considering..."
"Thanks so much tony. Can I just take this opportunity to thank you for the way you and your team approach the work you do. It's the little things that shows the value we are receiving."
"I Just wanted to say a big thank you for the work completed over the past 2 weeks. We are so happy with the final outcome and the service that we have received from Urban Arch Building. From start to finish, the process has been easy and stress free. We are so happy with the final outcome and the quality of work. The guys did a fantastic job and went above and beyond our expectations. I will be recommending you to every one I know. Thank you for your attention to detail and bringing our vison to life. We are so grateful."