Decking Sydney
Premium Quality Composite & Timber Decking Solutions in Sydney with UrbanArch Building
REQUEST A FREE QUOTE
Sydney's Leading Decking Company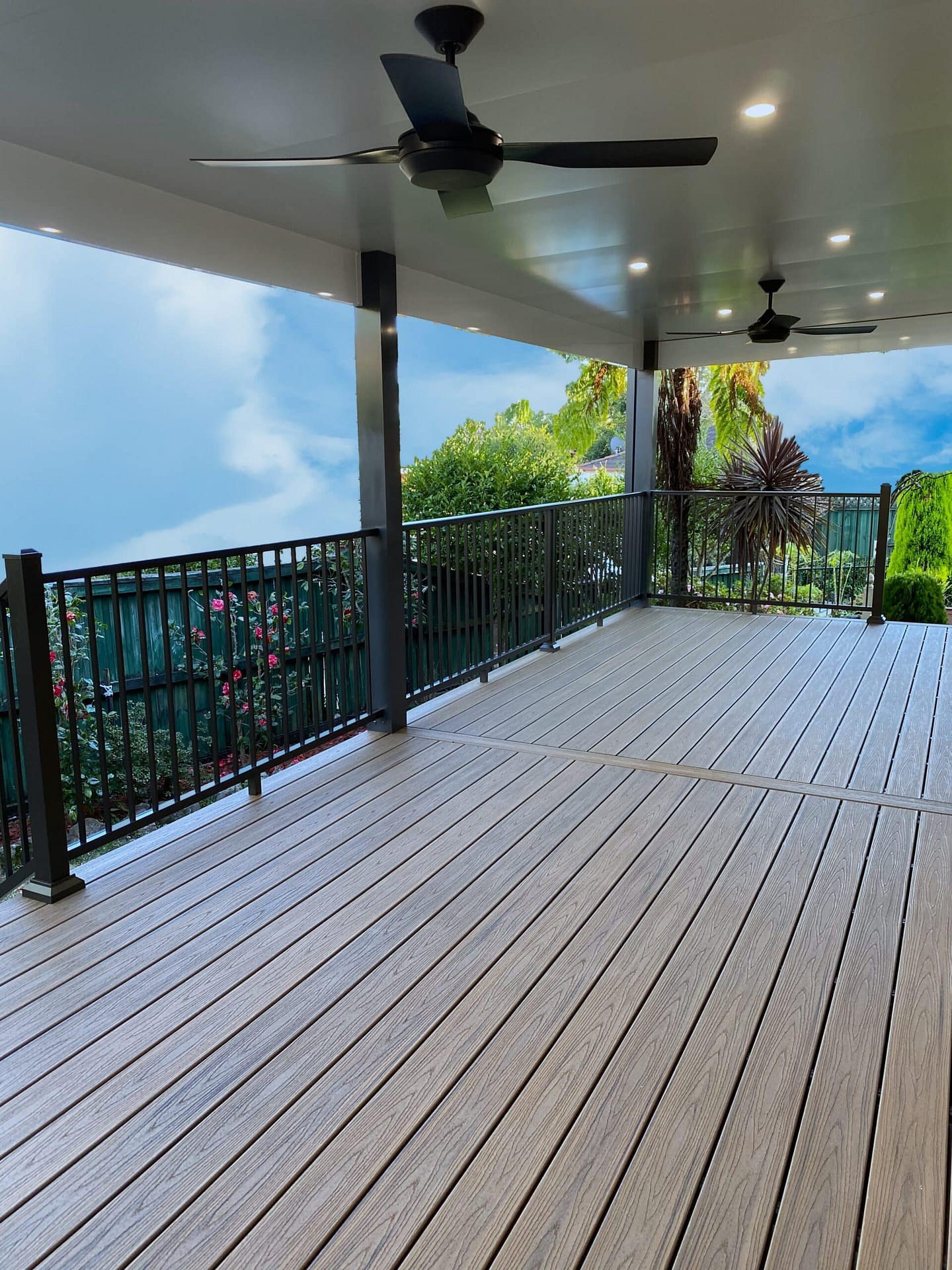 Start 2023 on the right foot and get your deck up to scratch with Sydney's leading decking company – Urban Arch Building. We're expert deck builders, not generalists or handymen, which means you'll work directly with decking professionals who can provide honest, results-backed advice for any decking project in Sydney.
Over the last 12 months, we've worked across a range of residential timber and composite decking projects and larger and more complex commercial decking projects such as the Pymble Bunnings completed at the end of 2022.
Whether you're renovating, building, extending, or have a complex decking challenge that the other companies have turned their nose up at – our team of deck builders is up to the challenge. We use a technology-forward approach that includes 3D rendering of designs so that you can get a realistic view of each project before work commences.
Kickstart your renovation projects and tackle your 2023  decking project early with a complementary decking consultation at your home or commercial property.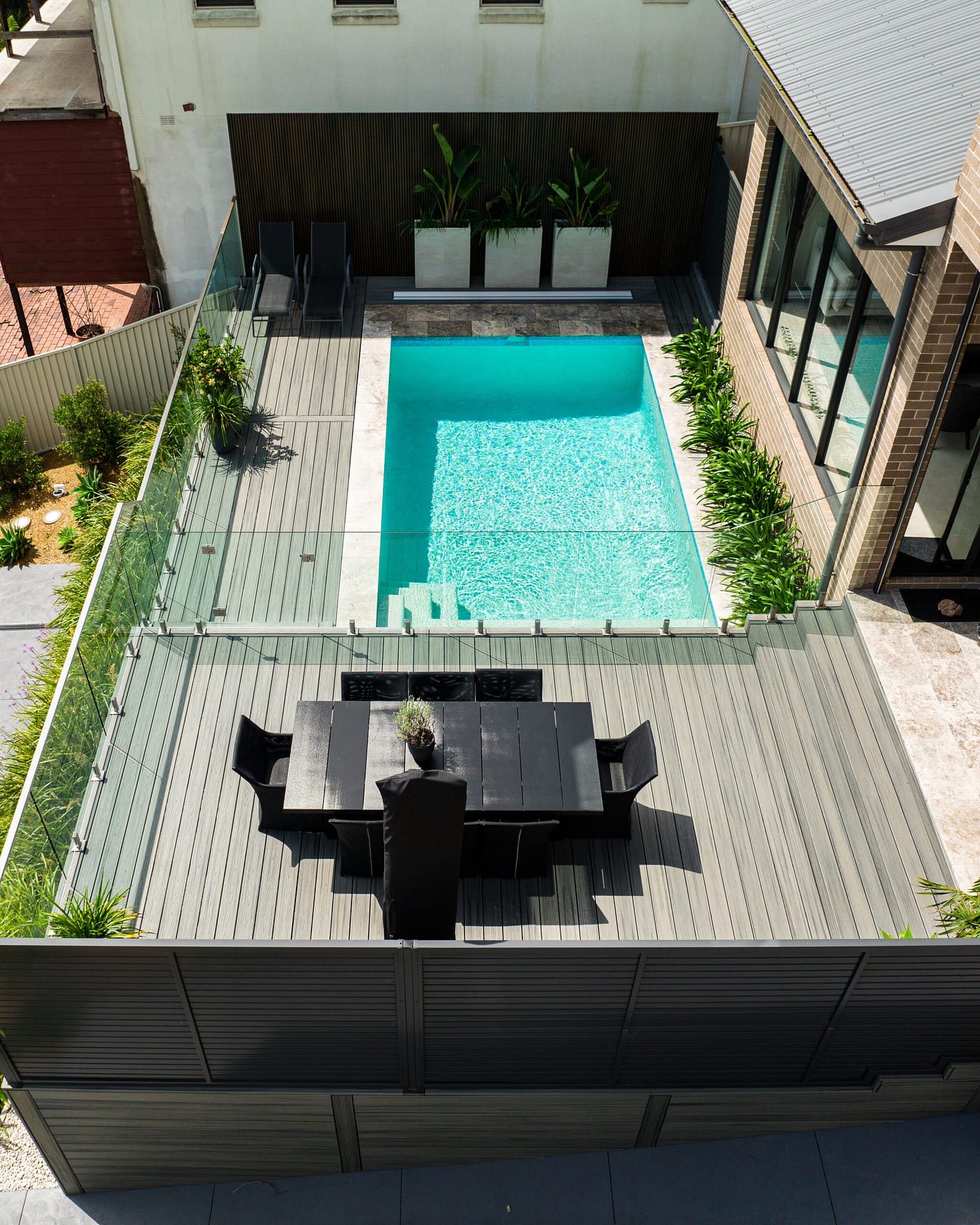 Commercial

&

Residential

Sydney Deck Builders

UrbanArch Building provides decking solutions across Sydney's residential, commercial, and industrial properties. Servicing the entire Sydney, Wollongong, the Southern Highlands, and the surrounding area, UrbanArch Building is passionate about building extremely durable timber decks and composite decking of the highest quality materials, design, and workmanship. Our deck builders have experience in delivering residential hardwood and composite decking for the ideal outdoor living space in the suburbs and providing high-grade timber and composite deck construction for commercial buildings, shops, warehouses, walkways, bridges, and viewing platforms in the local community.

Whether you're looking to build a pool deck, update your existing deck with a new colour scheme, or seek expert advice on deck maintenance, get in touch with the professional service team at deck building team at UrbanArch Building today. Our team are here to make your dream deck a reality with our decking Sydney services.
Why Choose UrbanArch Building?

Quality
We understand you are investing your hard-earned funds - so we invest our skill, patience, and energy to deliver your finished vision using quality materials - not second-hand or auction sourced.

On-Time & Within Budget
We arrive on time, and we will stick to the budget agreed upon. You'll receive a schedule of work, explaining the workflow and schedule for your project.

Attention to Detail
We do the job the way it is supposed to be done - no shortcuts and we pay attention to the small details - every single time!

Family Owned
We are a locally and family-owned business. That means, we know exactly what every home and business owner deserves.

Custom Design
We offer a custom design and if you want something a little or a lot different - we can help you out.

We Genuinely Care
We genuinely care and we are committed to our clients with exceptional levels of customer care.

Responsive
We are fast and responsive. If you ring us, we will answer you straight away.

Customer-Focused
You are our client - we will always look after you.
Create Your Dream Outdoor Space
Beautiful, low-maintenance outdoor decking is our bread and butter. We specialise in providing decking Sydney home solutions that tick all the boxes and, when cared for correctly, will last a lifetime. Timeless outdoor decking designs that continue to elevate your outdoor space for years to come – composite or hardwood decking, privacy screens and balustrades; we work with high-performance, durable materials so your new outdoor space can withstand extreme conditions often faced throughout the Sydney seasons.
Benefits Of Choosing
UrbanArch Building


Excellent Local Reputation
Exquisite Timber Products

On-Time, Within-Budget Project Completion

Frequently Asked Questions
What deck boards can I choose for my Sydney decking project?
If you're looking at building a new deck in Sydney, UrbanArch Building are the experts. We have an extensive range for you to choose from based on the look you're after, practicality, and the climate you live in, from composite decking to Trex decking boards. Here are some of our most popular types of outdoor decking boards in Sydney:
Trex composite decking, available in 140 mm wide boards. Trex decking boards are the most popular decking product in Australia and the world.
Millboard composite decking, available 1n 176 mm and 200 mm wide boards (Enhanced, weathered and charred/emberred).
Azek composite decking is available in 136 mm, 140 mm and 184 mm widths.
Spotted gum hardwood decking (probably the most popular hardwood decking in Sydney), kiln dried and available in 86 mm and 135 mm wide boards.
Blackbutt hardwood decking, kiln dried and available in 64 mm, 86 mm and  135 mm wide boards.
Merbau – kiln dried finger jointed lengths of 5.4 metres and 4.8 metres. It's available in 42 mm, 70 mm, 90 mm and 140 mm widths.
Ironbark (grey and red)
Turpentine
West Australian karri
Jarrah
Teak
How long will it take to build my deck from start to finish?
The timeframe it takes to build a new deck can vary depending on the project's size and complexity, the deck's location, and any preparation work that is required for us to commence work. For simple projects, the turnaround time may be less than a week from start to finish. For more complex decking projects, the process may take a few weeks or even months with some of the commercial-scale work that we carry out.
We recently completed a commercial deck and walkway area that was 127 metres long. It ranged from being almost at ground level to 4 metres off the ground in some places. The installation time for that project was seven weeks.
A 90-square-metre trex deck replacement built over two levels has just been completed in over two weeks.
Before we commence work, we draft plans and provide an accurate timeframe for work (weather permitting) so that you'll have a clear timeframe. Like anything, we can run into unexpected hurdles that can change timeframes, but we'll always ensure that you know how we are progressing throughout the build.
An advantage of choosing us for your deck makeover or installation is that you will have your portal login ID that gives you access to our programme to see progress on your project. You can feel free to ask questions or make comments directly through the portal, and a staff member will immediately be notified and will be able to respond very quickly.
If you seriously consider adding a deck to your property, some of the following considerations may affect how long your project will take.
Does your site have good access or difficult access? The more difficult the site, the longer it will take to bring materials in and take waste away.)
Are you looking to have a complex design or a more straightforward design? The more complex your design, the longer it will take to install.
Do your materials have to be specially ordered? Some overseas materials (and Australian sourced) can take up to 6 months to arrive on site.
What is the size of your deck? Generally speaking, the larger the deck – the longer the installation will take.
Adding features to your design will generally add time to complete your project. For instance, storage, bench seats and barbeque areas will add time.
How long will my new deck last?
Our business philosophy is that we may be with you for a week or two for the initial build, but the work we do on your property will be with you forever. With that in mind, we will build your new deck with only the highest quality materials and workmanship.
Well-made modern composite deck boards can be expected to last at least 25 years if properly maintained. Do a thorough check of the warranties offered by the brand you choose, and if unsure, contact us for practical information that will reward you many times over.
Properly installed and maintained hardwood deck boards will last at least 25 to 30 years. Some processes can't be avoided if you want your hardwood deck to look good and last more than a few years. Beware of shortcuts or deals that look too good to be true. Call us for a copy of our Hardwood Decking Checklist – it's full of tips that can save you many thousands of dollars, not to mention aggravation and heartbreak.
And last but not least is the substructure. Out of sight is not out of mind. This is one of the most critical aspects of the deck construction process. Quality decks need to be done correctly – the first time. Many of our clients are surprised at the steps in ensuring that the substructure lasts and doesn't need thousands of dollars to fix it up. We're happy to provide you with the advice you need to get it right – a phone call can save you a lot of wasted time and money.
I'm not sure of the deck design I want. Can you design one for me?
Yes! We have a full design service to help you to curate the perfect outdoor living space. We can work with you to add all the features of your home and yard so that you can see exactly how your new deck will look when it is completed.
3D renders and a movie walk-through of your new or revitalised outdoor entertaining area will bring your vision to life and help you decide whether the completed project will satisfy your hopes and expectations before committing yourself to the project. We have found that taking the time to involve yourself in this process results in a far superior outcome allowing you to avoid problems that may otherwise happen.
Do I need to obtain a building permit for my deck in NSW?
In NSW, installing balconies, patios, decks, and verandas may not require approval if the proposal meets the relevant development standards in the State Environmental Planning Policy (Exempt and Complying Development Codes) 2008 (the State Policy).
Some of the critical considerations that will ensure that your deck is exempt from a development proposal include the following:
The deck must be located behind the building line of any road frontage
The deck must not have an area of more than 25m²
Not have to enclose walls that are higher than 1.4-metres
Not have a floor height that is more than one metre above the existing ground level
Not be more than three metres at its highest point above the current ground level
If metal is used, it must be low reflective and use pre-coloured materials
Decks located on bushfire-prone land must be less than 5-metres from a property
Decks constructed in a heritage conservation area or a draft heritage conservation area must be located behind the building line of any road frontage.
In some cases, it may be necessary to contact your local council for approval if existing trees or vegetation need to be removed for your decking project.
Our team will be able to assess your property and provide advice on any steps that need to be taken before moving forward with construction work. We will also consider important factors such as water mains, power lines, and storm drains to ensure nothing is disrupted during the building process.
Have you built many decks?
Over the last 12 years, we have built over 500 decks for significant project home builders and private clients. We specialise in building decks to the highest quality and standards. If you're looking for the best decking Sydney-wide, look no further than the experienced, diligent, and friendly team at UrbanArch Building.
How good is composite decking?
Composite decking is fast becoming popular among deck builders in Sydney and their customers. It includes everything from capped decking boards to polyurethane and PVC composite boards. If you choose the right composite board for your situation, you will achieve a fantastic look and get a deck that will give you many years of maintenance-free use. For any outdoor living area, composite decking materials and decking boards are suitable for pool decking and restoration of your existing deck.
What can I add to my deck that will make it more functional?
We can add a wide range of options to your deck for you. Planter boxes are perfect for extra screening and privacy. Plants will also soften the look of large deck areas. Privacy screens will give your deck a more intimate and cosy feeling. Built-in seating and storage will increase the usability of your deck. You can incorporate a built-in barbecue or pizza oven if you like entertaining. Deck lights will add that something extra to your deck that will make it sparkle. Contact us for more ideas.
Composite vs. timber decking – Which should I choose?
Choosing between natural timber and composite decking is one of the most complex decisions you'll have to make for your new deck. So, which is suitable for you, and what are the pros and cons of each option? Here is a quick run-down of the difference between composite and timber decking and how you can choose between the two.
Pros of composite decking
Highly durable
Resistant to rot
Low maintenance decking
It doesn't require staining or sealing
Cons of composite decking
Price – more expensive than timber
Finish – some prefer the look of natural timber
Pros of timber decking
Natural look and feel
It can be stained or painted to match your home
Affordable decking material
Cons of timber decking
Requires more maintenance
It does not last as long as composite decking
Can rot when not adequately maintained or sealed
Still not sure if composite decking or timber decking is right for you? Don't stress; our team can run you through a total cost breakdown and let you know which deck would be most suitable for your desired outcome.
Can you install decking over an existing surface?
Decking can be installed on an existing surface, provided that the surface is level and in good condition. Any moisture, rot, or damage to an existing surface must be fixed before proceeding with any construction.
It is important to remember that decking is not designed to provide a 'veneer' layer to an old deck. Instead, it must be constructed on a suitable surface that can safely support the weight of new materials. The existing surface must be stable and be able to handle the weight of the new decking.
How can I maintain my new deck?
Like anything, decking maintenance is your key to longevity and ensuring that your deck stays in tip-top condition over time. A Sydney home deck is prone to extreme weather conditions, so it is important to practise proper decking maintenance to maintain your investment.
As a major Sydney deck builder with years of experience, we can't emphasise enough the importance of regular deck maintenance to keep your deck's pristine quality and ensure decades of trouble-free enjoyment.
If you are concerned about deck maintenance, you can take advantage of several services we offer our clients.
Some of the steps that you can take to prolong the life of your deck include:
Sweep and blow leaves and debris off your deck as they build-up
Clean your deck with a mild water and detergent mix, or use a specialised deck cleaning solution.
Have your deck inspected for any rot or signs of wear so they can be fixed before they become a bigger problem.
For timber decks, apply high-quality oil to protect the deck boards from moisture and UV rays.
The materials you choose (composite vs. timber) will ultimately determine how often you need to maintain your deck. In comparison to timber decking, composite decking usually is considered low-maintenance decking material. Whatever decking material you choose, composite or timber decking, following a maintenance plan is a surefire way to keep it looking its best.
If you are concerned about deck maintenance, you can take advantage of several services we offer our clients.
          1) An annual inspection of your deck. One of our specialist staff members will inspect your deck and provide you with a detailed report and any steps that may need to be taken to ensure the longevity of your deck.
         2) A maintenance programme that is specifically tailored to your requirements. This includes an annual inspection and any repairs, cleaning, sanding and re-oiling that may be needed. This service is best for hardwood decks.
Please get in touch with us for more details on our deck maintenance services for composite decking and timber decking boards.
What areas do you service in Sydney?
Our Sydney-based team services the entire Sydney Metropolitan area (and beyond). Some of the most common suburbs that we service include (but are not limited to) the following:
Inner West
Annandale, Balmain, Birchgrove, Dulwich Hill, Haberfield, Leichhardt, Lilyfield, Petersham, Rozelle, Stanmore, Strathfield, Summer Hill
Eastern Suburbs
Bellevue Hill, Bondi, Bronte, Dover Heights, Double Bay, Edgecliff, Elizabeth Bay, Point Piper, Potts Point, Queenscliff, Randwick, Rose Bay, Vaucluse, Watsons Bay, Woollahra 
Lower North Shore
Cammeray, Castlecrag, Chatswood, Cremorne, Cremorne Point, Gladesville, Greenwich, Hunters Hill, Kirribilli, Lavender Bay, Longueville, Mosman, Neutral Bay, North Sydney, Naremburn, St Leonards, Waverton, Wollstonecraft
Upper North Shore
Gordon, Killara, Lindfield, Pymble, Roseville, St Ives, Turramurra, Wahroonga, Warrawee, West Pymble
Northern Beaches
Avalon Beach, Balgowlah Heights, Bayview, Bilgola Plateau, Clontarf, Curl Curl, Newport, Palm Beach, Seaforth, Whale Beach
Inner City
Chippendale, Darlinghurst, Glebe, Paddington, Pyrmont, Redfern, Surry Hills, Ultimo, Waterloo, Woolloomooloo
Can't find your suburb or LGA? Don't stress; we're mobile and can come to most areas of Sydney to inspect, quote, and build the deck of your dreams.
Do you have insurance?
Yes. We have public liability insurance for 20 million dollars, workers' compensation insurance, and business insurance and are licensed with the New South Wales Office of Fair Trading.
Do I need to provide toilet facilities?
No. We can provide our staff with toilet and wash basin facilities if you wish. Ask us for further details.
What is my next step?
Need more expert advice on composite decking, Trex decking, or general information on building your dream deck? Call us on 0413 185 735  or email us, and we will organise a time that suits you to do an onsite inspection and draw up some professional plans for you to consider.
Professional and affordable price. Would be happy to recommend to others.
Very professional and helpful.
"I have just had my deck replaced with Trex. I used your website and contacted 3 of your recommended installers...."
Tony was very professional. The Urbanarch team has completed very top quality work on our deck.
Tony was fantastic through the whole quote process, he communicated well at all times.
Professional and willing to listen to what is wanted.
"Urban Arch was the best company to deal with. Communication from the start was excellent. From the first visit, through to completion of the job. Tony's boys working on the job were great. Happy to give references to anyone considering..."
"Thanks so much tony. Can I just take this opportunity to thank you for the way you and your team approach the work you do. It's the little things that shows the value we are receiving."
"I Just wanted to say a big thank you for the work completed over the past 2 weeks. We are so happy with the final outcome and the service that we have received from Urban Arch Building. From start to finish, the process has been easy and stress free. We are so happy with the final outcome and the quality of work. The guys did a fantastic job and went above and beyond our expectations. I will be recommending you to every one I know. Thank you for your attention to detail and bringing our vison to life. We are so grateful."