Deck Builders Sydney
Premium Quality Composite & Timber Decking Solutions in Sydney with UrbanArch Building
REQUEST A FREE QUOTE
Welcome to our premier Sydney decking services. Our professional deck builders and decking  and pergola specialists are dedicated to transforming your outdoor spaces into a stunning haven.
Whether you are looking for a composite decking or timber decking builder in Sydney, we pride ourselves on crafting exquisite high durable quality decks and pergolas that blend seamlessly with your lifestyle and preferences. Whether you envision a cozy backyard retreat or a spacious entertainment area, our skilled deck building staff are here to bring your dreams to life.
With years of experience in the industry, we have established ourselves as the go-to deck building specialists in Sydney. From innovative  deck design to impeccable craftsmanship, we deliver exceptional results that exceed expectations. When enhancing your outdoor living, trust the leading deck builders and decking specialists in Sydney. Contact us today to discuss your project and decking materials options, and experience the art of deck transformation firsthand.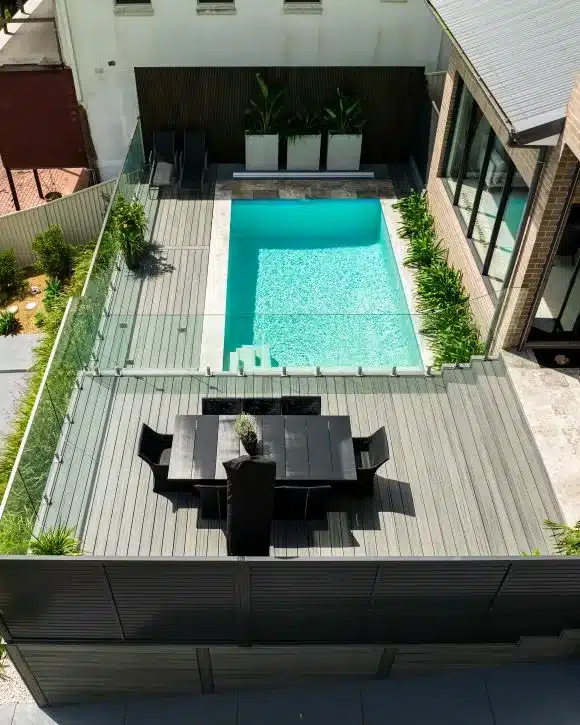 Our Decking Sydney Services
Composite deck builders Sydney
Composite decking is a popular timber alternative in Sydney that offers the beauty of Australian hardwood with low maintenance requirements. 
Unlike natural timber, the result is a low-maintenance, beautiful natural timber looking  new deck that stands the test of time – perfect for Sydney decking.
Modern colours and textures from companies like Trex decking, Millboard decking and Azek Timbertech decking  will add a unique new dimension to your home and transform your entertaining and outdoor living space. Just look at some of the many benefits of composite decking:
no fading or staining
child and dog friendly
maintenance free
no splitting or rotting
the latest decking materials tech
Timber deck builders Sydney
We're proud to offer various options and styles of Timber decking, all custom-built to suit your needs and complement your lifestyle.
Affordable, elegant, and guaranteed to turn heads – that's the timber decking benefit.
Choose from the mellow hues of traditional spotted gum Australian hardwood timber decking boards  to the more vibrant colour notes found in a Jarrah timber deck. 
If you want a more maintenance-free timber decking option, ask us about teak or Kebony options. Both provide the warmth found in natural timber decking boards but without the need for ongoing regular maintenance. Both are ideal for Sydney decking.
beautiful aesthetics
durable and long-lasting
sustainable and eco-friendly
versatile design options
deck maintenance services available
Balustrades and handrails
Frameless glass is a perfect, flawless, contemporary look for your new balustrade project. It will give your deck, balcony,  or stairs a smooth and sophisticated look and feel. Not only does it look fabulous, but your views will also be enhanced with a clean and unobstructed view.
For a more traditional look without the maintenance, the Ultralox aluminium powder-coated handrail system is not only benefits from being maintenance-free but looks stunning with the simplicity of its clean lines that harken back to the times when fine detail was a feature of the building industry.
Or choose the classic beauty of wooden balustrades and handrails. They have a warm and inviting look and are very practical. They are designed to be durable and have a timeless style.
large material range
contemporary and modern designs
Custom designs available
Meets Australian safety srtandards
Adding a privacy screen can make a world of difference to the enjoyment of your outdoor entertaining space. From screening off a utility area so it doesn't spoil the look of your finished deck to providing privacy to both yourself and your Sydney neighbours can bring another level of use to your balcony.
Materials can vary from maintenance-free composite castellation cladding to timber look-alike, aluminium, and hardwood spotted gum timber battens that bring warmth and colour to any setting.
Select from a range of modern or traditional material

Provides privacy and light balance

Helps optimize use of your space
Custom designs available
Pergolas, also called patio covers, add a touch of sophistication to outdoor living areas. They offer a shaded spot on your deck or paved or tiled area. Awnings are handy for sheltering pathways or connecting two buildings. Our Sydney pergola builders team excels in creating stylish pergolas customized for your backyard. Reach out to us for examples of the pergolas we've made for Sydney residents. We'll collaborate with you to design one that suits your specific preferences and needs.
We have  a wide range of options for you to choose from:
Steel or traditional timber options

Inulated panel ceiling

The Lysaght range of metal roofing (Colourbond)
Ampelite translucent  sheeting
Twin wall and multiglaze roof sheets
Danpalon roofing
Downlights, fans and external screens
Pergolas, patio awnings, sunrooms and carports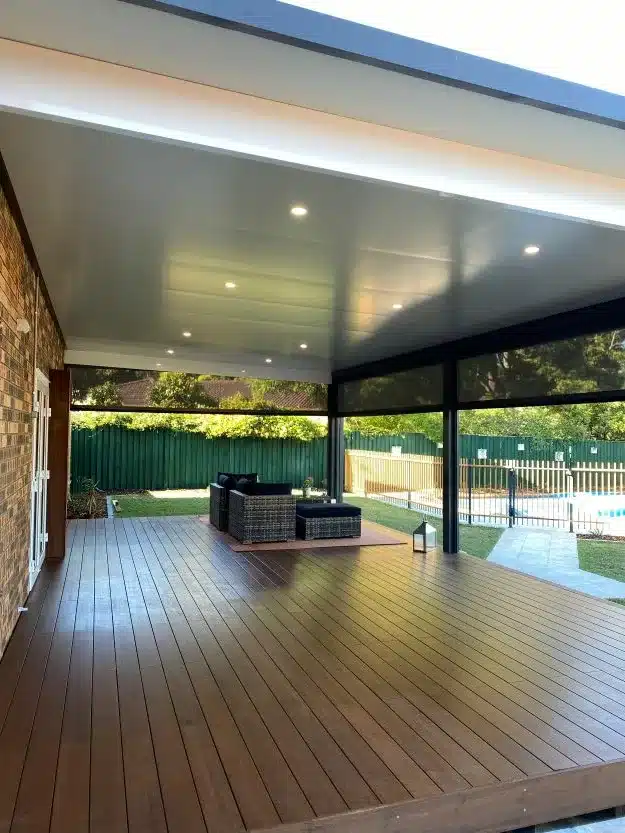 Create Your Dream Outdoor Space
Our expertise lies in crafting beautiful, low-maintenance outdoor spaces, making it our specialty in the world of decking Sydney. We are dedicated to providing top-notch decking solutions that cater to the needs of both residential and commercial clients. When maintained correctly, our high quality decks are designed to endure a lifetime. Our timeless outdoor decking designs consistently enhance your outdoor spaces, ensuring they remain a valuable addition for years to come. Whether you prefer composite decking or timber decking, along with privacy screens and balustrades, we excel in working with high-performance, durable different materials. This ensures that your new outdoor haven can confidently withstand the extreme conditions often faced throughout the various seasons in Sydney. Contact us for your deck building project or deck maintenance needs.
Options for Composite and Timber Decking Sydney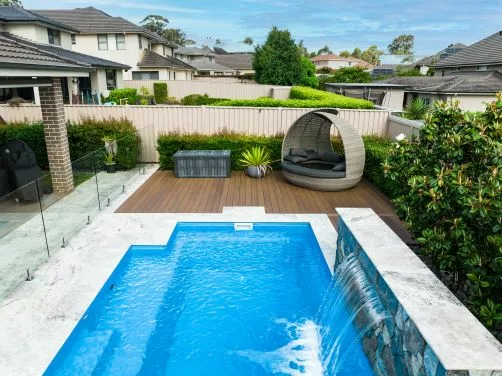 Dive into luxury and style with our custom-designed pool deck, crafted by Sydney's premier deck builders. Our pool decks highlight the aesthetics of your outdoor space and provide a safe and practical environment for relaxation and entertainment. As experts in Sydney's unique climate, we construct pool decks that withstand the test of time and weather, ensuring both beauty and durability.
Whether you're dreaming of a tropical paradise or a sleek, modern oasis, our team will bring your dream deck to life. Trust us to enhance your property's value and create an outdoor haven that reflects your lifestyle. Dive into a world of unmatched quality and elegance with our pool decks – the perfect fusion of form and function. Whether it's composite decking or timber decking that is your preferred option, choose Sydney's trusted deck builder to make a splash with your poolside retreat.
Transform your balcony into an amazing outdoor living space in Sydney  with the help of our experienced team of deck builders.
We'll  help you create a balcony deck that's just right for you. We take pride in our work and make sure every deck we build is both stylish and practical. Whether you want a quiet place to relax or a fun place to entertain guests, we can make it happen. Our high quality decks are designed to last in Sydney's weather.
Turn your balcony into a beautiful space that adds value to your home and your life. Choose our experienced team of deck builders to create your dream balcony deck and enjoy the beauty of the great outdoors like never before!  Choose from composite decking or timber decking to bring your vision to life.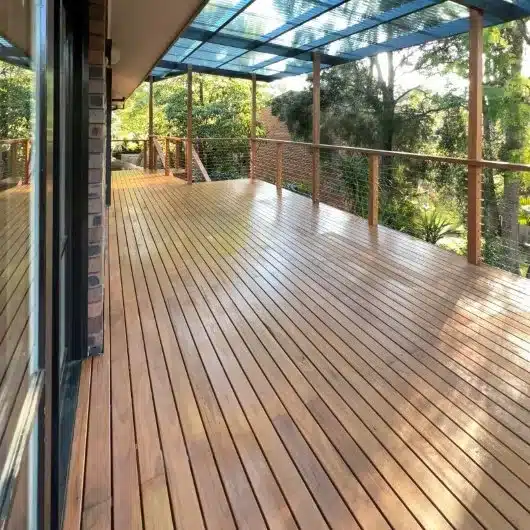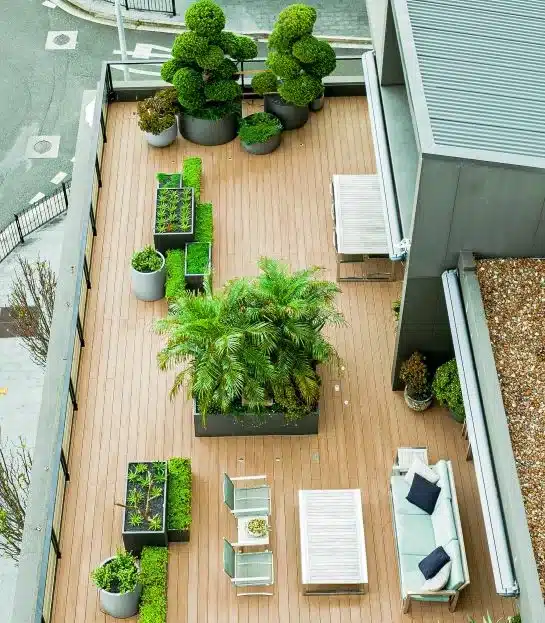 Looking for an exciting way to make your apartment more enjoyable? Apartment decks are urban sanctuaries that offer a unique opportunity to enjoy the outdoors without leaving the comfort of your home.
They offer a unique canvas for creating your private outdoor retreat. We'll help you to unlock the full potential of your apartment deck, no matter its size or location. Discover design ideas, tips for maximizing your space, and innovative solutions for turning your deck into a a cozy retreat for morning coffee  or a  vibrant extension of your living space and entertaining area. Composite decking is often the best choice for an apartment deck.
We understand that apartment living doesn't mean compromising on outdoor enjoyment, and our deck builders are here to to help you make the most of your city oasis. Consider getting your deck built by Sydney's best deck builders!
Unlock new dimensions of outdoor living with our multi-level decks, expertly crafted by Sydney's top deck builder.
Our multi-level deck designs combine elegance and functionality to maximise your outdoor space. Whether you want to create separate zones for lounging, dining, or a space to entertain guests, our skilled team can turn your vision into reality. Sydney's diverse climate requires decks that are not only beautiful but also durable, and we ensure that every deck we build meets these standards. Choose either a timber deck or composite decking to add to your lifestyle enjoyment.
Improve your property's value and your outdoor lifestyle with our multi-level decks. Experience the perfect blend of form and function by choosing Sydney's trusted deck builder for your multi-level deck project.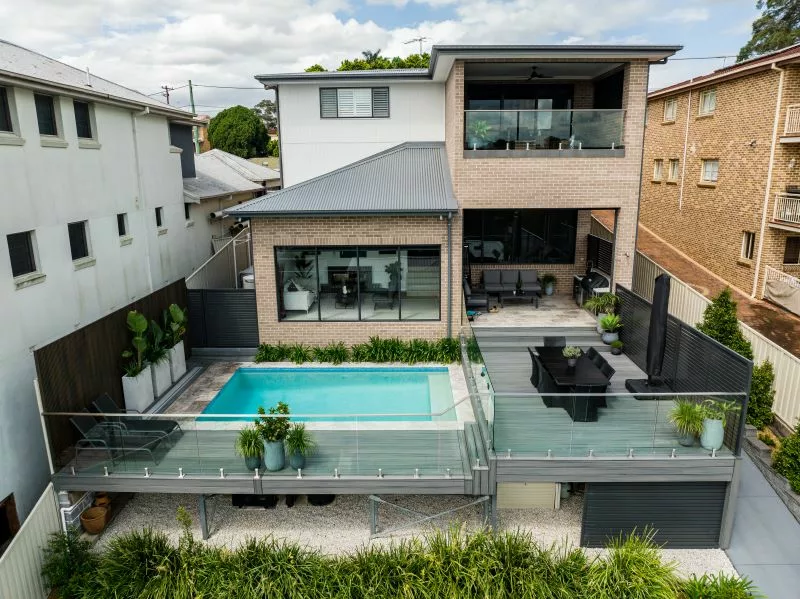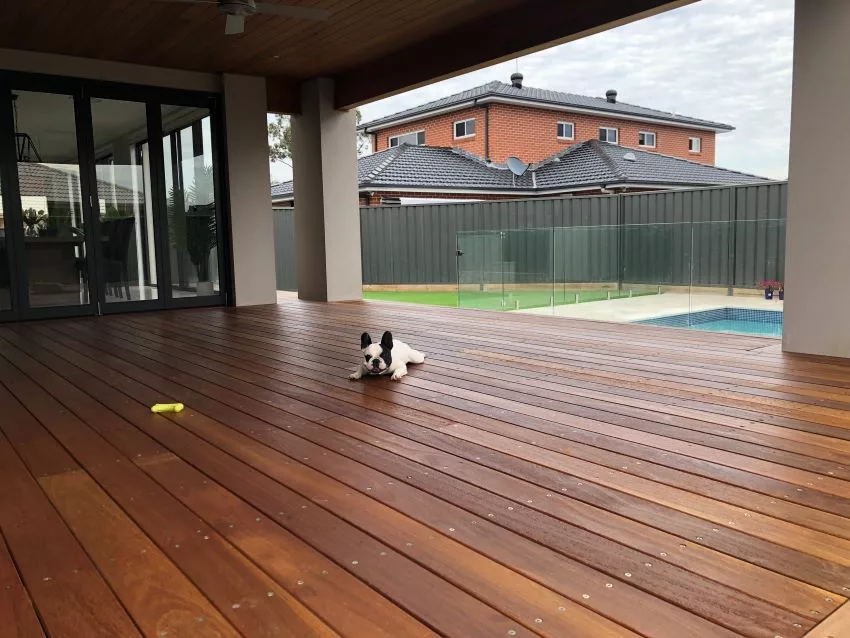 Alfresco decks need special quality  materials and care and attention  to ensure their longevity and durability.  Our Alfresco deck designs seamlessly blend style,  functionality and durability, creating the perfect space to enjoy Sydney's beautiful climate year-round. Composite decking is often the best choice for an alfresco deck.
Whether you want a cozy retreat for intimate gatherings or a spacious entertainment area for hosting friends and family, our skilled deck builders can bring your dreams to life. We understand the importance of durable materials in Sydney's changing weather, and our decks are built to withstand the special conditions that apply to alfresco decks  while maintaining their beauty.
Choose Sydney's trusted decking company to transform your outdoor space into a captivating haven that perfectly suits your needs.
Our commercial decks are meticulously designed to enhance aesthetics and functionality, providing an impressive outdoor environment for your business. A timber deck deck or a composite deck will both add elegance and charm.
With a keen understanding of Sydney's unique climate, we construct commercial decks built to last, ensuring long-lasting durability and visual appeal. Whether you require an outdoor dining area for your restaurant, a stylish deck terrace for your hotel, or a welcoming entrance for your office building, our dedicated deck builders will bring your vision to life. Trust us to add value to your commercial property and create an inviting outdoor space that complements your business.
For  standout outdoor spaces that sets your commercial property apart, choose Sydney's trusted decking company to transform your business environment.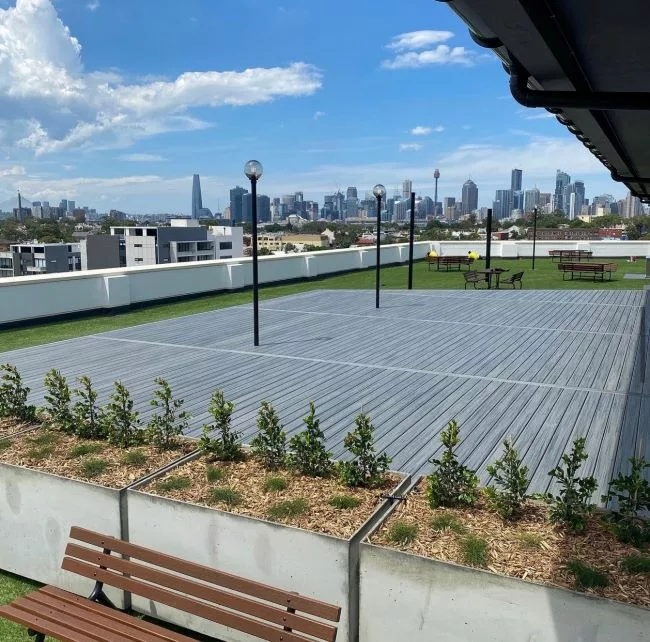 Commercial & Residential Deck Builders
UrbanArch Building provides decking building solutions across Sydney's residential, commercial, and industrial properties. Servicing the Sydney, Wollongong, the Southern Highlands, and the surrounding area, UrbanArch Building is passionate about building extremely durable timber decks,  composite decking  and pergolas of the highest quality decking materials, design, and high quality workmanship.
Transform your outdoor spaces with our expert deck builders specialising in residential hardwood and composite decking. From creating the perfect suburban retreat to delivering high-grade timber and composite deck solutions for commercial structures, including cafes, shops, warehouses, walkways, bridges, and viewing platforms, we bring quality craftsmanship to every project in the local community.
Whether you're looking to build a pool deck, update your existing deck with a new colour scheme, or seek expert advice on deck maintenance, get in touch with the professional deck building team at UrbanArch Building today. Our team are here to make your dream deck a reality with our Sydney decking services.
Ready to get your decking project started?
Professional and affordable price. Would be happy to recommend to others.
Very professional and helpful.
"I have just had my deck replaced with Trex. I used your website and contacted 3 of your recommended installers...."
Tony was very professional. The Urbanarch team has completed very top quality work on our deck.
Tony was fantastic through the whole quote process, he communicated well at all times.
Professional and willing to listen to what is wanted.
"Urban Arch was the best company to deal with. Communication from the start was excellent. From the first visit, through to completion of the job. Tony's boys working on the job were great. Happy to give references to anyone considering..."
"Thanks so much tony. Can I just take this opportunity to thank you for the way you and your team approach the work you do. It's the little things that shows the value we are receiving."
"I Just wanted to say a big thank you for the work completed over the past 2 weeks. We are so happy with the final outcome and the service that we have received from Urban Arch Building. From start to finish, the process has been easy and stress free. We are so happy with the final outcome and the quality of work. The guys did a fantastic job and went above and beyond our expectations. I will be recommending you to every one I know. Thank you for your attention to detail and bringing our vison to life. We are so grateful."