Looking for a durable, rot and termite-resistant deck? Discover why more and more people are choosing Ironbark timber decks for their home.
Think Longevity, Think Ironbark Timber
Your deck not only needs to look great, but stand strong year after year. For a durable board that's also resistant to rot and termites, and ideal for bushfire prone suburbs, it's tough to go past the strength and beauty of this material.
Ironbark decking is available in red or grey, both of which unlock a host of advantages for your home and lifestyle. With 14 years creating new spaces for our Sydney customers, we know what's required of your next home improvement project.
From complimentary chats about your goals (we don't believe in the hard sell) to stress-free designs, support with council plans, and construction that doesn't disrupt your day-to-day routine, Urban Arch Building was built to help customers expand their home, without adding unnecessary stress or budget blowouts.
When your home is your sanctuary, it's important that both inside and the outside areas are serene, beautiful, and a perfect getaway space for you and your loved ones. That's why we work hard to make sure that we can provide you with the highest quality, craftsmanship, and design expertise possible for your outdoor deck. 
What's more, Urban Arch Building boards are built to last. So whether you plan to stay in your home for the next year or the next 50 years, you can rest easy knowing that your decking will remain colour-rich, smooth, and inviting every step of the way.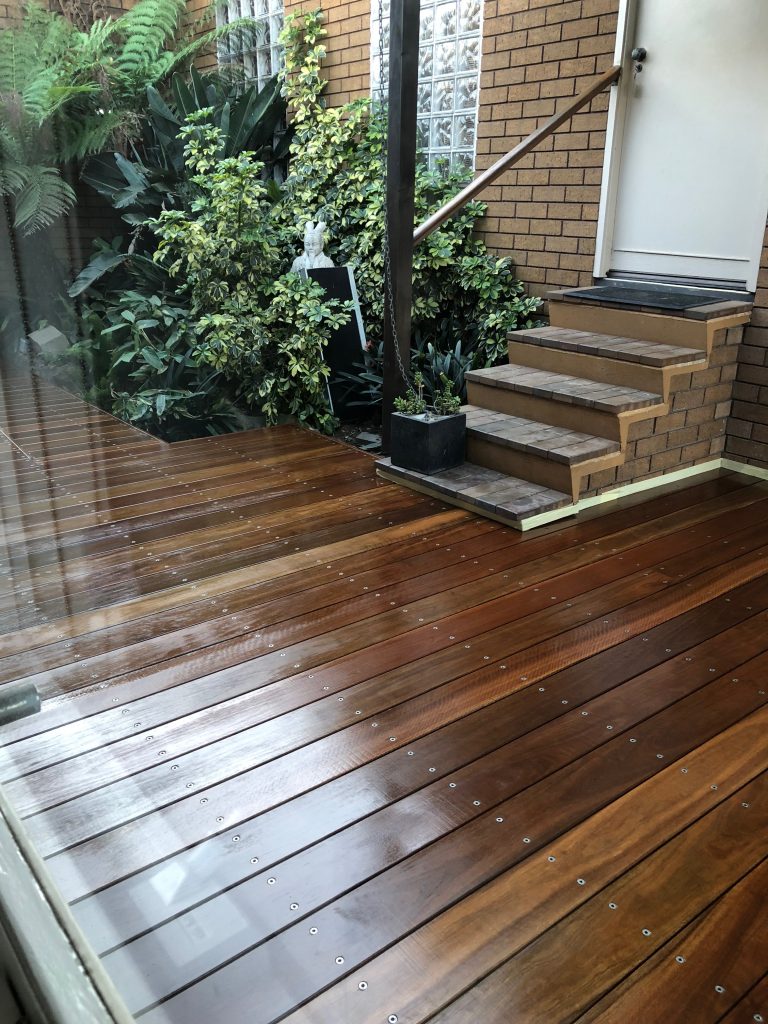 Why Choose Ironbark Decking?
When it comes to this type of timber, the name really says it all. It is tough as iron and a strong and durable timber option for boards no matter what suburb you call home. This material has been used for years throughout Australia to build decks, structural beams, fencing, and even flooring, so you're in safe hands – and on safe ground – when you opt for the durability.
Having supported Sydneysiders with their dreams for the past 14 years, we've seen this material grow in popularity and it's not hard to see why. Besides its strength, it also comes in a range of attractive and unique colours, ranging from deep reds to pale yellows that look stunning in early morning sun right through to sunset. What's more, this hardwood timber is highly resistant to rot, termites, and fire. This makes it an ideal choice for residents who live in bushfire-prone suburbs of Sydney. 
The short version? If you want to choose timber that's built to last, then, we highly recommend this option. 
Looking for your daily dose of inspiration? Click here to explore our gallery of completed decks
Benefits of Ironbark Decking
Thanks to its high durability and popularity, it is one of the more expensive timber options, with prices generally falling between $110 to $200 per square meter. 
There are also additional costs that should be factored into your final estimate, including installation costs and labour, as well as any additional features like privacy screens, custom stairs, or handrails.
Remember — when you're paying for expert installation with Urban Arch Builders, you're paying for the best. At Urban Arch, we know that your home is your most important space, and we work hard to make sure that you don't lose unnecessary time or sleep throughout the construction process. From your complimentary consultation to your first step onto a new, elegant ironwood surface, we're here to support you. 
If you're still researching or you'd like more information about the process, feel free to reach out and request your FREE decking quote. 
We're happy to chat with you about our range of timber decking options, our competitive pricing, and how we plan to exceed your expectations and build you the deck of your dreams. 
How long is the installation process?
When it comes to your installation timeline, there are various factors to consider. Overall, the installation process will fall into three steps: 
STEP ONE: Planning, Design and Layout
STEP TWO: Foundation, Posts and Framing
STEP THREE: Decking, Railing and Stairs
Step one will always take you the longest. Filling out council applications and getting approval from your local council can take a long time! As can coming up with the perfect design and timber choice. That said, once this step is complete, the rest of the process will be quick, straightforward, and headache-free. 
And remember — at Urban Arch Building, we work hard to make sure that each job is completed to the highest possible standards, and with minimal disruption to your day-to-day life. Let us bring your backyard decking vision to life. Request a fast and free quote today. 
Ironbark Decking Sydney: Pros and Cons
It is one of the most durable timber options on the market. 
That said, there are some pros and cons to consider when it comes to installation and maintenance of a deck. Here are a few advantages and disadvantages of this robust hardwood timber.
If you're looking for high-quality deck, give us a call on 0413 185 735 or email us with your enquiry by filling in the form here and we will get back to you as soon as possible. 
Frequently Asked Questions About Sydney Ironbark Decking
What colour is ironbark timber? 
There are two species of ironbark: red and grey: 
Red ironbark: The heartwood is a deep dark red to red-brown. By contrast, its sapwood is a distinctive pale yellow in colour. 
Grey ironbark: Its appearance ranges from reddish to dark brown heartwood. The sapwood is generally a little bit lighter in colour. 
How strong is this material? 
As the densest and heaviest Australian hardwood, this material is extremely strong, long-lasting, and durable. In fact, it has a durability rating of one, which is the highest possible score. That said, this immense strength can make ironbark difficult to install and work with, which is why you should always use an experienced expert to install it. 
What makes this material so durable?
So, what makes this timber so strong? Well, unlike other tree varieties, the ironbark eucalyptus doesn't shed its bark annually. This makes it denser, stronger, and finer grained than other timber options. In fact, it's the heaviest and densest Australian wood you'll find on the market, and these boards are known to last 40 years or longer with minimal maintenance. 
What are common uses of this type of hardwood? 
Because of its strength and density, ironbark decking is commonly used for: 
Decks
Handrails
Stairs
Built-in seating
Walkways
Building additions
Where does this type of timber grow?
Ironbark is a native Australian species (so your new deck will be Australian-made to its core). Most trees grow in NSW, QLD and Victoria, although there are varieties unique to the Northern Territory and Western Australia.
Is this material an easy timber to work with?
No. Unlike blackbutt, which is easy to cut by hand or machinery, ironbark lives up to its name and can be difficult to work with. At Urban Arch Building, we are Sydney timber deck builders with the tools and the team to create striking boards, but the DIY route is not recommended.
Why Choose UrbanArch Building?

Quality
We understand you are investing your hard-earned funds - so we invest our skill, patience, and energy to deliver your finished vision using quality materials - not second-hand or auction sourced.

On-Time & Within Budget
We arrive on time, and we will stick to the budget agreed upon. You'll receive a schedule of work, explaining the workflow and schedule for your project.

Attention to Detail
We do the job the way it is supposed to be done - no shortcuts and we pay attention to the small details - every single time!

Family Owned
We are a locally and family-owned business. That means, we know exactly what every home and business owner deserves.

Custom Design
We offer a custom design and if you want something a little or a lot different - we can help you out.

We Genuinely Care
We genuinely care and we are committed to our clients with exceptional levels of customer care.

Responsive
We are fast and responsive. If you ring us, we will answer you straight away.

Customer-Focused
You are our client - we will always look after you.
Benefits Of Choosing
UrbanArch Building


Excellent Local Reputation

Exquisite Timber Products


On-Time, Within-Budget Project Completion

Professional and affordable price. Would be happy to recommend to others.
Very professional and helpful.
"I have just had my deck replaced with Trex. I used your website and contacted 3 of your recommended installers...."
Tony was very professional. The Urbanarch team has completed very top quality work on our deck.
Tony was fantastic through the whole quote process, he communicated well at all times.
Professional and willing to listen to what is wanted.
"Urban Arch was the best company to deal with. Communication from the start was excellent. From the first visit, through to completion of the job. Tony's boys working on the job were great. Happy to give references to anyone considering..."
"Thanks so much tony. Can I just take this opportunity to thank you for the way you and your team approach the work you do. It's the little things that shows the value we are receiving."
"I Just wanted to say a big thank you for the work completed over the past 2 weeks. We are so happy with the final outcome and the service that we have received from Urban Arch Building. From start to finish, the process has been easy and stress free. We are so happy with the final outcome and the quality of work. The guys did a fantastic job and went above and beyond our expectations. I will be recommending you to every one I know. Thank you for your attention to detail and bringing our vison to life. We are so grateful."