Looking for a firm, durable, and resistant timber option? Find out why teak decks are one of the most popular options in Sydney.
The Unmatched Appeal of Teak Decks
With over a decade of expertise, Urban Arch's father-son team has the experience and skill to make sure your new deck has the quality, craftsmanship, and modern design you're looking for. That's why we're Sydney's #1 rated teak decking experts.
Urban Arch Building was founded on the idea that decks should be high-quality and last with your family for decades. That's why we've worked hard to perfect our craft and provide the highest-quality boards possible.
Teak, in particular, is famously resistant to rot, decay, insect attacks, and other weather-related issues. These features make our decking an excellent option for those looking for tropical flair, weather-resistance, excellent shine, and long-lasting durability.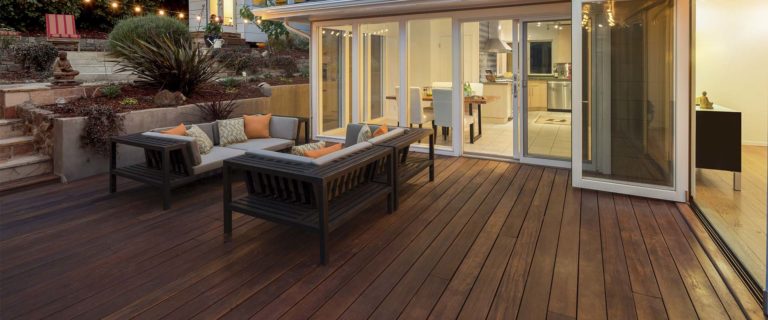 Native to tropical areas like India, Burma, Thailand, and Indonesia, this material is an adaptable and hardy wood that can stand up to a variety of climates, insects, and other day-to-day concerns.
This durability has to do with the fact that teak has an extremely high level of dimensional stability. In layman's terms, this makes it resistant to warping over time, even when exposed to a ton of water and rain (or a particularly rainy winter). That's why this material has been the go-to timber option for sailboats and other ships, and why it retains it's shape and style across homes.
Additionally, it is slip-resistant and has high concentrations of natural oil, making it a beautiful and comfortable option for you and your guests. So whether you're carrying snags for your next BBQ, or rushing outside to enjoy the Sydney sunset, you'll have a firm grip underfoot.
 Termite-resistant: it doesn't just resist termites — it actively repels them. This wood is high in natural oils that repel wood-boring insects, which makes it an ideal choice if you've dealt with termites or other pest infestations in your home. 
High in natural oil and resin: Its high concentration of natural oil and resin (that is a rubber like substance) gives the wood many of its weather and termite resistant qualities. It also makes this a low-maintenance option, as you won't have to apply oil to protect it from the weather.
 Close-grained and durable: Close-grained wood will invariably have a smoother surface than open-grain alternatives. It will also require less product and maintenance to achieve a smooth and glossy finish. 
 Easily installed in homes: Thanks to our great relationships with suppliers, we are able to import high-quality material and install it in your home. 
 Available in a variety of sizes and thicknesses: Unlike other varieties, this material is available in many sizes and thicknesses. This makes it easy to customise it to your location, needs, and specifications. 
How Much Does Teak Decking Cost?
Because of its high durability and popularity, teak is one of the more expensive timber options, with prices generally falling between $400 and $500 a square metre.
You'll also need to factor in installation costs, labour, and any support structures when determining your overall cost.
At Urban Arch Builders we understand that a new deck – and any type of home improvement project – is one that needs to be carefully considered and researched. Our construction team is here to add value to your home AND your lifestyle, and strive to exceed expectations at every chance.
If you're in the research phase, reach out and request your FREE teak decking quote to learn more about our competitive prices and leading hardwood timber options.
How long does the installation process take?
Let's talk about timelines.
You want your new teak decking installed and ready for BBQs and sunset drinks as soon as possible, but when talking about installation, it's not always the timber itself that determines your construction timeline.
Some hardwood timbers are easier to work with than others (allowing for faster cutting and shaping), but your construction process is generally broken into 3 distinct phases.
PHASE ONE: Planning, Design and Layout
PHASE TWO: Foundation, Posts and Framing
PHASE THREE: Decking, Railing and Stairs
The first phase is typically the most time-consuming with applications to your local council taking up time, followed by the planning and design requirements to ensure your deck is built to your exact specifications and needs.
At Urban Arch Building we strive to complete each job to the highest standards with minimal disruption to your life and routine. With the highest quality products, materials and specialists, we're proud to let our boards speak for us and endeavour to deliver an end product that meets and exceeds your vision.
Frequently Asked Questions About Sydney Teak Decking
Why is teak such a popular wood for outdoor decking?
Teak is a popular wood for outdoor application for a range of reasons that don't just elevate the aesthetic of your outdoor space, but improve your outdoor lifestyle too.
Anti-slip (even in slick weather and rainy conditions)
Insulation qualities thanks to its medium density
Cooler underfoot than many other coverings (great for hot summers)
Highly durable (lasting between 15-20 years)
Can be cut thinly to save on weight and price
Easy to repair with light sanding
What is the maintenance process?
Teak decking generally require less maintenance that other hardwood options. We recommend you wash your board using only a soft brush, with periodic use of a specialist cleaner if you wish. Never clean it with a pressure washer as this can cause damage to the fibres.
How long does it take for teak wood to fade?
Like any wood, high-quality teak will fade in colour and shine over time. The grey patina on a deck is actually a natural defence against the weather. It is purely cosmetic and does not have any effect on the structural integrity of the wood. It develops because of oxidation caused by the sun. If you live in drier climates, this material will take several months to weather. Conversely, if you live in a wet and hot climate, it can weather in 4 to 8 weeks.
Many people install this type of board because they love the way it greys of naturally over time and develops a natural patina that is very attractive and durable.
Sometimes you'll hear that all you have to do is lightly oil your board once a year. This is untrue because the oil won't prevent fading and it can cause mildew. The board already produces a natural oil. It's better to use sealers because they will protect your board from losing the original golden hues.
Is teak a durable material for the Sydney climate?
Its origins in the tropical climates of India, Burma and Thailand mean constant exposure to moisture and temperature. As a result, cut teak goes into overdrive as sap preserves the wood. When this process is replicated outside your home, the resulting board is extremely hardy and engineered to persevere in the most challenging climates, whether hot summer or cold, rainy winter.
Is teak easy to work with?
Yes. It can be cut with hand and machine saws (although its dense features may dull your blade). With holes pre-drilled and metal screws included during installation you're left with a deck that's been crafted with care, but offers lasting durability. Our Sydney timber decking specialists can also fasten boards together using tongue-and-groove plans to avoid visible screw holes if needed.
Why Choose UrbanArch Building?

Quality
We understand you are investing your hard-earned funds - so we invest our skill, patience, and energy to deliver your finished vision using quality materials - not second-hand or auction sourced.

On-Time & Within Budget
We arrive on time, and we will stick to the budget agreed upon. You'll receive a schedule of work, explaining the workflow and schedule for your project.

Attention to Detail
We do the job the way it is supposed to be done - no shortcuts and we pay attention to the small details - every single time!

Family Owned
We are a locally and family-owned business. That means, we know exactly what every home and business owner deserves.

Custom Design
We offer a custom design and if you want something a little or a lot different - we can help you out.

We Genuinely Care
We genuinely care and we are committed to our clients with exceptional levels of customer care.

Responsive
We are fast and responsive. If you ring us, we will answer you straight away.

Customer-Focused
You are our client - we will always look after you.
Benefits Of Choosing
UrbanArch Building


Excellent Local Reputation

Exquisite Timber Products


On-Time, Within-Budget Project Completion

Professional and affordable price. Would be happy to recommend to others.
Very professional and helpful.
"I have just had my deck replaced with Trex. I used your website and contacted 3 of your recommended installers...."
Tony was very professional. The Urbanarch team has completed very top quality work on our deck.
Tony was fantastic through the whole quote process, he communicated well at all times.
Professional and willing to listen to what is wanted.
"Urban Arch was the best company to deal with. Communication from the start was excellent. From the first visit, through to completion of the job. Tony's boys working on the job were great. Happy to give references to anyone considering..."
"Thanks so much tony. Can I just take this opportunity to thank you for the way you and your team approach the work you do. It's the little things that shows the value we are receiving."
"I Just wanted to say a big thank you for the work completed over the past 2 weeks. We are so happy with the final outcome and the service that we have received from Urban Arch Building. From start to finish, the process has been easy and stress free. We are so happy with the final outcome and the quality of work. The guys did a fantastic job and went above and beyond our expectations. I will be recommending you to every one I know. Thank you for your attention to detail and bringing our vison to life. We are so grateful."