Fire-Resistant Blackbutt Decking
Are you looking for a one-of-a-kind
hardwood deck
that holds its shape and style year after year?
The colour of each blackbutt decking varies (thanks to the beauty of genuine hardwood), giving you an appealing and practical addition to your home.
With a light hue, blackbutt can create the illusion of space in smaller areas, or provide unmatched strength and durability when creating a large outdoor board. No matter the design of your home, a board feels like it's always been part of the landscape, offering a timeless space to unwind or entertain today, tomorrow and for generations to come.
As #1 rated building experts in Sydney, we believe every homeowner should be able to enjoy quality time in their own outdoor space.
Our blackbutt decking services are built around your needs, offering custom decking solutions to suit the size, style and shape of your home. With Sydney's climate challenging your board every day, this material offers a sturdy and resilient hardwood that creates an uninterrupted flow between your indoor and outdoor spaces. And as a custom service, whether you need a little change, or a lot, our exceptional level of customer care ensures we're always working towards your goals.
With over a decade of experience, we've developed excellent relationships with local suppliers to ensure your blackbutt decking is of the highest quality so that it will last you a life time.
If you're ready to enhance your lifestyle, increase your living space, and add value to your home, claim your FREE decking consultation to discover the potential of your outdoor space.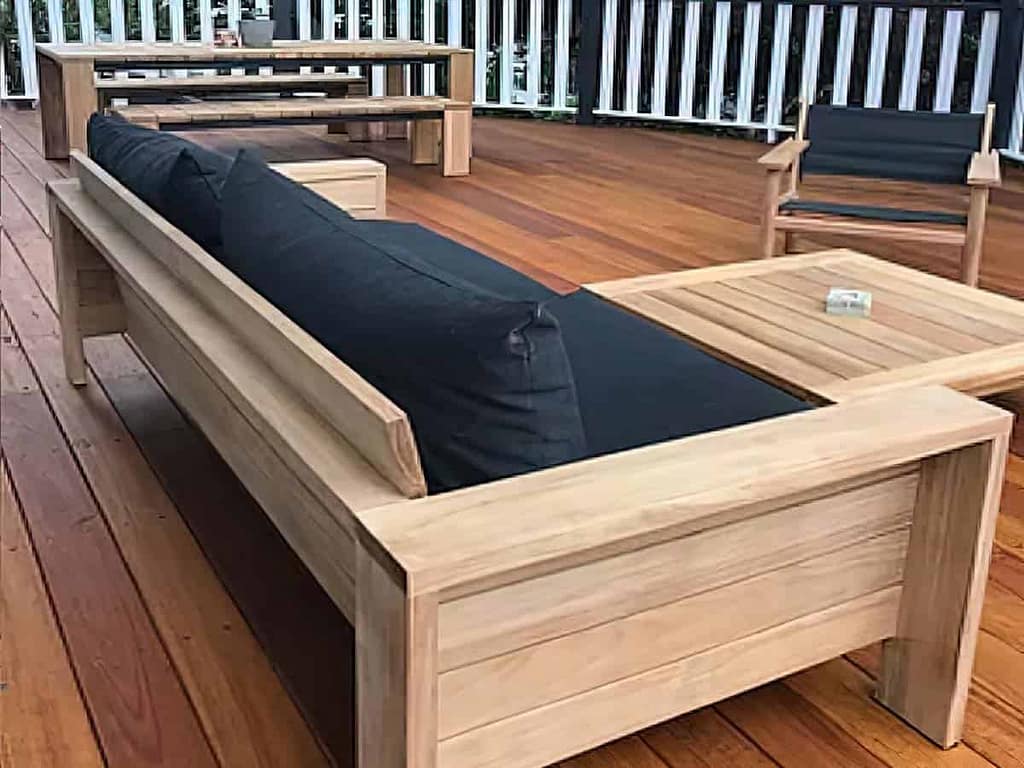 Is choosing this material a smart choice?
Blackbutt is practically designed by Mother Nature to deliver stunning boards that stand the test of time.
Offering advanced strength and durability, this material is a hardwood timber that can stand up to hot Sydney summers and windy winters without bending, breaking or moving an inch. Ideal for external and structural use, it is used across decks, cladding, joinery and even internal flooring – allowing you to create hybrid living spaces that mix the inside and the outside for the ultimate lifestyle.
As an added bonus, the density of blackbutt (at 900kg/cubic metre) offers protection against some of the most common blights affecting homes – bushfires and termites.
Termites are responsible for over $100 million in damages every year and are projected to affect up to 1 in 5 Australian homes. You can relax on your new board without worrying your exciting new space is being torn apart from the inside.
And whether you live near a bushfire prone suburb or not, blackbutt's fire-reistant qualities mean floating embers, or an overly packed fire pit, don't pose a threat to your board.
Blackbutt Decking Benefits
Get Ready for an Eye-Catching Backyard
Let's talk about appearance, because all the deck specs in the world won't convince you to update your lifestyle if the board isn't a visual statement.
And blackbutt decking ticks those boxes (and then some).
Its even texture includes a typically straight grain, lending itself to both decks and joinery in equal measure. As a native Australian tree, these boards are a striking combination of golden yellow through pale brown, with slight pinkish hues even popping up from time to time.
But don't feel trapped by the natural tones of a blackbutt. This hardwood takes well to staining, meaning you can colour your deck's fibres in a range of stylish finishes to suit your home decor or outdoor space.
How Much Does This Material Cost?
As an average, blackbutt decking (86mm) costs $88/m2 before waste.
Keep in mind, this price is for the boards only. You'll need to factor in the support structures under your boards plus installation costs which will cover your building company's overheads, labour and so on.
At UrbanArch Builders we understand that a new board – and any type of home improvement project – is one that needs to be carefully considered and researched. Our construction team is here to add value to your home AND your lifestyle, and strive to exceed expectations at every chance.
If you're in the research phase, reach out and request your FREE decking quote to learn more about our competitive prices and leading hardwood timber options.
How Long Does The Installation Process Take?
You're already browsing outdoor furniture on the IKEA website, so a board that takes an eternity to construct isn't going to tick your boxes.
When it comes to a
hardwood timber deck
, it's not the timber itself that impacts your construction timeline. Although certain hardwood timbers are easier to work with than others (relating to their ability to be sawed or machine cut), the
deck construction
process is typically broken into three distinct periods:
Phase one is the most time-consuming with council applications and decking design taking up time and energy. But once your board has the seal of approval from your local council, construction can begin.
At UrbanArch Building we strive to complete each job to the highest standards with minimal disruption to your life and routine. With the highest quality products, materials and specialists, we're proud to let our results speak for us and endeavour to deliver an end product that meets and exceeds your vision.
Frequently Asked Questions About Sydney Blackbutt Decking
Where does this type of hardwood grow?
It is found in coastal NSW and southern QLD. A taller eucalyptus variety, the trees can grow up to 50 metres high.
Is blackbutt termite-resistant?
Yes. It is a dense hardwood (900kg/cubic metre) with a density that makes it tough for the most determined of termites to make their home in your board.
Do I need council approval to build a deck?
Council regulations vary, though certain heights, sizes, and materials may need authorisation before construction begins. Your deck installation team will walk you through these requirements.
Is this material an easy hardwood to work with?
It is generally easy to work with. The wood machines well and readily takes stains, oils and polishes.
It is easy to clean, with regular maintenance the key to longevity. Outside of regular oiling and staining,  you can clean your board with a mop and pH neutral cleaning agent. Avoid steam mops, abrasive brushes or steel wool.
Blackbutt Decking: Pros and Cons
It is known for its strength and durability, leaving you a deck that handles family gatherings, Christmases and events year after year no matter how many guests you entertain.
As a naturally fire-resistant hardwood timber, blackbutt is ideal for decking in bushfire prone areas thanks to its natural ability to protect against fire damage.
But is this type of deck right for you? We've rounded up the most common advantages and disadvantages below to help you make an informed choice about choosing the best deck builder.
Why Choose UrbanArch Building?

Quality
We understand you are investing your hard-earned funds - so we invest our skill, patience, and energy to deliver your finished vision using quality materials - not second-hand or auction sourced.

On-Time & Within Budget
We arrive on time, and we will stick to the budget agreed upon. You'll receive a schedule of work, explaining the workflow and schedule for your project.

Attention to Detail
We do the job the way it is supposed to be done - no shortcuts and we pay attention to the small details - every single time!

Family Owned
We are a locally and family-owned business. That means, we know exactly what every home and business owner deserves.

Custom Design
We offer a custom design and if you want something a little or a lot different - we can help you out.

We Genuinely Care
We genuinely care and we are committed to our clients with exceptional levels of customer care.

Responsive
We are fast and responsive. If you ring us, we will answer you straight away.

Customer-Focused
You are our client - we will always look after you.
Benefits Of Choosing

UrbanArch Building


Excellent Local Reputation
Exquisite Timber Products

On-Time, Within-Budget Project Completion

Professional and affordable price. Would be happy to recommend to others.
Very professional and helpful.
"I have just had my deck replaced with Trex. I used your website and contacted 3 of your recommended installers...."
Tony was very professional. The Urbanarch team has completed very top quality work on our deck.
Tony was fantastic through the whole quote process, he communicated well at all times.
Professional and willing to listen to what is wanted.
"Urban Arch was the best company to deal with. Communication from the start was excellent. From the first visit, through to completion of the job. Tony's boys working on the job were great. Happy to give references to anyone considering..."
"Thanks so much tony. Can I just take this opportunity to thank you for the way you and your team approach the work you do. It's the little things that shows the value we are receiving."
"I Just wanted to say a big thank you for the work completed over the past 2 weeks. We are so happy with the final outcome and the service that we have received from Urban Arch Building. From start to finish, the process has been easy and stress free. We are so happy with the final outcome and the quality of work. The guys did a fantastic job and went above and beyond our expectations. I will be recommending you to every one I know. Thank you for your attention to detail and bringing our vison to life. We are so grateful."