A highly versatile hardwood ideal for outdoor spaces, discover why Merbau decks are quickly becoming the most popular timber option.
The Merbau Deck Difference
There's nothing quite like stepping onto your own timber deck with a cup of coffee in hand to start your day, or a cool drink to finish a long day. And there's no timber quite like Merbau to provide the premium outdoor experience your home deserves.
With natural oils that provide a lasting shine through to the gorgeous grains deep in the wood, Merbau decking is a high-end timber suited to meet a luxury lifestyle or home that deserves the very best – without the premium price to match.
While a striking appearance is undoubtedly a reason to invest in this eye-catching timber, the oils that make your Merbau decking such a rich and attractive surface also provide a hard-wearing resistance against cracking and splitting, as well as termites, bushfires, and corrosive damage. Combine all these advantages with the professionalism and quality of an Urban Arch Building service and you've got a new board that will stand up, stand out, and provide enjoyment for many years to come.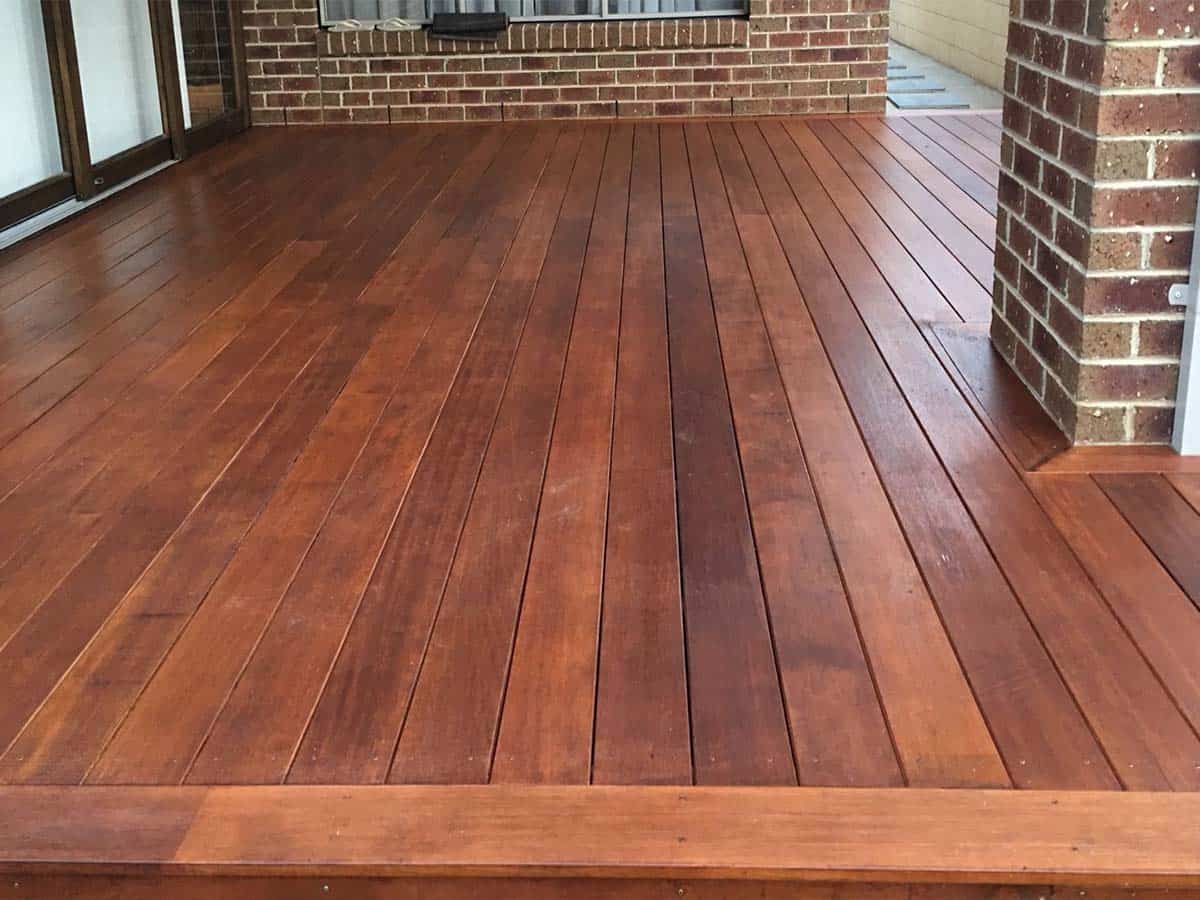 Why Should I Choose Merbau?
Summer means spending time outdoors with friends and family and nothing beats a BBQ or game of backyard cricket with drinks and dinner on the back deck. An Aussie tradition, time outdoors requires an outdoor setting that's safe, secure, and stunning.
When you're investing in an outdoor space to improve your quality of life, you need to know your choice of hardwood timber can stand up to the wear and tear of everyday use, without losing its lustre or aesthetic shine. That's where this material stands out.
With a distinctive wavy grain, this type of timber can range in colour from brown to reddish-brown and even include orange and gold hues. Complementing the colours of nature, this helps your new board blend seamlessly with your outdoor space and create an inviting deck you'll love to spend time on.
But what about Sydney's unpredictable weather? For this material, that's no problem at all.
Merbau is bushfire-resistant, making it suitable in bushfire-prone regions.. Suitable for open-area use, this material won't shrink when subject to water or heat. So whether it's a scorching summer or a wet and windy winter, you can rest easy knowing your new board is engineered by Mother Nature to last.
Need a little timber inspo? You'll love our gallery of finished decks
Benefits of Merbau Hardwood
How Long Does the Installation Take?
You're excited at the thought of hosting your next event on your new board (and rightfully so), so it's natural to wonder how long the construction and installation period will take.
The answer depends on a few variables, all of which the Urban Arch Building team will walk you through from project conception to completion. While construction may be the first thing you think about, it's the planning and council paperwork that often takes time.
A general rule to follow when upgrading your home with a new outdoor patio or verandah is that council approval will NOT be required if your deck is 500mm from the ground (or less). If this is the case, you can expect to have your new board ready for use in 3 to 4 weeks.
Should your deck be higher than 500mm, council approval will be required. Although this means more planning and paperwork, we handle everything from submitting plans to dealing with your local council, so there's no stress or time wasted on your end. If this is the case, you can expect to have your new board ready for use in 8 to 10 weeks.
At Urban Arch Building, we treat every project like it was in our own home. We understand the importance of keeping construction (and disruption) to a minimum, so speak to our expert team for more information on your custom timeline.
Merbau Decking Pros and Cons
Merbau decking is popular for its unique beauty and highly durable characteristics. But, with a range of hardwood timber options to choose from, you may want to compare a few pros and cons to see if this material is the right choice for you.
To help you understand the advantages and disadvantages that come with a new deck, check out the table below.
If you're looking for high-quality decking, give us a call on 0413 185 735 or email us with your enquiry by filling in the form here and we will get back to you as soon as possible.
FAQs About Merbau Decking in Sydney
Is Merbau a durable timber?
It falls into the hardwood category, but that still doesn't adequately cover just how durable this timber is. In fact, special machinery is required to harvest the tree because of its naturally rugged and robust qualities.
This strength comes from an abundance of natural oils contained inside the wood. These oils protect against shrinking, warping, or cracking and leave your new board a titan that can handle everything you throw at it (and then some).
Is it suitable for a deck if it's so hard?
Although this material is naturally durable, it's also a favourite for builder companies to work with as it is extremely workable. Unlike Ironbark timber, Merbau is easy to turn and bend. A malleable hardwood, this material can be manipulated to create custom decks without losing any of the strength that makes it so appealing.
Although Merbau decking adds a touch of premium quality to your home, you won't need to stump up premium prices. An affordable hardwood, expect to pay between $280 to $320 per m2. Keep in mind, an elevated deck will also need a balustrade for safety which can cost roughly $320 per metre on average.
Then again, we're not your average decking team. At Urban Arch Building, we know the value of keeping costs down, so we're driven to find your dream deck at a price that works for you.
With a range of exquisite timber decking options and competitive prices to suit your home improvement budget, get in touch to speak to a member of our team and organise your free consultation with Sydney's best deck builders.
Merbau is found in multiple locations around the world and comes from the Kwila tree. This species grows in tropical climates in locations like Queensland, Fiji, Samoa, India, and Madagascar.
Why Choose UrbanArch Building?

Quality
We understand you are investing your hard-earned funds - so we invest our skill, patience, and energy to deliver your finished vision using quality materials - not second-hand or auction sourced.

On-Time & Within Budget
We arrive on time, and we will stick to the budget agreed upon. You'll receive a schedule of work, explaining the workflow and schedule for your project.

Attention to Detail
We do the job the way it is supposed to be done - no shortcuts and we pay attention to the small details - every single time!

Family Owned
We are a locally and family-owned business. That means, we know exactly what every home and business owner deserves.

Custom Design
We offer a custom design and if you want something a little or a lot different - we can help you out.

We Genuinely Care
We genuinely care and we are committed to our clients with exceptional levels of customer care.

Responsive
We are fast and responsive. If you ring us, we will answer you straight away.

Customer-Focused
You are our client - we will always look after you.
Benefits Of Choosing
UrbanArch Building


Excellent Local Reputation

Exquisite Timber Products


On-Time, Within-Budget Project Completion

Professional and affordable price. Would be happy to recommend to others.
Very professional and helpful.
"I have just had my deck replaced with Trex. I used your website and contacted 3 of your recommended installers...."
Tony was very professional. The Urbanarch team has completed very top quality work on our deck.
Tony was fantastic through the whole quote process, he communicated well at all times.
Professional and willing to listen to what is wanted.
"Urban Arch was the best company to deal with. Communication from the start was excellent. From the first visit, through to completion of the job. Tony's boys working on the job were great. Happy to give references to anyone considering..."
"Thanks so much tony. Can I just take this opportunity to thank you for the way you and your team approach the work you do. It's the little things that shows the value we are receiving."
"I Just wanted to say a big thank you for the work completed over the past 2 weeks. We are so happy with the final outcome and the service that we have received from Urban Arch Building. From start to finish, the process has been easy and stress free. We are so happy with the final outcome and the quality of work. The guys did a fantastic job and went above and beyond our expectations. I will be recommending you to every one I know. Thank you for your attention to detail and bringing our vison to life. We are so grateful."