Termite-resistant, durable against rot, and a stunning finish. It's all possible with your own elegant jarrah deck.
Sustainably Sourced Jarrah Wood Decks
At Urban Arch Building, we pride ourselves on providing unmatched outdoor quality, durability, and customer service (that's why we were rated #1 building experts). 
But to us, crafting boards is more than just a job. As a father-son duo, we know how important family is and how vital it is to have a home that truly helps you come together and break bread. That's why we're dedicated to providing outdoor timber materials that will serve your family today, tomorrow, and for years to come. 
Our jarrah decking, in particular, is sustainably harvested from the the tree that's native to south-west Australia. It offers a stunning rich brown-red or burgundy hue that's sure to warm up any outdoor space while providing unmatched strength and durability over time. It is also insect-resistant, fire-resistant, and weather-resistant, making it the perfect option for those who live in Sydney where temperatures fluctuate from bushfire-conditions to wet and windy winters. 
When you choose this material, you're promising you and your loved ones a rich, warm, and lasting backyard experience for decades to come. If you would like to know more information, please don't hesitate to reach out for free samples, expert advice, or a 100% obligation-free quote.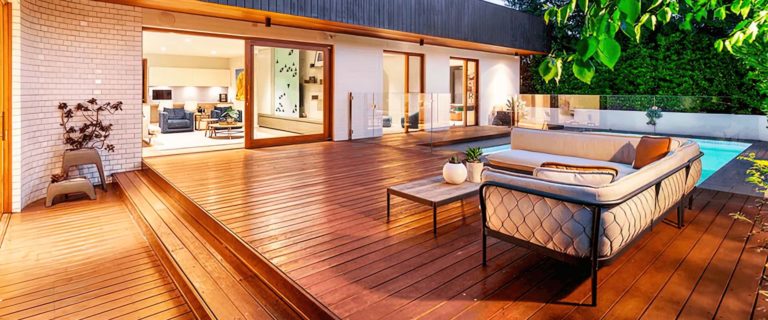 Why Choose Jarrah Decking?
Originating in southwest Australia, Jarrah has been a favorite Aussie timber since the 1980s. It has made an appearance in a range of different products — including furniture, boards, and construction — and it has been used often in marinas, businesses, commercial buildings, and homes.
One of the most attractive qualities of this type of wood is its beautiful, dynamic colour variations (it can range from a rich red all the way through to a striking reddish-brown). What's more, this durable wood has an attractive grain and a high resistance to termites, weather damage, and other natural elements.
This makes it the perfect choice for anyone in the beach communities who is looking to up their game and find a timber option that's resistant to ocean water and salty air. What's more, the burnt sienna, earthy tones of this native wood lend an instant lived-in feel that you won't get with other wood options.
Benefits of Jarrah Decking
Deciding to install a new board is the easy part – choosing the right timber is where things get tricky. While this type of hardwood timber is known for its strength and durability, there are plenty of other exciting reasons to wake up to a timber verandah or patio.
As a leading timber material, the following advantages are only a phone call away.
As one of Australia's most prized timbers, this type of board can last up to 25 years (with proper care and maintenance) and it's easy to see why more and more households are refusing to work with anything but jarrah.
How Much Does Jarrah Decking Cost?
Because of its popularity and rarity, jarrah is a fairly expensive timber option. Prices generally range from $180 to $320/m2. 
Outside of the raw timber cost, you'll need to factor in installation costs, labour, and any support structures when determining your overall cost. That said, we always recommend that you do your research and make sure that you choose a licensed, seasoned profession for your needs. 
Your home is your safe space, and any kind of home improvement project should be approached with care and consideration. 
If you'd like some more information about how Urban Arch Builders can add value to your home, feel free to reach out for a FREE quote. We'd also love to tell you more about our pricing, our timber options, and all the ways Urban Arch will strive to exceed your expectations. 
How long is the installation process?
Ok, so let's talk about timelines. 
There are many factors to consider when establishing the timeline of your installation. First, there's the timber itself. Certain woods are much easier to work with, while others require more care and special construction — and this will affect the overall timeline. That said, there are three phases of each installation project: 
PHASE ONE: Planning, Design and Layout
PHASE TWO: Foundation, Posts and Framing
PHASE THREE: Decking, Railing and Stairs
Phase one will invariably take the most time, as designing your jarrah decking, getting permits, finishing your council applications and other preparation tasks tend to take a while. That said, once your design gets prepared and approved, the process will be quick and smooth. 
At Urban Arch Building, we take great pains to ensure that your job is completed to the highest standards and with minimal interruption to your day-to-day routine and lifestyle. Want to learn more? Reach out to our team of Sydney Deck Builders for more information.
Pros and Cons of Jarrah Decking
If you're looking for high-quality boards, give us a call on 0413 185 735 or email us with your enquiry by filling in the form here and we will get back to you as soon as possible. 
Frequently Asked Questions About Jarrah Decking In Sydney
What is the maintenance process?
If you want your jarrah decking to maintain its colour and texture, you'll need to put in some work to maintain it. However, the amount of maintenance that it needs will depend on many factors, including the weather, the amount of foot traffic, and the number of spills or other issues you encounter.
In any case, our team of Sydney timber deck builders recommend that you clean your board at least once or twice a year using a product like oxalic acid, although you can also hire professionals to do this maintenance for you if you'd rather keep your weekends free.
Is jarrah a hardwood or a softwood?
Jarrah is a hardwood, scoring 8.5 on the Janka rating (anything above a score of 8 is considered to be a hardwood). However, unlike harder alternatives like ironbark, this material is still soft enough to easily work with sharp tools.
What is this type of wood used for?
Known for its versatility and durability, this material is an ideal wood for a variety of uses, including:
House framing
Flooring
Linings
Fencing
Decking
Furniture
Stairs
Balustrades
Is jarrah a better timber than spotted gum?
This comes down to preference more than the inherent attributes of each timber. Before making your choice, be sure to consider the location of your new board, your preferred level of maintenance, the appearance of your board, and qualities of durability and longevity. If you're considering a spotted gum board,  visit our Spotted Gum page.
Will this material retain its colour?
In short no – but there's more to this question. Its appearance ranges from light reds to deep browns, though exposure to sunlight can transform the boards into a rich, elegant burgundy shade. However, if left untreated, this type of timber can turn to a pebbly grey. This is preferred by some Sydney homeowners who want their board to mature as it ages, although the close grain of jarrah means initial colours are held for longer.
If you'd prefer to maintain the red/brown/burgundy colour palette, you'll need to look after your new board with regular oiling and sealing to prevent fading.
Why Choose UrbanArch Building?

Quality
We understand you are investing your hard-earned funds - so we invest our skill, patience, and energy to deliver your finished vision using quality materials - not second-hand or auction sourced.

On-Time & Within Budget
We arrive on time, and we will stick to the budget agreed upon. You'll receive a schedule of work, explaining the workflow and schedule for your project.

Attention to Detail
We do the job the way it is supposed to be done - no shortcuts and we pay attention to the small details - every single time!

Family Owned
We are a locally and family-owned business. That means, we know exactly what every home and business owner deserves.

Custom Design
We offer a custom design and if you want something a little or a lot different - we can help you out.

We Genuinely Care
We genuinely care and we are committed to our clients with exceptional levels of customer care.

Responsive
We are fast and responsive. If you ring us, we will answer you straight away.

Customer-Focused
You are our client - we will always look after you.
Benefits Of Choosing
UrbanArch Building


Excellent Local Reputation

Exquisite Timber Products


On-Time, Within-Budget Project Completion

Professional and affordable price. Would be happy to recommend to others.
Very professional and helpful.
"I have just had my deck replaced with Trex. I used your website and contacted 3 of your recommended installers...."
Tony was very professional. The Urbanarch team has completed very top quality work on our deck.
Tony was fantastic through the whole quote process, he communicated well at all times.
Professional and willing to listen to what is wanted.
"Urban Arch was the best company to deal with. Communication from the start was excellent. From the first visit, through to completion of the job. Tony's boys working on the job were great. Happy to give references to anyone considering..."
"Thanks so much tony. Can I just take this opportunity to thank you for the way you and your team approach the work you do. It's the little things that shows the value we are receiving."
"I Just wanted to say a big thank you for the work completed over the past 2 weeks. We are so happy with the final outcome and the service that we have received from Urban Arch Building. From start to finish, the process has been easy and stress free. We are so happy with the final outcome and the quality of work. The guys did a fantastic job and went above and beyond our expectations. I will be recommending you to every one I know. Thank you for your attention to detail and bringing our vison to life. We are so grateful."