Custom-Made Privacy Screens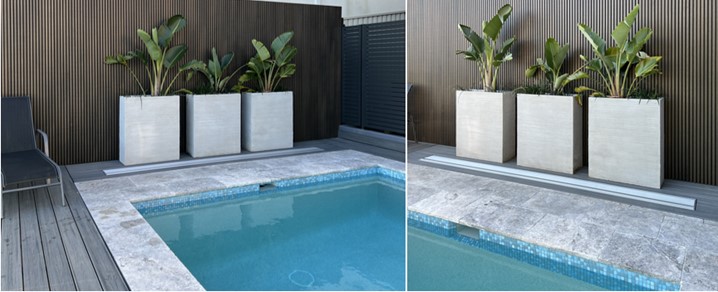 Adding a privacy screen to your Sydney decking can make a world of difference to the enjoyment of your outdoor entertaining area. Screening off a utility area so it doesn't spoil the look of your finished deck – to providing privacy to both yourself and your neighbours can bring another level of use for your deck. You can entertain family and friends without the worry of upsetting neighbours and have a much more pleasant and relaxing occasion. Privacy screens can be made from a wide variety of materials. Contact us if you would like information about what would be suitable for you.
Composite castellation cladding by Newtechwood has become very popular with Sydney homeowners, and when you look at the benefits, you can understand why.
A 25 year warranty
Maintenance free – no sanding, painting or staining – ever.
A stunning contemporary look
100% blockout
Very versatile – it can even be used as a facade for your home
It looks brilliant with downlights or uplights.
While these products can be made from a wide variety of materials, many of our clients choose to focus on aluminium privacy screens to solve both functional and decorative problems.
Have you considered what adding a privacy screen can do to your outdoor space?
Functionality of Outdoor Privacy Screens
Aluminium options serve a number of functions for both internal and external facing areas of your property. We go over some of the most popular problems that our clients experience below:
Privacy screens: Adds privacy for yourself and considers your neighbours. You won't have to worry about upsetting the peace that can be fragile in higher density Sydney living.
Decorative screens: Nobody wants to entertain right on top of air conditioning units or storage areas.  Screen off a utility area so it doesn't spoil your entertainment vibe, or ruin the aesthetics of your finished deck.
Security screens: They act as a deterrent, adding an extra level of difficulty for intruders to access outdoor areas on your property.  Protect your family from unwanted attention.
https://www.decorativeimaging.com.au/decoslat-privacy-screens/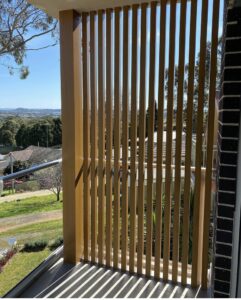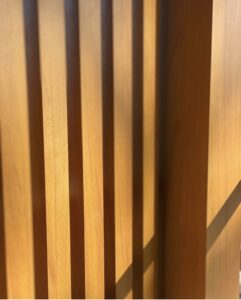 As you can see, a modern privacy screen from UrbanArch can add both functionality and style to your property. Our decorative screening provides a unique façade that can be designed to your own custom specifications, matching the colours, materials and aesthetics that work best for you. 
Outdoor Privacy Screens Sydney
If you're after outdoor privacy screens in Sydney, then look no further than the experts at UrbanArch. Browse the gallery on this page and envision how you can integrate them into your own outdoor entertainment area.
Sometimes, the services that make our lives so much better are either in the wrong place or just look plain unattractive. That begs the question, "What can be done to turn an eyesore into something attractive or something that just blends in beautifully?"
Urbanarch Building are experts at turning the unattractive or mundane into a part of your property that you will be proud to show off to your friends. Whether it's hiding the airconditioner or your household bins, we have a solution that is not only practical, but also pleasing to look at.

When you're ready to take the next step, get in touch with Tony and the team via phone or email. Our full design service is free of charge. We can organise a full consultation and quote, ensuring you get the exact screening solution that you have in mind.
We're always happy to help with any questions or custom design problems that you may be facing, so head to the contact us page and let's begin the process of fully integrating outdoor options for privacy into your own entertainment area.
Why Choose UrbanArch Building?

Quality
We understand you are investing your hard-earned funds - so we invest our skill, patience, and energy to deliver your finished vision using quality materials - not second-hand or auction sourced.

On-Time & Within Budget
We arrive on time, and we will stick to the budget agreed upon. You'll receive a schedule of work, explaining the workflow and schedule for your project.

Attention to Detail
We do the job the way it is supposed to be done - no shortcuts and we pay attention to the small details - every single time!

Family Owned
We are a locally and family-owned business. That means, we know exactly what every home and business owner deserves.

Custom Design
We offer a custom design and if you want something a little or a lot different - we can help you out.

We Genuinely Care
We genuinely care and we are committed to our clients with exceptional levels of customer care.

Responsive
We are fast and responsive. If you ring us, we will answer you straight away.

Customer-Focused
You are our client - we will always look after you.
Benefits Of Choosing
UrbanArch Building


Excellent Local Reputation

Exquisite Timber Products


On-Time, Within-Budget Project Completion

Professional and affordable price. Would be happy to recommend to others.
Very professional and helpful.
"I have just had my deck replaced with Trex. I used your website and contacted 3 of your recommended installers...."
Tony was very professional. The Urbanarch team has completed very top quality work on our deck.
Tony was fantastic through the whole quote process, he communicated well at all times.
Professional and willing to listen to what is wanted.
"Urban Arch was the best company to deal with. Communication from the start was excellent. From the first visit, through to completion of the job. Tony's boys working on the job were great. Happy to give references to anyone considering..."
"Thanks so much tony. Can I just take this opportunity to thank you for the way you and your team approach the work you do. It's the little things that shows the value we are receiving."
"I Just wanted to say a big thank you for the work completed over the past 2 weeks. We are so happy with the final outcome and the service that we have received from Urban Arch Building. From start to finish, the process has been easy and stress free. We are so happy with the final outcome and the quality of work. The guys did a fantastic job and went above and beyond our expectations. I will be recommending you to every one I know. Thank you for your attention to detail and bringing our vison to life. We are so grateful."