Experienced Specialists for Timber Decking
UrbanArch Building are rated #1 timber decking experts in Sydney. Over 12 years of experience working with local customers has helped us deliver quality, one-of-a-kind solutions for thousands of homeowners. While our reputation for honesty, integrity and transparency ensure your next project is delivered on-time and without budget blowouts.
Treating each project as if it was our own, we specialise in custom designs made from the best and most eye-catching hardwood materials. Our handcrafted boards, rails, steps, posts, bearers and joists come together to create the perfect board for your lifestyle.
But let's be honest…you're not here for that.
You want to know whether a board carefully and professionally installed by our team is going to turn your unused outdoor space into a welcoming place for dinner, drinks and downtime.
And you want to know whether your new outdoor space can be brought to life with competitively-priced materials that don't spill over your budget or cause constant (and frustrating) construction delays.
We know that timber specs and hardwood samples are nice, but partnering with a building team who understands your vision is what's most important. To date, we offer 6 timber materials with a 7-year warranty – suited for all types of properties.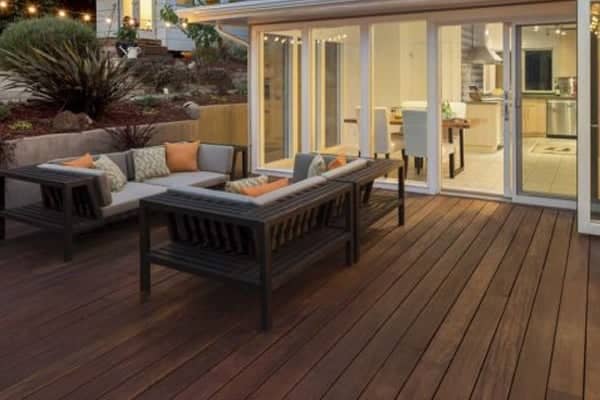 Teak, in particular, is famously resistant to rot, decay, insect attacks, and other weather-related issues. These features make our teak board an excellent option for those looking for tropical flair, weather-resistance, excellent shine, and long-lasting durability.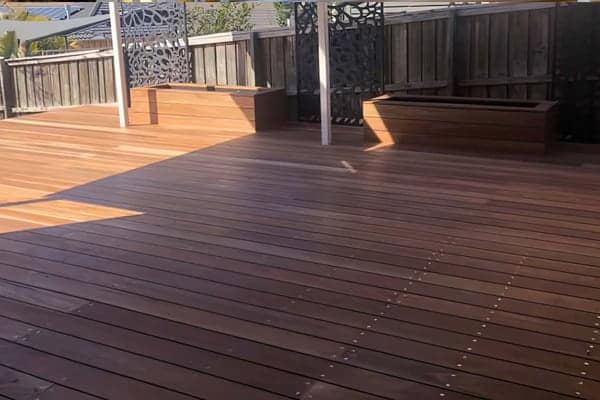 Our services are built around your needs, offering custom solutions to suit the size, style and shape of your home. With Australian climate challenging your board every day, blackbutt offers a sturdy and resilient hardwood that creates an uninterrupted flow between your indoor and outdoor spaces.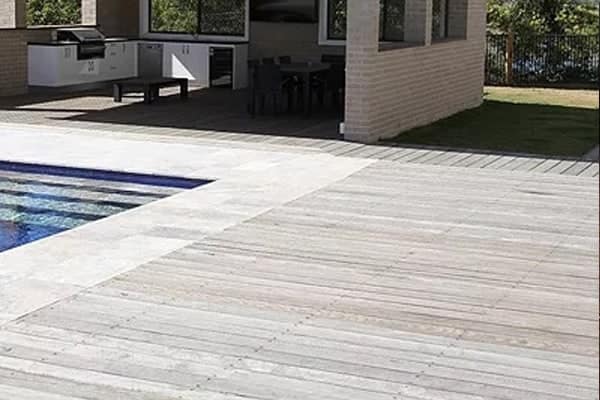 Ironbark board is available in red or grey, both of which unlock a host of advantages for your home and lifestyle. With 14 years of creating new spaces for our customers, we know what's required of your next home improvement project.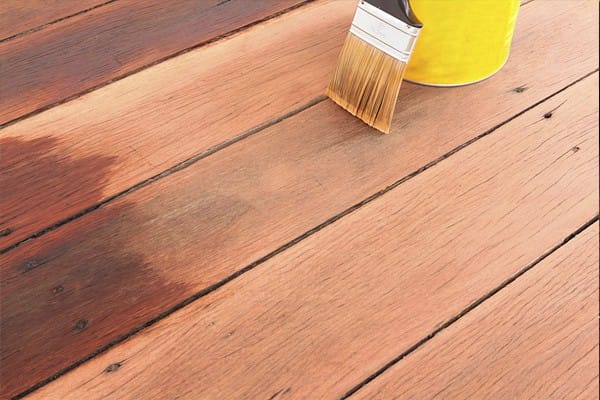 Our jarrah board, in particular, is sustainably harvested from the jarrah tree that's native to south-west Australia. It offers a stunning rich brown-red or burgundy hue that's sure to warm up any outdoor space while providing unmatched strength and durability over time.
Undeniably beautiful with swirling natural hues, wavy grains, and uniquely rustic tones, spotted gum is a high-end product that suits indoor and outdoor living. It's as tough as nails and will last up to 40 years, so you'll have lots of time to enjoy the new focal point of your yard.
What are your options in Sydney?
At UrbanArch Building our process starts and ends with the customer – that's you.
We're proud to offer a custom-designed service that suits your home, family and lifestyle. We don't believe in building the same board twice. After all, you're unique, and so your board should be too.
Having worked on homes of all shapes and sizes, our skilled team has developed the skills and knowledge required to bring your vision to life across a range of stunning solutions. All our boards are constructed from durable hardwood and built to Australian standards.
Hardwood options we offer are:
Our comprehensive design and construction process considers your budget, your home's structure, and your desire to create a stylish and modern board that complements your lifestyle and gives you a space that grows with your family. All this is built on the principle of design innovation and installation quality that means your board will still be turning heads tomorrow.
If you want to learn more, check out our articles:
What are the characteristics of our products?
Outdoor living plays a major role in the Australian lifestyle. Whether you're enjoying the long Sydney summer days with cool, family-friendly underfoot (the deck won't overheat in the sun), or sitting under the stars on a chilly winter's evening with your loved ones, this material is the low-maintenance, durable and striking addition your home is missing.
If you're looking for affordable boards to upgrade your lifestyle and create an outdoor space you'll love, let us know! Call us on 0413 185 735 to organise your FREE timber deck consultation.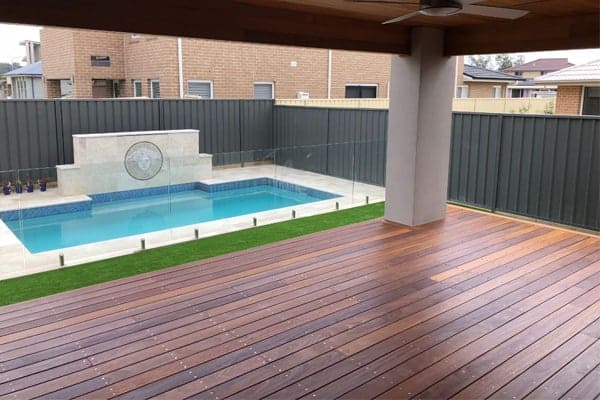 How Much Does Timber Decking Cost in Sydney?
The right option can turn an ordinary backyard into a social hub (and the envy of your neighbours), but it's important you don't overpay en route to a better lifestyle.
At UrbanArch Building, we're local residents, just like you. So we know the city can be expensive enough without adding unnecessary costs to your next home improvement project. That's why we're proud of our reputation as a premium provider, without the premium price.
Every project is delivered on-time and on-budget. When you partner with our highly skilled and licensed experts you'll receive a full breakdown of deliverables and costs. That means you know what's happening, when it's happening, and what it costs.
Factors influencing the price include:
The size and shape: The more complicated and the larger your board, the more you can expect to invest.
Your choice of hardwood: Popular hardwood options include merbau, jarrah, stringybark, ironbark spotted gum, and more.
Additional features: Extra features like stairs, screening or built-in seating will increase the enjoyment you get from your board as well as your investment in your home.
P.S You'll need to factor in the cost of buying drinks and the odd cheese board for all the gatherings you'll host. With your own inviting deck, your house will soon be "the" place to be.
How Long is The Installation Process?
Council approval is not required If your board is less than 1 metre high off the ground and is less than 25 sq metres in size. If your project fits these specifications, you could expect your deck to be designed and installed within about 6 weeks from the initial consultation.
If your project needs council approval, you could expect the installation of your deck to commence 6 to 8 weeks from your initial consultation.
Then, once you've picked your preferred boards you can sit back and relax while our experienced team gets to work on the installation.
Increase the Value of Your Home (Today and Tomorrow)
Your home is your sanctuary, but that doesn't mean it can't be improved.
Sunny outdoor lifestyle means summer BBQs are practically mandatory, and our custom designs are able to complement your yard for the ultimate indoor/outdoor blend. At the same time, you may want to pack up your memories and find a new forever home down the track. And when that happens, timber decking can add tens of thousands of dollars to the value of your home.
DID YOU KNOW? According to figures from real estate experts at Domain, adding this type material can inject up to $100,000 in value into your home.
That's how you enjoy years of enjoyable, enhanced indoor/outdoor lifestyle then ROI (Return on Investment) when you hand over the keys and drive off on your next great adventure.
If you're keen to learn more about the deck that's tailor-made to suit your home, reach out and chat to a member of the UrbanArch Building team today on 0413 185 735.
What is the BEST Timber Decking to use?
Deciding to use hardwood for your new deck is only 50% of the equation. The remaining half is choosing the best material for you.
When choosing the best option for your needs you'll need to take into account:
We strive to provide the best options to suit your taste, with an unrivalled level of customer service and a commitment to helping homeowners breathe life into their dream backyards.
Explore some of our most popular types below:
| Jarrah | Spotted Gum |
| --- | --- |
| Jarrah comes in a variety of striking colours and rich tones from salmon pink to reddish brown. 15% more dense than oak, jarrah is fire-resistant and highly durable. | 1 of 7 hardwoods recommended for bushfire prone areas, spotted gum is highly durable, sustainably sourced, and comes in a range of eye-catching earthy tones. |
| Ironbark | Blackbutt |
| --- | --- |
| True to its name, ironbark is a dense and heavy hardwood that offers leading durability with a truly magnificent finish. Resistant to termites, rot and fire. | Highly fire-resistant, blackbutt is growing in popularity thanks to its durability and willingness to accept polish and stain without issue. |
| Stringybark | Merbau |
| --- | --- |
| An affordable hardwood, stringybark has a fine texture and offers naturally termite-resistant quality. Expect gorgeous swirling patterns of red, white, yellow and more. | Merbau presents a unique beauty with an enticing orange and gold finish. Easy to work with and cost-effective, Merbau boards are highly resistant to weathering. |
Call and Speak to our Experts Today
Experience our customer service and workmanship with your own FREE onsite timber decking consultation. Tell us a little about your vision and design ideas and we'll prepare a fully custom, obligation-free quote.
Nothing beats the look and feel of natural timber, and with one call to our licensed and professional team, you'll be able to see our passion for working with decks firsthand.
We're so confident in the quality of our boards that you'll receive an 8-year warranty for lasting peace of mind. Adding a deck to your home is an exciting home improvement project that makes every day at home that little bit more enjoyable, and we're here to talk decking when you are.
Looking to organise your FREE onsite consultation? Click here to schedule your time [HURRY: Spots limited]
Frequently Asked Questions About Timber Decking in Sydney
Timber is a natural resource, so can be susceptible to rot if not properly treated and maintained. Deck that's been pretreated, or the one that's annually oiled and stained can help keep it looking brand new year after year.
How do I maintain a timber boards?
Exposure to the Aussie elements can cause wear and tear. Maintaining your deck should be carried out annually, and include general washing and cleaning, as well as sealing to prevent cracking, warping or splitting.
What is the cheapest hardwood?
Hardwood costs can reflect their source, with certain materials easier to acquire. As an example, some hardwood is available for as little as $50/m2 while others can exceed $100/m2. Contact our team for detailed pricing to suit your budget.
Will my deck attract termites?
Termites attack 1 out of 5 Aussie homes, so it's important to consider whether your choice of hardwood is termite-resistant or not. Popular termite-resistant hardwoods include: jarrah, blackbutt, ironbark, stringybark, and spotted gum.
Why Choose Urbanarch Building

Quality
We understand you are investing your hard-earned funds - so we invest our skill, patience, and energy to deliver your finished vision using quality materials - not second-hand or auction sourced.

On-Time & Within Budget
We arrive on time, and we will stick to the budget agreed upon. You'll receive a schedule of work, explaining the workflow and schedule for your project.

Attention to Detail
We do the job the way it is supposed to be done - no shortcuts and we pay attention to the small details - every single time!

Family Owned
We are a locally and family-owned business. That means, we know exactly what every home and business owner deserves.

Custom Design
We offer a custom design and if you want something a little or a lot different - we can help you out.

We Genuinely Care
We genuinely care and we are committed to our clients with exceptional levels of customer care.

Responsive
We are fast and responsive. If you ring us, we will answer you straight away.

Customer-Focused
You are our client - we will always look after you.
Benefits Of Choosing
UrbanArch Building


Excellent Local Reputation
Exquisite Timber Products

On-Time, Within-Budget Project Completion

Professional and affordable price. Would be happy to recommend to others.
Very professional and helpful.
"I have just had my deck replaced with Trex. I used your website and contacted 3 of your recommended installers...."
Tony was very professional. The Urbanarch team has completed very top quality work on our deck.
Tony was fantastic through the whole quote process, he communicated well at all times.
Professional and willing to listen to what is wanted.
"Urban Arch was the best company to deal with. Communication from the start was excellent. From the first visit, through to completion of the job. Tony's boys working on the job were great. Happy to give references to anyone considering..."
"Thanks so much tony. Can I just take this opportunity to thank you for the way you and your team approach the work you do. It's the little things that shows the value we are receiving."
"I Just wanted to say a big thank you for the work completed over the past 2 weeks. We are so happy with the final outcome and the service that we have received from Urban Arch Building. From start to finish, the process has been easy and stress free. We are so happy with the final outcome and the quality of work. The guys did a fantastic job and went above and beyond our expectations. I will be recommending you to every one I know. Thank you for your attention to detail and bringing our vison to life. We are so grateful."