Build the deck of your dreams with UrbanArch Building
Expert Deck Builders Ready to Transform Your Outdoor Living Space
At UrbanArch, we know that high-quality timber decking can transform any space and provide a comfortable and relaxing outdoor sanctuary. Backed by more than two decades' worth of experience and a long list of happy customers, we take pride in being one of Sydney's leading timber decking experts.
Our tight-knit, dedicated team of deck builders are committed to delivering outstanding timber decking projects that stand the test of time. Using premium-quality wood and state-of-the-art 3D rendering technology, we work closely with our clients to understand their vision and ideas and use our skills and experience to bring those ideas to life.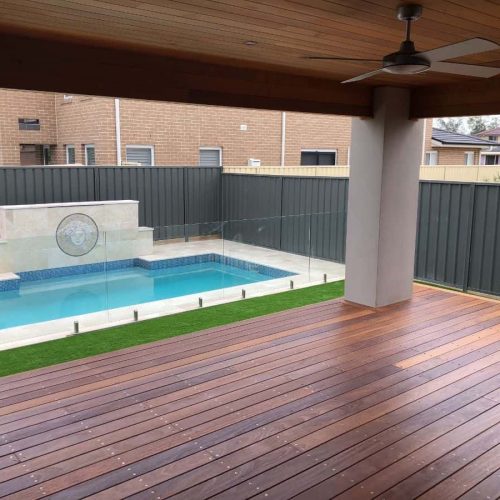 Initial consultation:
We'll kick things off with a consultation to discuss your desired deck size, location, preferred material, and any special features you've got saved on your Pinterest board.
Site measurement & assessment:
We'll then take measurements of the area where the deck will be built, assess the space, and identify any potential challenges or opportunities.
Design presentation & revisions:
From there, we'll prepare a design that incorporates everything you've asked for, in the space on your property. We'll then make the necessary adjustments in line with your suggestions or revisions.
Permit application:
Once we're all signed off and happy with the design, where required, we will apply for any permits to ensure that we're ticking all of the local legislation boxes.
Construction:
Time to get the ball rolling on your new deck! Depending on the scope of the project, we'll aim to get your deck built in a quick turn-around, so you can enjoy it sooner rather than later. However, that does not mean cutting corners – we'll make sure that your deck is installed with careful and diligent precision.
Our Timber Decking Solutions
Get a quote on your new deck
When you work with UrbanArch for your timber deck in Sydney, you can expect a seamless and professional experience from start to finish. From the first consultation to the final project delivery, we ensure that each process step is handled with precision and care.
If you're ready to transform your outdoor living space with high-quality timber decking in Sydney, contact the UrbanArch team today to schedule a consultation with one of our expert builders.
Benefits of Timber Decking
Timber decking is one of the most popular decking materials for homeowners that are looking to enhance their outdoor living space. A timber deck provides a timeless, classic look that can complement just about any outdoor living space while also providing a comfortable and relaxing place to relax, entertain, and enjoy Sydney's incredible year-round weather.
Some of the reasons that our Sydney clients opt for timber decks include:

Timber decks are made to last. From the long summer nights relaxing outside to the BBQs and general wear and tear that come with family life, timber decking is made to withstand heavy foot traffic. When you opt for high-quality timber, you'll also enjoy added resistance to insects, decay, and rot – which means you can enjoy a low-maintenance deck that looks great and stands the test of time.

Timber is amongst the most versatile decking materials on the market. From colours, finishes, and materials, we can customise the look and feel of your deck to suit your home or outdoor living space. Whether you're looking for something traditional or something more modern, timber ticks all of these boxes.

Timber decking is one of Australia's most popular decking materials for one reason – because it looks great. Timber is a natural, stunning addition to any outdoor living space. Unlike other decks, which can feel cold and uninviting, timber feels more like an extension to your home, inviting guests to make the most of the outdoor living area.  

Timber decking isn't only cost-effective – it can also be an excellent investment for your property. A thoughtfully designed timber deck can increase the appeal of a property by extending the usability of outdoor spaces and improving the functionality of your home. Whether you're doing it for value or liveability, a timber deck is an excellent addition to any home. 

Timber is a sustainable, regenerative material, meaning you can feel good about your choices for your deck. Our timber materials are sourced from sustainability-managed forests and suppliers to help you reduce your environmental impact and support sustainable forestry practices.
Start Building with UrbanArch
"Urban Arch was the best company to deal with. Communication from the start was excellent. From the first visit, through to completion of the job. Tony's boys working on the job were great. Happy to give references to anyone considering. I cannot speak any higher on the professionalism, pride,and workmanship of the Urban Arch team. We were kept updated & the project finished on time. The deck looks fantastic. If there was a score out of 10 with 10 being the highest, I would rate them 12."
Leon, Eastwood
"Tony was very professional. The Urbanarch team has completed very top quality work on our deck."
Lisa, Sydney
"Thanks so much Tony. Can I just take this opportunity to thank you for the way you and your team approach the work you do. It's the little things that shows the value we are receiving."
Thomas, St Ives
"I just wanted to say a big thank you for the work completed over the past 2 weeks. We are so happy with the final outcome and the service that we have received from Urban Arch Building. From start to finish, the process has been easy and stress free. We are so happy with the final outcome and the quality of work. The guys did a fantastic job and went above and beyond our expectations. I will be recommending you to every one I know. Thank you for your attention to detail and bringing our vison to life. We are so grateful."
Gemma & Hash, Sydney
Timber Decking Sydney FAQs
Timber vs. composite – which is right for me?
It's the million-dollar question!
Timber vs. composite decking is the natural choice for most people choosing between decking materials in Sydney. We have written a complete guide to the pros and cons of composite vs. timber, but here are some of the key differences, pros, and cons of the different materials:
Timber Decking Pros:
Natural, warm appearance
Environmentally friendly regenerative material
Versatile colour and customisation
Durable
Timber Decking Cons: 
Requires regular maintenance.
It can be susceptible to wear in extreme weather without proper care.
Will wear faster than composite decking
Composite Decking Pros:
Eco-friendly material
Resistance to weathering
Consistent appearance
Composite Decking Cons:
Higher-cost outlay than timber
Less versatile design options
It can get hot under direct sunlight
How do you clean a timber deck?
Taking care of your timber deck does require some cleaning and consistent maintenance to keep it looking its best. To get the most out of your deck, extend its lifespan, and prevent premature aging, we recommend following a consistent cleaning routine that includes the following:
Sweeping
Apply cleaning solution
Scrub the deck with a broom & solution
Rinse the deck
Let the deck dry
To get your deck looking its best, we recommend cleaning it at least once every six months or as required by the local conditions. Regular maintenance can help prolong the lifespan and ensure you can enjoy your deck and make the most of your outdoor space.
How long will it take to build my deck?
Deck building timelines in Sydney will depend on whether we require a permit and the type of deck you're looking to build.
Council approval is not required If your board is less than 1 metre high off the ground and is less than 25 sq metres in size. If your project fits these specifications, you could expect your deck to be designed and installed within about six weeks from the initial consultation.
If your project needs council approval, you could expect the installation of your deck to commence 6 to 8 weeks from your initial consultation.
Do you offer custom decks?
Absolutely. Treating each project as if it were on our own property, we specialise in custom designs constructed from high-quality timber materials. We know that timber specs and hardwood samples are excellent, but partnering with a building team who understands your vision is most important.
If you're looking for a one-of-a-kind timber deck build in Sydney, look no further than UrbanArch Building. We provide an end-to-end service that is fully customisable to meet the needs of your specific requirements. We'll work with you personally to design the perfect custom deck to complement your outdoor space, ensuring it blends seamlessly with the rest of your property.
What areas of Sydney do you service?
We're mobile! If we're the right fit for your project, we can travel to most areas of Sydney. Some of the most popular areas in Sydney that we service include (but are not limited to) these suburbs:
Bellevue Hill, Birchgrove, Bondi, Bronte, Castle Cove, Castle Hill, Chatswood, Cremorne, Darling Point, Dover Heights, Double Bay, Elizabeth Bay, Gladesville, Gordon, Hunters Hill, Kirribilli, Kurraba Point, Lavender Bay, Lindfield, Longueville, Mosman, Neutral Bay, North Sydney, Paddington, Point Piper, Potts Point, Pyrmont, Queenscliff, Randwick, Rose Bay, St Ives, Seaforth, Strathfield, Vaucluse, Wahroonga, Warrawee, Watsons Bay, Waverley, Woollahra.
What kind of timber decking services do you offer?
Eco-friendly decking solutions
Hardwood timber decking
Timber deck builders
Timber deck design
Timber deck installation
Timber deck maintenance
Timber deck restoration
Timber deck suppliers
Timber decking contractors