Make sure you go with the right material for your new outdoor space with our comprehensive guide.
If you're planning on building a new deck, you need to make some key decisions first. Along with the design and placement of your decking, and perhaps most important of all, you'll need to decide on the kind of deck material to use.
Two of the most common options that homeowners choose between are composite and timber decking. Both have their pluses and minuses, and it's important that you carefully consider your options before deciding on one type over the other. Exploring all the nuances of each type of decking can help you choose not just for your budget but also what will work best for you as far as longevity and maintenance. 
Let's take a look at the benefits and drawbacks of each option so that you can decide which one is right for your needs.
To start with, what is composite decking?
Composite decking is made from a combination of various materials including natural materials like timber along with synthetic fibres and resins that are moulded into boards. This means that you can choose from a huge variety of colors and styles to create a deck that suits your home perfectly. 
A key advantage of composite decking is that it is rot-resistant, so you can expect it to last for many years without any maintenance. Composite decking is also very easy to clean and doesn't require staining and sealing like hardwood decking. 
A good composite deck should last you for 20 years or more. Composite decking is usually more expensive than hardwood, but it could be well worth the investment if you plan to keep it for many years. Just remember that unlike hardwood decking, a reputable decking composite board is resistant to UV damage and will not need to be treated with a coating to prevent discoloration. Some of the better brands to consider are: Trex, Azek by Timbertech, and Millboard.
What makes hardwood or timber decking distinctive? 
Hardwood decking is made from high-quality timber with a natural finish. Timber is a durable material that is perfect for outdoor use because it can withstand the elements well. 
It needs a regular maintenance program to keep it looking at its best and to make sure that it lasts many decades. It is very easy to maintain because you can simply sweep the boards clean and apply two or three coats of a reputable oil every 12 months or so to bring out their natural beauty. Hardwood decks can last for many years, but they do not have any special protection against UV damage, so they need to be treated with a coating to prevent any discoloration and to stop it warping or splintering. 
Hardwood decking is relatively inexpensive compared to composite decking, but you should make sure that you choose a high-quality grade of wood. The best woods to use for decking include spotted gum, ironbark, tallowood, merbau, and teak. 
Is composite decking all positive?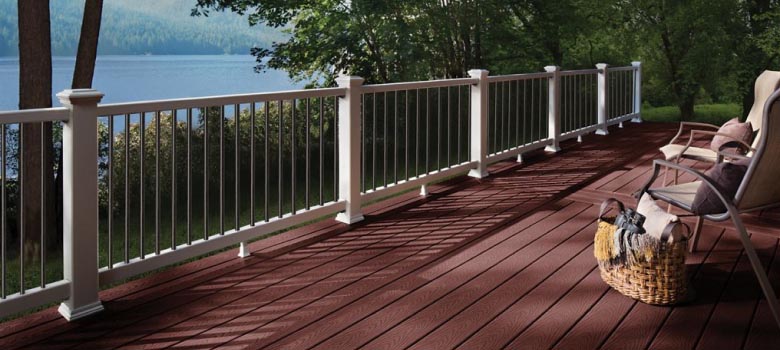 It can be hard to find drawbacks when it comes to composite decking, but it comes down to your decking needs and budget to determine whether a brand of composite will be the right fit for your project. 
Advantages
No need to seal:

You can save a lot of time and effort, and you don't need to worry about staining it ever again. 

No risk of fungal growth:

You don't need to treat it with any anti-fungal agents. 

No need for decking oils or stains:

You don't need to worry about applying a coat of oil or stain every year to protect it from wear and tear as you do with wood decking. 

No difficult maintenance:

Composite decking is also easier to clean than wood decking, so you won't have to spend as much time keeping it free of dust and grime. 

More resistant to UV damage:

This damage is much less likely to occur with composite decking, meaning it is less likely to fade or discolour over time.

Robust warranties:

Trex

has a 26-year fade and stain warranty while Azek by Timbertech has a 30 fade and stain warranty for its Legacy, Reserve and Terrain collections. The Azek Vintage collection has 50-year stain and fade warranty.
Disadvantages
Cost:

It is usually more expensive than a hardwood deck board (except for hardwoods like teak) so you upfront investment will be greater. 

Appearance:

The synthetic fibres in composite decking give it a slightly different look to natural wood, so for some people it isn't quite as appealing.

Brands:

Cheap composite boards may not last a long time. Stick with a reputable and well-proven brand.

Temperature:

Composite decking can be a little hotter underfoot than a natural hardwood.
A closer look at hardwood decking
Just like composite, timber has its own series of pros and cons to consider. While you might be looking at timber to save on cash, consider these other advantages and disadvantages before you make your choice. 
Advantages
Appearance:

For some people hardwood decking can look more attractive with timbers like spotted gum having a warmth, grain, and feel that is hard to match. 

Durability:

If you choose the right hardwood for your location and regularly maintain it, you can expect your deck to give you a lifetime of use.
Disadvantages
Maintenance:

You will need to treat it with a protective seal (oil) once every 12 months or so to protect it from weather damage. 

Cleaning:

Australia's weather can be quite severe, so cleaning it with oxalic acid and then applying 2 or 3 coats of a high-quality oil is a given if you want it to maintain its good looks. 

Cost:

Deck maintenance can cost in excess of $45 per square metre to sand, clean with oxalic acid and then apply 2 to 3 coats of a good oil. And in Australia, this has to be done annually.

Quality:

Timber decking requires a high-quality grade of wood.  Wood decking comes in a lot of varieties. Better, high-quality timbers are naturally more expensive. Make sure you choose carefully as the wrong choice can be much more expensive in the long run.   

Damage:

Timber decking is not resistant to UV damage, so it is likely to fade over time.
Choosing the right decking for you with UrbanArch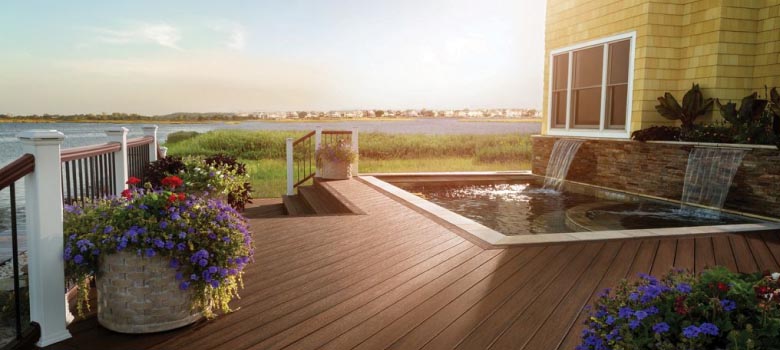 Ultimately, the decking you choose depends on your specific needs, your budget, and how willing you are to do maintenance. 
If you're looking for a more affordable option, wood decking is a great choice if you plan to do the maintenance yourself. However, it will need to be treated more often to prevent it from fading, and it doesn't last as long as composite decking. 
If you're hoping to spend less time maintaining your deck, choosing composite decking would be a good idea. It requires less maintenance, is easier to clean, and a reputable decking board will last for many decades and still look as good as the day it was installed.
At Urban Arch, we're experts in all sorts of decking materials and styles, so you can rest assured that collaborating with our team will get you the deck of your dreams. We'll work with you to design and build a deck with the material you choose, backing all of our work with custom design and attention to detail that is unparalleled. We genuinely care about our customers and pride ourselves on remaining on time, on budget, and on task throughout every project.
To get started with your new composite or hardwood deck, call us on 0413 185 735 or request a fast and free quote online today!