Take a deep dive into how this innovative green credentialled material can give you the outdoor living space of your dreams.
When it comes to composite decking, one of the first brand names to come to mind is Trex decking, and with good reason. The brand has been at the forefront of composite decking solutions since 1996. And homeowners across Sydney and the surrounds have availed themselves of this amazing material to extend their living spaces.
But what it is that makes Trex that much more special, than composite decking in general? We're going to dive right into everything you need to know about this amazing material and how you can build the deck of your dreams. 
Introducing: Trex decking
Trex has invented, defined, and perfected the composite deck category, becoming the world's largest manufacturer of timber-alternative decking products. 
Trex decking is a type of wood composite material that is made from an innovative blend of 95% reclaimed timber and plastic. Their deck boards have been this way for more than 20 years, well before green was a buzzword.
The reclaimed timber in a Trex deck is combined with recycled plastic from a variety of sources ranging from the overwrap on paper towels to dry cleaner bags, sandwich bags, newspaper sleeves, and grocery and shopping bags. 
Here's an interesting fact: the average 45 square metre composite Trex deck contains 140,000 recycled plastic bags! That's pretty impressive.
Reclaimed timber that would otherwise end up in a landfill can be used to make a Trex high-performance composite decks. Recycled timber refers to materials that are salvaged from another existing structure. This could be sourced from a bridge, deck, or building among other places. Reclaimed timber, on the other hand, is not sourced from other structures and instead comes straight from the forest floor.
By using reclaimed sawdust and plastics, Trex has never had to cut down a tree to make deck boards. Ever.
What to expect from your Trex deck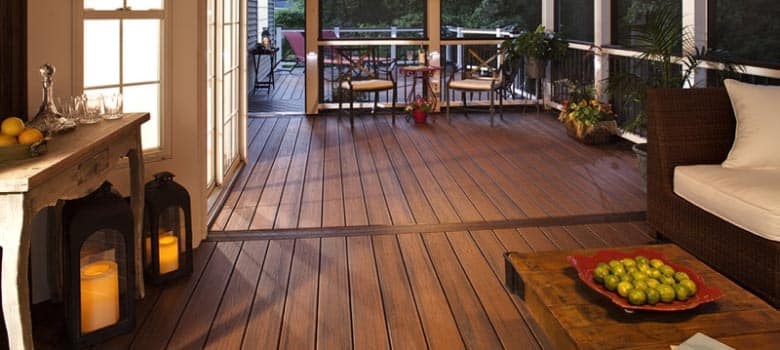 When it comes to building a deck, it's worth thinking long term. While some costs are simple, others cost you things more precious…like a lazy lunch with the kids, time with the newspaper, and straight-up patience. Below, are some decision points to help you choose what's right for you, your garden and your budget. (Not to mention your weekends.)
Soap and water maintenance only required

Natural timber grain finish

Rich colours

Earth friendly

Lots of design options
Trex composite decking boards don't compromise on performance or reliability. They're hassle-free and don't require sanding, staining, or painting, which means less time working on your deck and more time relaxing outside. Your deck will look like new for years to come thanks to the protective outer shell on each Trex board, which can outlast harsh temperatures and inclement weather.
Trex decking has been used by homeowners for years because it provides a durable alternative to traditional decking materials. It's also environmentally friendly because it uses less than half the energy required to make other products. And unlike wood, it won't rot or warp.
Environmentally friendly 

25 year warranty against fade and stain (no more annual expense for cleaning and re oiling)

It won't splinter or warp

No sanding, staining or oiling required

It comes in a great range of colours to suit modern, contemporary and established homes
Availability of Trex in Australia
Trex Transcend is the range currently available in Australia and was first introduced in 2010. It has been engineered with a propriety
Shell technology that protects against fading, staining, scratching, and mildew. Trex transcend offers the ultimate in beauty and performance – with an unrivalled 25-year stain and fade warranty. With Transcend, your deck will not only look beautiful now but for decades to come. 
Beautiful and durable, Trex Transcend decking has been engineered to withstand gruelling temperatures associated with bushfires. Boasting Bushfire Attack Levels of BAL-19 (grooved boards) and BAL-29 (square boards), this non-combustible decking material can endure the windborne embers and burning debris that accompany heat fluxes between 19 and 29 kW m2.
Havana Gold
Havana Gold
is a warm, brown colour with hues of honey and caramel. The warm glimmer delivers a rich, exotic aesthetic look which is designed to mimic tropical hardwoods like teak. The eco-friendly board has a natural wood-grain pattern and subtle shading for an authentic streaked look straight from the tropics.
Tiki Torch
Tiki torch
features hints of nutmeg and ginger. Tiki Torch is an easy-going light brown designed to mimic tropical teak, with its true-to-nature vibrancy and realistic grain pattern. Its elegant tones make it suitable exquisite suitable for any house colour and matches perfectly with limestone and other natural colours. 
Island Mist
Island mist
is a cool medley of calming silver tones, mimicking the weathered look of driftwood with its true-to-nature vibrancy and realistic grain pattern. Island Mist seamlessly suits your crystal blue pool or Sydney beaches. It's a perfect match for a contemporary home design.
Lava Rock
Lava rock
features rich reddish-black undertones and is similar to imported merbau timber. Lava Rock looks and feels like magnificent redwood – perfect for barbeque settings.
Spiced Rum
Spiced rum
is an earthy umber with onyx black low lights. Complemented by a natural wood-grain pattern, the eco-friendly board uses nature-inspired colour streaking to create a striated look much like Ipe wood, a tropical hardwood
.
Gravel Path
Gravel path
: Like a stony pastoral lane, Gravel Path brings a pristine grey to the outdoors with its true-to-nature vibrancy and realistic grain pattern.
Rope Swing
Rope swing:
A pale, sandy taupe, Rope Swing is a carefree colour for a place of outdoor leisure, with its true-to-nature vibrancy and realistic grain pattern.
Find the deck of your dreams with Trex from Urban Arch
No matter what shade or grain you decide to go with, there's going to be a Trex decking option that works for any outdoor living space design. The important thing is to understand the benefits of trex as a whole and make the choice to go composite for a durable and long-lasting decking solution.
If you're evaluating different decking options or aren't sure where to start with Trex, the team at UrbanArch is standing by to help. We've been supporting homeowners across Sydney for years with custom designs and building with materials to match any need and any budget. And we think Trex is a great option for those looking at composite for the first time. 
To get started with your new composite deck, call us on 0413 185 735 or request a
fast and free quote
online today!