If you're looking for an unmatched alternative to timber decking, you can't go wrong with Trex deck. 
This innovative and eye-catching composite decking is termite-resistant, rot-proof, weather resistant, beautiful, and significantly less expensive (and less work) in the long-term than true timber alternatives. 
You really can't go wrong with this product. One thing you can go wrong with, though, is your supplier. 
Here's why it matters, and how to choose the best Trex deck supplier in your area. 
What should I look for when hiring a trex deck supplier? 
When choosing a Trex deck supplier, you should look for a few things that separate the average from the exceptional. Don't be swayed by flashy websites or slick salespeople. The right supplier will take the time to understand your needs, offer a wide array of composite products, and provide peace of mind warranties and services to support your project.
Here's a deep dive into what you should look for.
A wide variety of options 
Picking a deck is certainly not a one-size-fits-all endeavor, and you'll want to make sure that the supplier you choose has the inventory and the color options that you're looking for. 
At Urbanarch, we offer an array of Trex deck colours including: 
Lava rock, a rich red-hued mahogany 

Spiced rum, a chocolatey brown 

Havana gold, a golden brown hue 

Tiki torch, a more orange, tropical hue 

Island mist, a beautiful dark grey 

Rope swing, a light straw colored composite 

Gravel path, an easy-to-match light grey hue 
And that's just scratching the surface of the 7 different colours we have available. To learn more about our flexible design options, reach out on 0413 185 735 for more. 
Consumer sales
Many composite decking suppliers only sell to other trades or wholesale, rather than directly to the customer. This often makes sense from a business perspective – as other businesses tend to place larger orders and/or be repeat customers – but it'll be a real bummer if you fall in love with a style or a price only to find out that they won't work with you. 
Warranties
The last thing you want is to deal with a whole deck installation only to face costly problems down the line (and be stuck with the bill). That's why you want to make sure that the supplier you choose offers a Trex deck warranty. 
At Urbanarch building, we offer an 8 year labour warranty on our Trex deck composite decking, as well as a 25 year limited manufacturer warranty, so you'll have nothing to worry about for years to come. 
Industry experience
No matter what you're looking for, you'll always want to choose a professional that has the right experience for the job. It's the only way you can be sure that they'll respond well to adversity and have the skill to pivot if the need arises. 
It's also the only way to ensure that they have the right knowledge about Trex products. That way, they'll be able to design and install your Trex decking and railings – and you'll have the peace of mind of knowing that there won't be any avoidable mistakes. 
Before you go… check out our Composite Decking Price Guide to stay on top of your budget
What questions should I ask a potential trex deck supplier?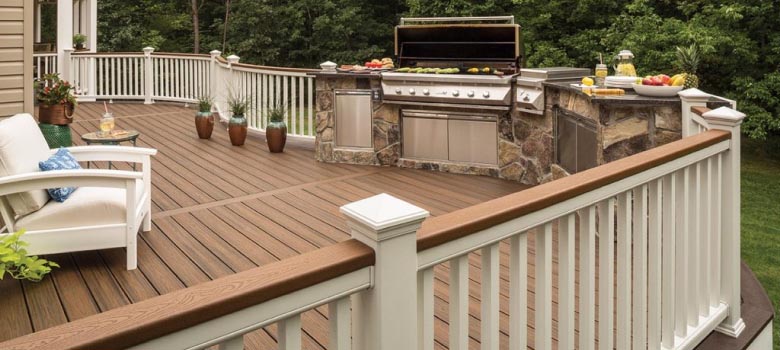 If you've found a supplier that you think is right for the job, you'll want to make sure to ask the right questions. 
That's the only way you'll be able to make sure that you get the product availability, timeliness, and great customer service that you should be looking for. 
To this end, you should ask: 
"How long have you been in business?"

A company that's been in business for a long time in your area is likely more reputable and trusted in the community. 

"What kind of warranty do you offer?"

You'll want at least a 5-year warranty for your composite decking. 

"Do you have any references?"

The right team will easily be able to give you references and point you in the direction of other happy customers and reviews. 

"What's the quote, and how long will the job take?

" If you have a team installing your Trex deck as well, they should be able to tell you immediately around how much it should cost and how long the job would take. If they can't give you reasonable estimates, that should be a problem. 

"Do you offer custom work?"

Like we said, no two decks were created equal, and the right team will be able to customise some things for your unique home. 

"Can I get a free quote?"

Most reputable businesses will offer a free quote, and you should expect it. 

"Do you have a portfolio?"

If you don't want to be searching around for references and reviews, the company should be able to provide you with a comprehensive portfolio that you can search through for inspiration and proof of skill. 
Is Trex decking worth the investment?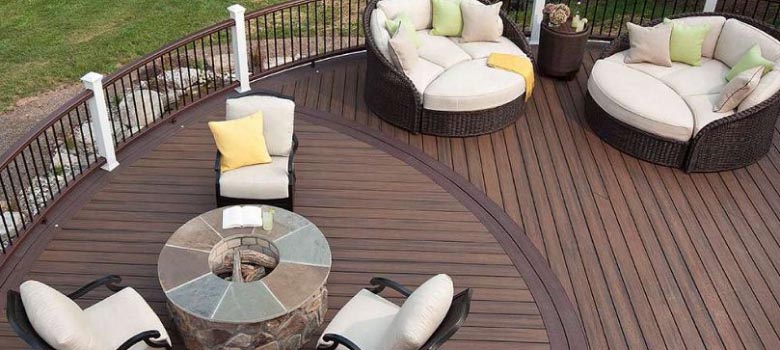 In many cases, the answer is yes!
Timber decking is natural and extremely stunning, but it can be a lot of work, and difficult to maintain in the long-term. Trex deck presents a significantly higher up-front investment, but it's known to be: 
Lower maintenance than timber decking boards 

Extremely versatile, with 23 colors available at Urbanarch 

Protected by a 25-year limited warranty 

Scratch-resistant, fade-resistant, stain-resistant, and mould-resistant 

Termite-proof and resistant to attacks from other insects 

Dent resistant 
This makes it an ideal choice if you want a beautiful, long-lasting, set-it-and-forget-it decking option. 
There is also the environmental impact to consider. See, Trex deck isn't a 100% composite decking option. Instead, it's made from 95% recycled materials, including timber, sawdust, wood grain fillers, and everyday household items, so you can rest easy knowing that no trees have been felled to build your deck. 
Need more convincing? Check out our 'Is Composite Decking Worth It?' Guide
Need help on your next composite decking project?
If you are looking for a Trex deck supplier, it's important that you find the right team. That's the only way you'll get the color options, warranty options, and installation prowess that you're looking for. 
If you have more questions about Trex decking, composite decking in general, or all of your decking options, feel free to reach out to us directly on 0413 185 735. You can also fill out the form here if you would like a fast, free quote and we will get back to you as soon as possible.