Imagine transforming your backyard into a stunning oasis with a beautiful pool with pool deck area, perfect for relaxation and entertaining. With a variety of pool deck materials, and family-friendly features, creating your dream outdoor space is easier than ever. Ready to dive in? Let's explore some pool deck ideas!
Key Takeaways
Transform your outdoor space with the perfect pool deck material and design for 2023.
Create a family-friendly area with safety features, play zones & sun protection
Choosing the Perfect Pool Deck Material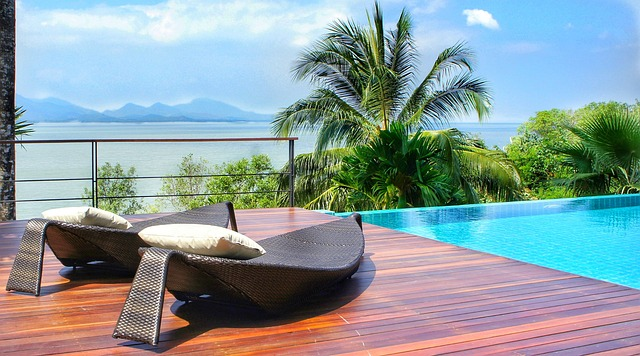 The aesthetics and functionality of your pool deck rely heavily on the material you choose. Here are some options to consider:
Natural hardwood timber options like Ironbark and Merbau, which give pool decks a warm, resort-style vibe
Composite decking, which offers low-maintenance appeal
There's a perfect pool deck match for every style and budget.
Regardless of your material choice, considering the climate in your area is necessary.
Natural Wood Options
Natural pool decking wood options such as:
Ironbark
Merbau
Tallowwood
Spotted Gum
Blackbutt
bring a touch of nature to your poolside decking, each offering unique characteristics and benefits. For example, Ironbark is a highly durable pool decking wood that requires minimal maintenance, making it an ideal choice for pool decking.
Spotted Gum is another popular choice, featuring a high-density rating and lower tannin levels, which means reduced staining on surrounding surfaces. Meanwhile, Merbau offers rich, reddish-brown tones but may require a thorough wash and sealing before installation, especially in sunny areas like the Sunshine Coast.
Each wood option presents its own charm and advantages, allowing you to create a pool deck that suits your taste and complements the surrounding landscape.
Composite Decking
Busy homeowners might find the eco-friendly and low-maintenance nature of composite decking to be an attractive alternative to timber decking and other natural wood decking materials. Made from a combination of wood and plastic, composite decking is resistant to rot, mould, and mildew, and comes in a wide range of colors and textures. Just perfect for pool decking.
For a comfortable walking surface that minimizes expansion and contraction throughout the day, choose a composite decking material with a low plastic content. Popular and well-rated composite decking brands include:
Trex
TimberTech
Fiberon
Azek
Millboard
These options give you plenty of choices to create a stunning and long-lasting outdoor oasis.
Stone and Tile
For those seeking a sophisticated and durable pool deck, stone and tile options like travertine, limestone, and porcelain offer a unique and stylish look. These materials provide impressive longevity and are easy to clean and maintain, making them an excellent choice for busy households.
While the initial cost of stone and tile may be higher than other materials, their durability and low-maintenance nature make them a worthwhile investment. With a range of styles, colors, and textures available, stone and tile pool decks can be tailored to suit any design preference, creating a truly personalized outdoor space.
Designing Your Ideal cabana or pergola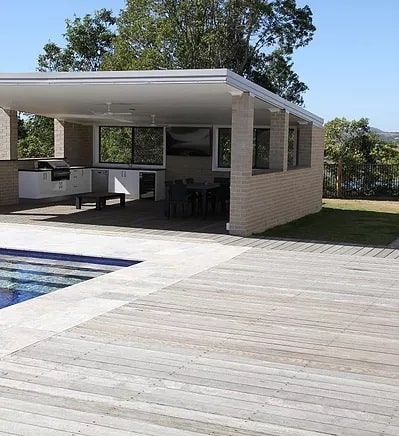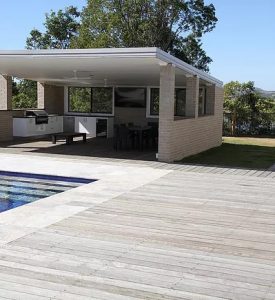 An effectively designed cabana can significantly boost your outdoor space's functionality and enjoyment. Here are some ways to achieve this:
Shape a welcoming and comfy setting for relaxation and entertainment by integrating shade and seating.
Incorporate pool equipment storage to keep your pool deck area organized and clutter-free.
Augment the ambiance with lighting and decor to create a pleasant atmosphere.
By implementing these design elements, you can create a cabana that enhances your outdoor experience.
Incorporating Shade and Seating
To create a relaxing poolside retreat, consider incorporating various shade structures and comfortable seating options. Options like pergolas, awnings, and umbrellas provide much-needed shade during hot summer days, while built-in seating, lounge chairs, and outdoor sofas invite guests to relax and enjoy the poolside ambiance.
When selecting the best shade and seating options for your pool house design, consider factors such as:
Budget
Maintenance requirements
Available space
Local climate
By combining stylish and functional elements, you can create a poolside haven for lounging, socializing, and soaking up the sun with beautiful pool surrounds.
Integrating Pool Equipment
A well-organized pool decking area not only looks great but also makes maintenance tasks a breeze. Clever integration of pool equipment storage, such as shelving, cabinets, and storage benches, can help keep your pool deck area tidy and free from clutter.
Enhancing the Ambiance
To create a truly welcoming poolside environment, consider enhancing the ambiance with lighting, plants, and decorative elements. String lights, lanterns, and spotlights can instantly transform your pool area into a cozy and inviting space, perfect for evening gatherings or a romantic dip under the stars.
Incorporating lush greenery and eye-catching artwork or sculptures can further personalize your outdoor oasis, while adding a water feature or fountain can create a calming atmosphere. By thoughtfully curating the aesthetic elements of your pool area, you'll create a stunning backyard retreat that reflects your unique style and taste
Creating a Family-Friendly Pool Area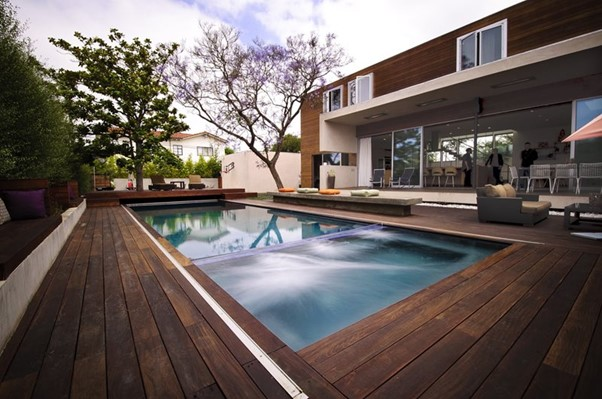 To ensure all users' safety and enjoyment, regardless of their age or swimming abilities, it's vital to design a family-friendly pool area. By incorporating safety features, designated play zones, and sun protection measures, you can create a welcoming and secure environment that the whole family can enjoy.
Safety Features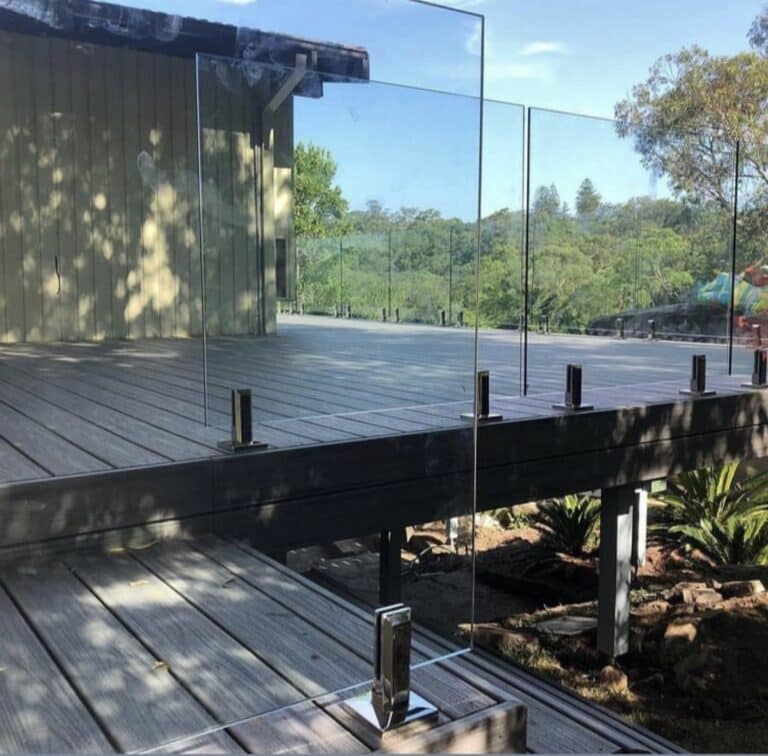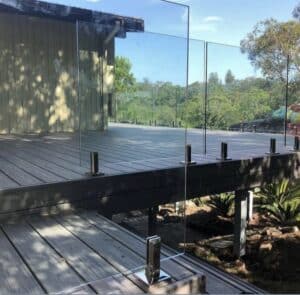 Safety should be a top priority when designing a family-friendly pool area. Installing pool fencing, utilizing non-slip surfaces, and incorporating pool alarms are crucial safety features that can help prevent accidents and ensure a secure environment for swimmers of all ages.
Additionally, it's essential to regularly inspect and maintain your pool's safety features to ensure they remain in proper working order. By prioritizing safety in your pool area, you can provide peace of mind for both yourself and your guests while enjoying your outdoor oasis.
Play Zones
Designating play zones within your pool area can help create a fun and engaging space for children while also promoting safety. Some ideas for creating play zones include:
Incorporating water features, such as fountains or sprayers, that children can interact with
Installing a slide that leads into a shallow area of the pool
Creating a designated shallow area specifically designed for younger swimmers
By creating these play zones, children can enjoy the swimming pool safely and under supervision.
When designing play zones, it's essential to consider the safety features mentioned previously, such as non-slip surfaces and pool fencing. By creating designated areas for play, you can ensure a fun and secure environment for children and adults alike.
Sun Protection
Sun protection is a crucial aspect of creating a family-friendly pool area, as prolonged exposure to harmful UV rays can lead to sunburn and long-term skin damage. Incorporating shade structures can help provide respite from the sun while still enjoying the poolside atmosphere. Some options for shade structures include:
Pergolas
Umbrellas
Shade sails
Gazebos
By adding these shade structures to your pool area, you can create a safe and comfortable space for your family to enjoy.
In addition to physical shade structures, it's essential to encourage the use of sunscreens and sun-protective clothing for all family members. By implementing sun protection measures, you can create a safer and more enjoyable pool experience for the whole family
Summary
In conclusion, transforming your outdoor space into a stunning poolside retreat is achievable with careful consideration of pool deck materials, pool house design, safety features, and luxury options. By selecting the right elements for your needs and preferences, you can create a personalized and inviting backyard oasis that the whole family can enjoy for years to come.
Frequently Asked Questions
Is decking around a pool a good idea?
Decking around a pool is a great idea. Not only is it easy and cost effective to maintain, but it also provides a soft and comfortable surface for entertaining or dining. It can also be used to create a beautiful outdoor living space, with plenty of room for seating, barbequing, and other activities.
What is the decking around a pool called?
A surround, deck, or decking is the area around a pool, often made of concrete, wood, or composite material. These materials are chosen for their durability and aesthetic appeal. They can also be used to create a safe and comfortable area for people to relax and enjoy the pool. Additionally, they can provide a barrier between the pool and the
Can you build a deck around a pool?
Yes, you can build a deck around an in-ground or above ground pool. For in-ground pools, determine the boundaries of the deck and begin to excavate, making sure there are no powerlines or pipes. Above ground decks should not be attached to the pool for stability, and require the right lumber, hardware, and tools.
What are the best materials for a pool deck?
For pool decks, natural wood options like Ironbark and Merbau, composite decking, and stone or tile surfaces are all great choices.