High-End Spotted Gum Decking
A deck extends your living space, creates an outdoor entertainment area perfect for conversations and catch-ups, and significantly increases the value of your Sydney home. But there's a difference between deciding to invest in a stylish and inviting board…and choosing the right decking material for you.
Enter spotted gum decking.
Undeniably beautiful with swirling natural hues, wavy grains, and uniquely rustic tones, spotted gum is a high-end timber product that suits indoor and outdoor living. It's as tough as nails and will last up to 40 years, so you'll have lots of time to enjoy the new focal point of your home.
At UrbanArch Building, we're a family owned and operated business with over a decade of experience delivering high-quality solutions. With a passion for bridging the gap between form and function, our eye for detail underpins everything we do. That means meeting your budget and design goals from project inception to completion.
We understand that outdoor living is a large part of your lifestyle, and we're here to help craft a deck you fall in love with every day, even if it ends up making the neighbours jealous.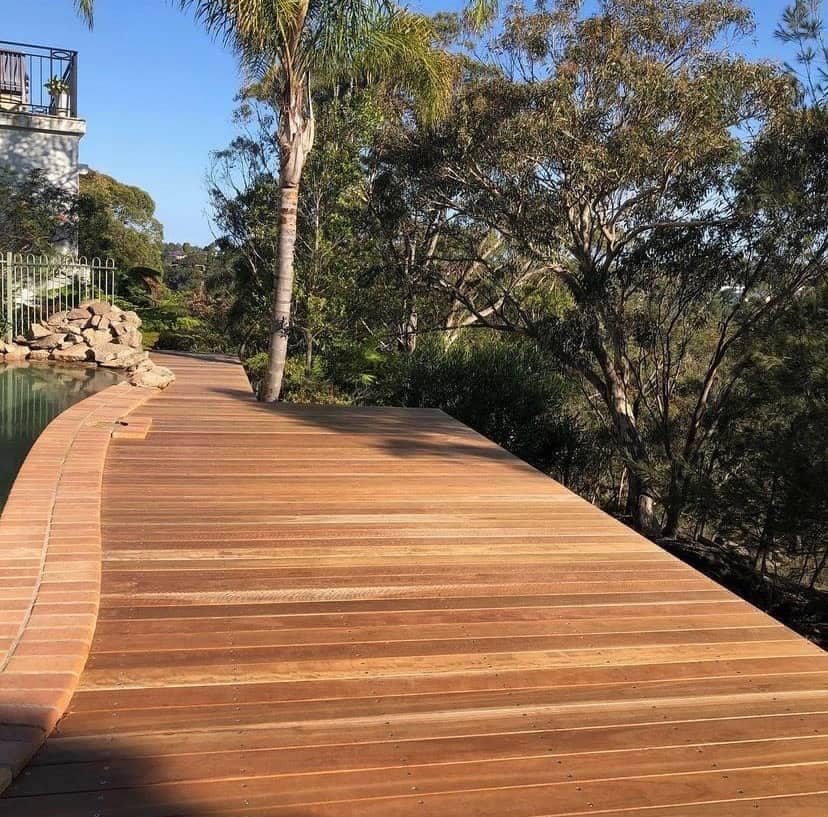 What are the advantages of this type of deck in Sydney?
You want your hardwood deck to offer structural integrity and a solid foundation whether you're entertaining friends or enjoying some well-earned downtime for yourself. But let's be honest…you want your new deck to turn heads, too.
There's no missing this material with its striking visuals and natural variation in colour. With shades from light brown to dark red, spotted gum can include blondes, light browns, and darker browns for a complex finish that complements its setting.
Regardless of the colour you've got in mind, our licensed, qualified and insured team at UrbanArch Building have you covered.
What Are the Benefits of Spotted Gum Decking?
It is a popular hardwood choice for the homeowners thanks to its stunning appearance and natural characteristics that lend themselves to a durable, modern deck.
As one of the most popular deck materials in Australia, the following benefits might explain why savvy homeowners around the country are turning to this material.
With a lifespan of more than 40 years, this material is purpose-built to grow with your family and provide a stunning outdoor space year after year.
How Much Does Sydney Spotted Gum Decking Cost?
It typically costs more than other hardwood timbers due to its naturally durable characteristics.
Compared with jarrah ($75/m2) or blackbutt ($88/m2), the average price lands around $105/m2…but we're anything but average. At UrbanArch Building we understand the importance of delivering quality solutions at a price that works for you.
With exquisite timber products and competitive pricing across boards of all styles and sizes, call and speak to a member of our team today to organise your FREE onsite decking consultation.
How long is the installation process?
The installation time can vary due to a range of factors. The time it takes to add an eye-catching patio, verandah or deck to your home will depend on:
As custom builders, we are able to take into account countless design variables including safety rails, storage, seats, stairs, deck lighting and many other custom features. The more complex your project (for example intricately curved sections or a split-level board as opposed to a rectangular design), the longer the installation and construction process will take.
Keep in mind, building this board is relatively straightforward. It's the council approval that can often add time to your project, with a deck that's higher than 1 metre from the ground requiring council approval.
Typically, you can expect to have your deck installed within 8 to 10 weeks from your initial consultation to you sitting on your new outdoor furniture with a drink in hand.
What is this material suitable for?
Decking, Fencing. Lining. Poles. Posts.
These are more than just the type of industry buzzwords our installers talk about at parties. They're the full range of applications for versatile spotted gum decking.
With minimal imperfections and a naturally oily texture, this material lends itself to saw and machinery work, allowing you to benefit from endless shapes and styles. And as a hardy and durable material, spotted gum deck boards accept oil, stain, and polish to keep your deck looking brand new.
Your new board retains that "just installed" feel for longer, and with regular maintenance, you'll have the neighbours thinking you've installed a new deck year after year.
How Strong Is Spotted Gum Decking?
Your choice of material can't just be made on the 'eye test' alone. Choosing materials from a catalogue or on Google is a great way to fill a lazy Sunday, but the shortcut to choosing a material that isn't suited to your needs.
Thankfully, this material doesn't offer that problem. Rated Class 1 on the durability scale (the highest possible score) for above-ground use, spotted gum will last for 40 years with strength and durability that can handle the wear and tear of your family.
Able to support the weight of your favourite outdoor furniture, your BBQ, and the guests who will inevitably want to be invited to your house for every holiday, Christmas and Sunday get together, this type of hardwood provides proven strength no matter how you plan to enjoy your deck.
Will My New Spotted Gum Decking Need Oiling?
Like any other hardwood, this material needs staining, sealing and oiling to keep it looking fresh and vivid. This doesn't mean you'll be spending every other weekend doing hard yakka, but knowing how to care for any type of timber is important to keep your deck's lustre for the long-term.
Oiling timber should be done to highlight the unique colour of the wood (with no two boards looking identical). Instead of using a clear oil (which won't last long under the Australian sun), opt for the oil with some degree of pigmentation.
This will protect your new boards against harsh UV rays, but help the gorgeous reds, and pinks and golden browns of your deck stand out.
Yearly oiling with a high-quality oil is the simple secret to a handsome hardwood that looks like the premium timber it is. We recommend the Cutek range of oils.https://www.cutek.com.au
Spotted Gum Decking vs. Composite Decking
Although this decision may seem simple, it's actually quite complex. But don't worry, we'll unpack the pros and cons of each material to help you find the right option for your needs and your budget.
Is This Right for Your Home? (Hint: Yes)
Don't take our word for it.
You've been comparing builder companies on Google. Researching the right hardwood material for your new board. And maybe even pictured where you'll position your new outdoor furniture to catch the best sun on those hot, sunny afternoons you'll be spending outside.
So take the next step and organise a FREE consultation with a member of our friendly team. At UrbanArch Building we are fully licensed and can bring your vision to life while exceeding your expectations.
Frequently Asked Questions About Sydney Spotted Gum Decking
Is spotted gum good for decks?
Absolutely. As a strong, hardy and aesthetically striking timber, this is the ideal decking material.
How long do these boards last?
You can enjoy this board for 40 years (or more) with regular maintenance.
Will spotted gum turn grey?
It does take on a greyish colour over time (which many homeowners love). If you'd prefer to maintain your favourite swirling caramels, browns and reds, you can use oils to maintain lustre.
Where does spotted gum grow?
Eucalyptus Maculata (the other name for this material), grows along Australia's east coast from Victoria to Queensland.
Can you stain spotted gum boards?
Yes. It can be stained, textured and oiled to ensure a consistent visual appearance.
Why Choose Urbanarch Building
Quality
We understand you are investing your hard-earned funds - so we invest our skill, patience, and energy to deliver your finished vision using quality materials - not second-hand or auction sourced.

On-Time & Within Budget
We arrive on time, and we will stick to the budget agreed upon. You'll receive a schedule of work, explaining what is happening and when.
Attention to Detail
We do the job the way it is supposed to be done - no shortcuts and we pay attention to the small details - every single time!
Family Owned
We are a locally and family-owned business. That means, we know exactly what every home and business owner deserves.
Custom Design
We offer a custom design and if you want something a little or a lot different - we can help you out.
We Genuinely Care
We genuinely care and we are committed to our clients with exceptional levels of customer care.
Responsive
We are fast and responsive. If you ring us, we will answer you straight away.
Customer-Focused
You are our client - we will always look after you.
Benefits Of Choosing

UrbanArch Building
Excellent Local Reputation
Exquisite Timber Products
On-Time, Within-Budget Project Completion
Professional and affordable price. Would be happy to recommend to others.
Very professional and helpful.
"I have just had my deck replaced with Trex. I used your website and contacted 3 of your recommended installers...."
Tony was very professional. The Urbanarch team has completed very top quality work on our deck.
Tony was fantastic through the whole quote process, he communicated well at all times.
Professional and willing to listen to what is wanted.
"Urban Arch was the best company to deal with. Communication from the start was excellent. From the first visit, through to completion of the job. Tony's boys working on the job were great. Happy to give references to anyone considering..."
"Thanks so much tony. Can I just take this opportunity to thank you for the way you and your team approach the work you do. It's the little things that shows the value we are receiving."
"I Just wanted to say a big thank you for the work completed over the past 2 weeks. We are so happy with the final outcome and the service that we have received from Urban Arch Building. From start to finish, the process has been easy and stress free. We are so happy with the final outcome and the quality of work. The guys did a fantastic job and went above and beyond our expectations. I will be recommending you to every one I know. Thank you for your attention to detail and bringing our vison to life. We are so grateful."