Get the Best Quality Composite Decking in Australia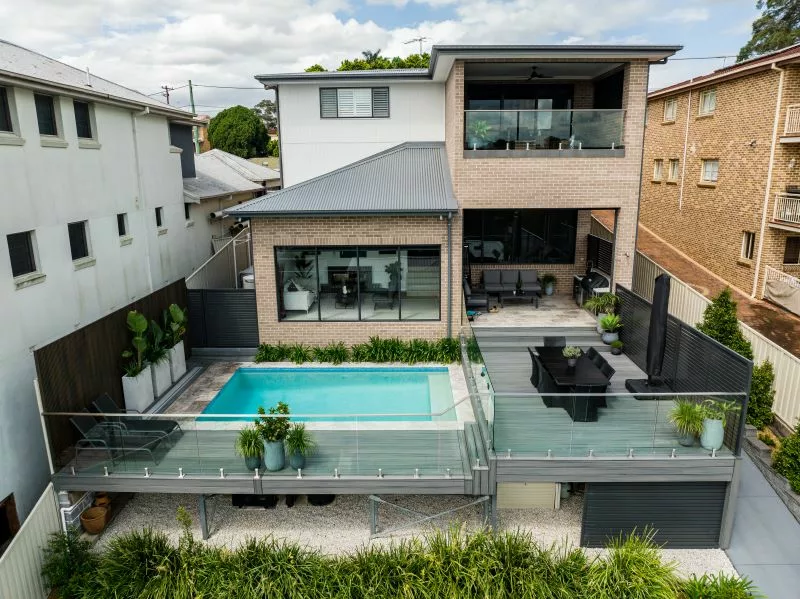 A beautiful outdoor living space is a dream come true for many homeowners. But what if you could have a stunning deck that not only looks great but also requires minimal maintenance and lasts for years to come? Enter composite decking products– the perfect solution for a stylish, durable, and eco-friendly deck. Let's explore the world of composite decking and discover why it's the ideal choice for your outdoor oasis.
Key Takeaways
Composite decking offers low-maintenance, weather-resistant options with a variety of colours and styles.
Leading brands available in Australia provide high quality eco-friendly products for creating stunning outdoor living spaces.
Composite decking is an environmentally superior option due to its recycled content and reduced maintenance requirements, making it a cost effective investment over time.
Why Choose Composite Decking?
Imagine a deck that withstands the harsh Australian climate, requires little to no upkeep, and retains its beauty for years. That's what composite decking offers. Made from a combination of recycled wood fibers and recycled plastic (HDPE), these materials provide enhanced durability and minimal care for your new deck.
But it's not just about practicality – composite decking products boast an attractive appearance that rivals natural wood. Available in a wide range of colours and styles, your deck can be customised to suit your personal taste and blend seamlessly with your home's exterior. Plus, with reputable brands like Trex, Millboard, and Azek, you can be confident in the quality of your materials.
Types of Composite Decking Materials
We will now explore the various types of composite decking materials available: Capped PVC, Wood Plastic capped composites and polyurethane and mineral boards, assisting you in making an informed decision. Each type has its unique characteristics, making it suitable for different applications and preferences.
A thorough comprehension of the features and benefits of each option will guide you in selecting the ideal composite decking material for your outdoor living space.
Capped PVC Composite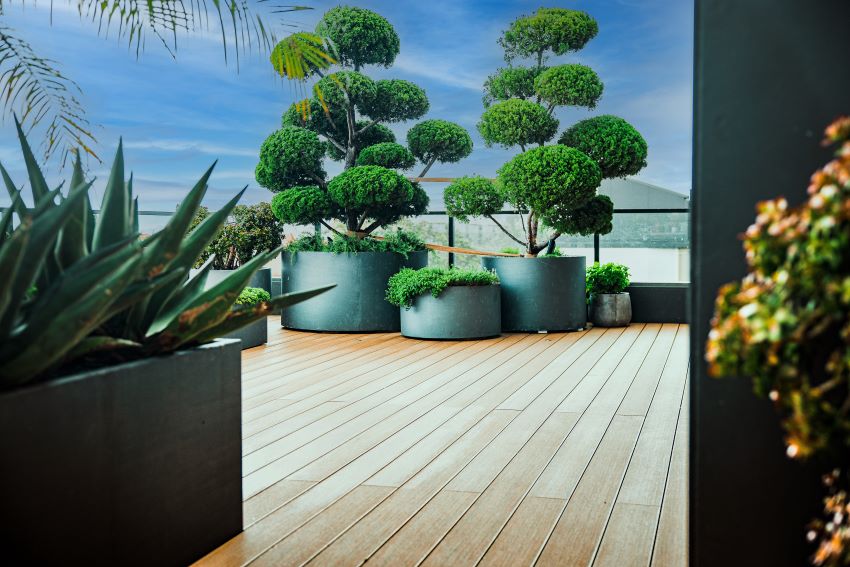 Capped PVC decking is made from a synthetic material, making it more durable and moisture-resistant than traditional wood decking. PVC decking typically consists of a core made from PVC and other plastics and a protective cap that covers the board's surface.
The cap is usually made from a harder, more durable material, such as acrylic, to resist scratches, stains, and fading. Because of its composition, PVC decking doesn't rot, warp, or splinter like wood decking, requiring less upkeep. PVC can avoid most of the pitfalls of timber decking — such as susceptibility to moisture — which leads to mould, mildew, rot, and, most noticeably, cupping or warping.
Additionally, PVC decking is often more eco-friendly than wood decking since it can be recycled and doesn't contribute to deforestation.
Capped composite decking combines the benefits of both solid and hollow boards while adding an extra layer of protection. This added layer enhances the durability of the boards, making them more resistant to stains and fading.
Choosing capped PVC composite decking will let you enjoy the following benefits:
A longer-lasting, low-maintenance deck
Retains its vibrant colour over time
Wide range of styles and colours available in the market
Premier durability — proprietary polymer blends from core to the cap, offering excellent protection from fading, staining, weathering, mould, and rot.
 Looks like real wood — Gives you all the beauty of natural timber — including realistic grain patterns — without the drawbacks.
Low maintenance —You won't need to concern yourself anymore with the annual and costly upkeep routines required for a timber deck. All that's needed is the occasional wash-down with a hose.
Capped WP Composite (Wood plastic)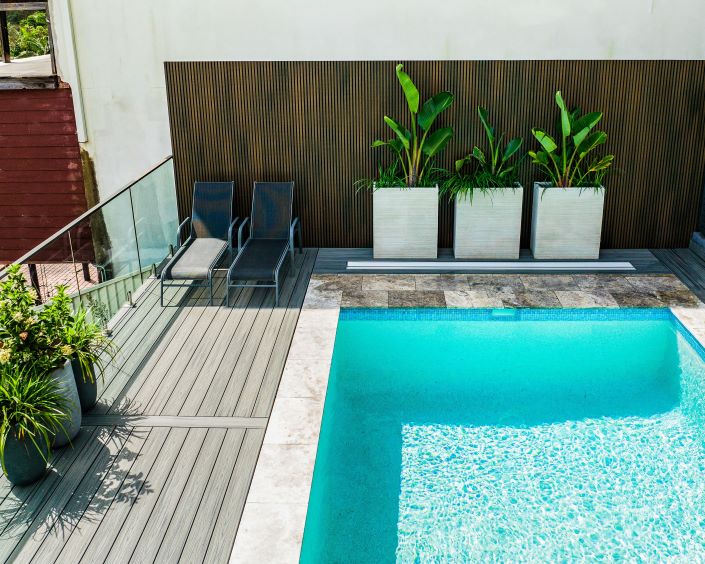 Capped composite decking material is an engineered product that consists of a core and a cap. This makes it seem like a simple product when the make-up of this board is anything but simple. Trex deck boards are an example of products made through this process.
However, unlike hardwood which requires trees to be cut down, this type of composite decking board sources wood from recycled materials, making your new board an environmentally-friendly green addition to your home.
The core of a capped composite deck board comprises two primary ingredients: wood (e.g. sawdust, wood chips, wood fibre) and plastic bonded together during the manufacturing process.
Homeowners who choose capped composite decking can enjoy the following benefits:
A longer-lasting, low-maintenance deck
Retains its vibrant colour over time
Wide range of styles and colours available in the market
Enables you to create an outdoor space that perfectly complements your home and suits your style.
The boards feature natural looking designs with  a wide variety of colour options to suit modern  and traditional home styles.
Durable, long lasting durability. The hard shell wrapped around recylced hardwood and plastics is as tough as nails. Pets, little children and their toys and boisterous gatherings won't bother it.
Decks for everyday living. Whether your'e looking for a deck for your pool or entertaining area, or just a quiet spot in the garden away from  ther hurley burley of life – this type of deck will be your best friend for a long time to come
Polyurethane and mineral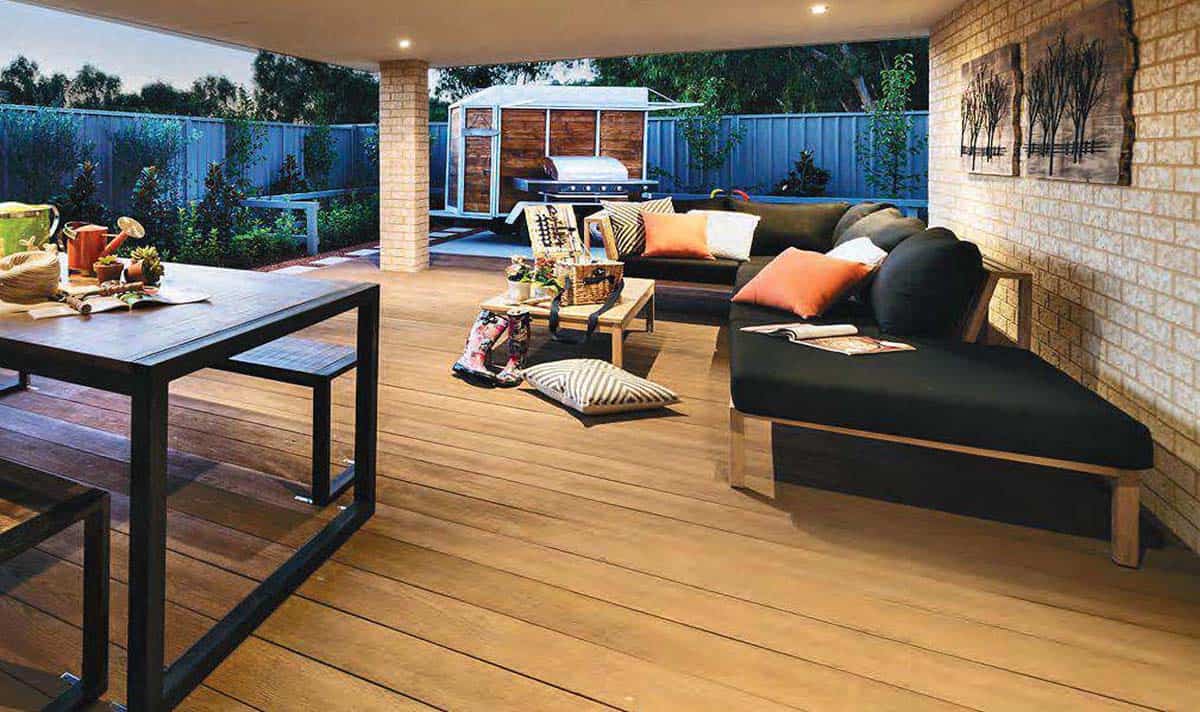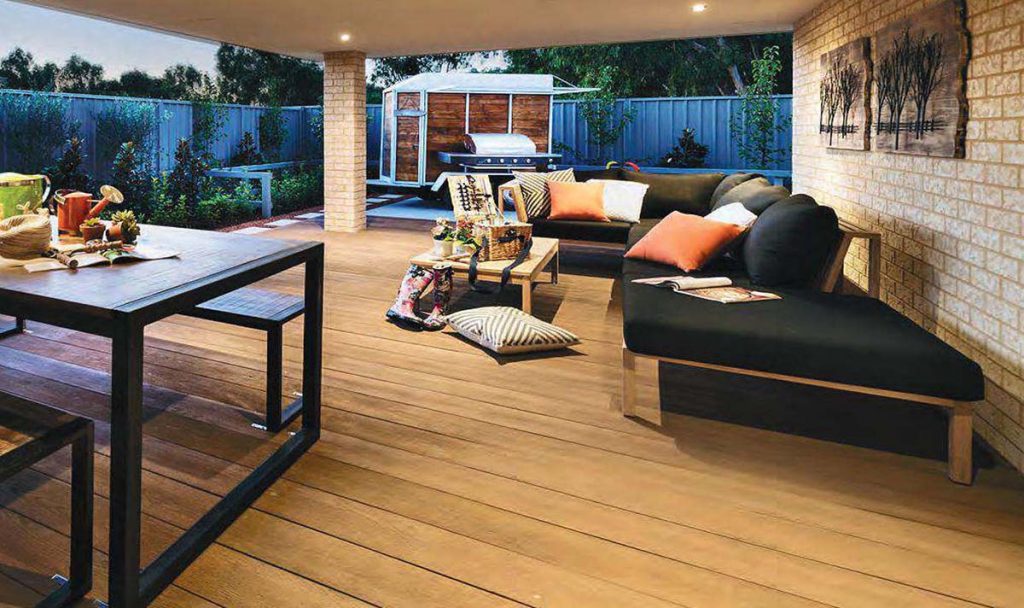 Millboard decking is a perfect example of this type of composite board.
Being seamless and water resistant, polyurethane is the ideal material to create deck boards that won't warp or rot. It's a material that is supple like rubber but rigid and hard-wearing like plastic, but it won't warp over time like rubber will.
And because there is no wood content, the boards won't play host to damp or insect larvae. It's the perfect material for outdoor use all year round.
Having discussed the types of composite decking materials, it's time to explore some of the leading brands available in Trex. Millboard, Azek, and Modwood are among the most popular composite decking brands in the country, offering a range of high-quality and eco-friendly products.
These brands provide composite decking boards and decking accessories – everything you need to create a stunning, low-care outdoor living space. By choosing one of these trusted brands, you can rest assured that you're investing in a high-quality, long-lasting deck that will enhance your home for years to come.
Installation Tips for a Flawless Finish
Following certain installation guidelines is crucial for achieving a flawless finish for your deck. First, ensure that the surface where the composite decking will be installed is clean, level, and free of debris. Proper preparation is crucial for a seamless installation and a sturdy, durable deck.
During the installation process, pay close attention to proper spacing, fastening, and board alignment. These factors will not only ensure a secure and stable deck but also contribute to a polished, professional appearance.
Don't forget to use chalk lines or other markers as guides during installation, as they will help you achieve precise board placement and alignment.
Design Ideas for Your Outdoor Composite Deck
Having addressed the technical aspects, you can now unleash your creativity and explore design ideas for your outdoor deck. From traditional to modern styles, the possibilities are endless when it comes to creating a unique and inviting outdoor haven with composite decking.
Consider incorporating built-in seating, multi-level composite decks, or even integrating your outdoor decking built with surrounding landscaping to create a seamless flow between indoor and outdoor living spaces.
With composite decking, you can truly let your imagination run wild and create a personalized outdoor oasis that reflects your style and enhances your home.
Pool Decks: Enhancing Your Swimming Area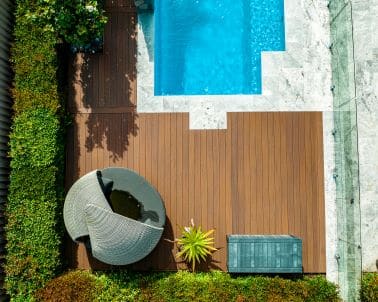 A stunning pool deck can transform your swimming area into a private paradise. Composite pool decks offer numerous benefits, including slip resistant surface, durability, and a stylish appearance. It's no wonder that many homeowners are opting for composite decking to enhance their pool areas.
To further elevate your swimming area, consider incorporating unique design elements like built-in seating, lush greenery, or a combination of wood and water features. With a composite pool deck, you can create a luxurious and inviting space that invites relaxation and enjoyment.
Eco-Friendly Benefits of Composite Decking
As the importance of being eco-conscious grows in our world today, composite decking emerges as a significantly environmentally superior option to traditional timber decking. These materials are composed of 86% recycled materials and are fully recyclable at the end of their lifespan.
Additionally, composite decking requires less upkeep and attention than older styles of decking, particularly timber decking, eliminating the need for staining, painting, or sealing. This not only saves you time and effort but also reduces the environmental impact associated with maintaining a traditional wood deck.
Caring for Your Deck
The longevity and appearance of your deck are largely dependent on proper care and maintenance. The good news is that caring for your deck is a breeze, requiring minimal effort and time.
To maintain your composite deck's beauty, simply sweep regularly to remove debris and clean the surface with a mild soap and water solution. With just these simple steps, you can keep your deck looking its best for years to come, allowing you to fully enjoy your outdoor living space without the hassle of constant upkeep.
Cost Comparison: Composite vs Timber Decking
While composite decking prices are higher than traditional timber decking, the extended lifespan, low-maintenance requirements, and enhanced durability of composite decking ultimately make it a cost-effective choice. By opting for a composite deck, you're not only investing in a beautiful outdoor living space but also in a long-lasting, eco-friendly solution that will continue to look great for years to come.
Summary
In conclusion, composite decking material offers numerous benefits that make it an ideal choice for homeowners looking to enhance their outdoor living spaces. With a range of styles, materials, and brands to choose from, composite decking provides a durable, low-maintenance, and eco-friendly solution for creating the perfect outdoor oasis in our harsh Australian climate..
So, why not take the plunge and start planning your dream deck today? Forget about sealing, sanding and staining. Your beautiful, sustainable, and long-lasting composite outdoor haven awaits.
Frequently Asked Questions
What are the pros and cons of composite decking?
Composite decking offers the promise of greater durability and less routine costs than wood, but may come with higher composite decking prices. It is available in a variety of colors and styles, has resistance to water and animal damage, and will not fade, scratch, or be prone to insect infestations.
However, it is heavier than natural wood and can melt under high temperatures.
Is composite decking better than wood?
Composite decking boards offer strength and durability with very little upkeep needed. They are resistant to fading and water damage, and are less susceptible to damage from termites and other wood-destroying pests than real wood.
Composite decking provides a highly durable, colour fast option, making it an attractive choice for homeowners.
Which composite decking brands are most popular in Australia?
Trex, Millboard, Azek and modwood decking are some the most popular brands in Australia.