Wollongong's Most Trusted Decking Experts
Stunning decking solutions for your Wollongong home
Welcome to UrbanArch, Wollongong's premier decking experts for over 12 years. UrbanArch Building is a local and family-owned business — so to us, creating the perfect deck and ambience for your home is personal. That's why we take this service seriously and offer: 
On-time and within-budget projects
Top quality materials and workmanship 
Extreme attention to detail 
Custom design options 
An 8-year warranty on all our services 
What's more, we offer a range of options, including composite decking and a variety of timber options like Teak, Blackbutt, Ironbark, Jarrah, and Spotted Gum. No matter what kind of deck building you have in mind, we'll help you choose and install the right option for you. 
Looking to elevate your South Coast home? Call 0413 185 735 or request a fast and FREE quote online now.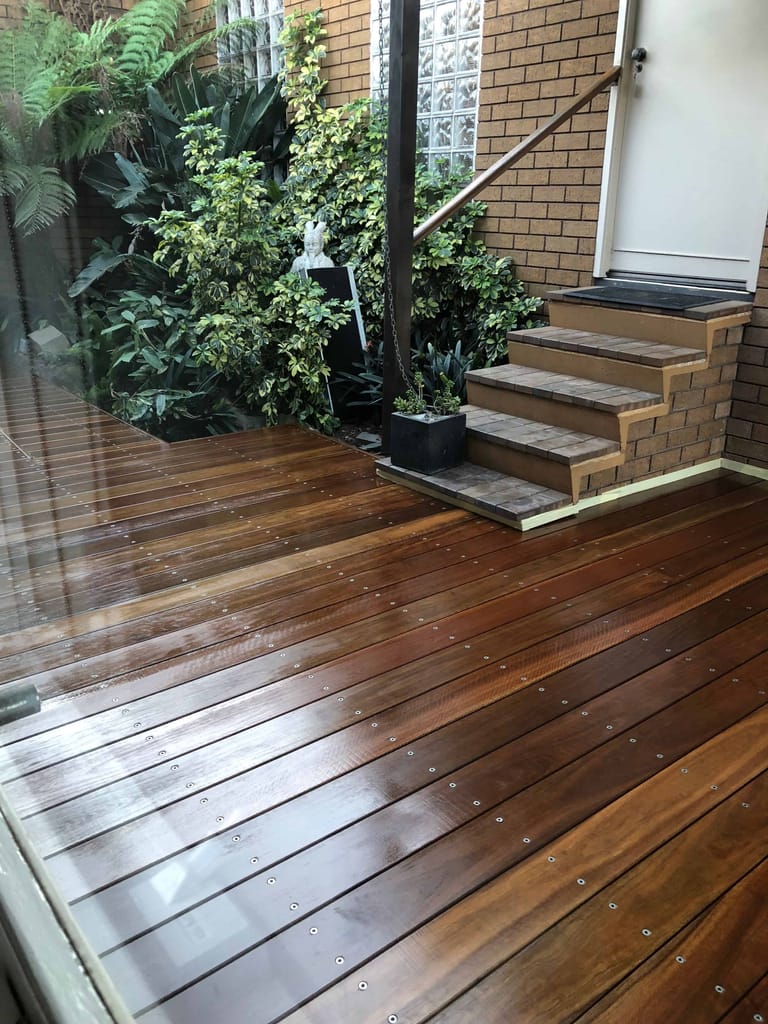 We offer a range of composite and timber options engineered to Wollongong's unique climate and conditions. Whether you live by the ocean and need a deck that can handle the conditions, or you want to enjoy elevated outdoor living on NSW's stunning South Coast, our
deck builders
here to help.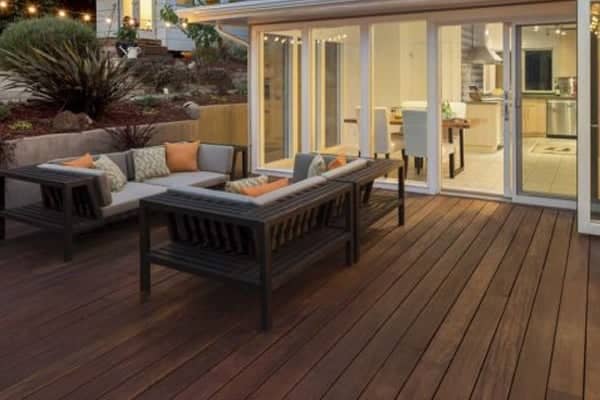 Looking for a flexible, weather-resistant, shiny, and durable timber deck? Teak is an adaptable and slip-resistant choice loved by boaters and backyard enthusiasts alike.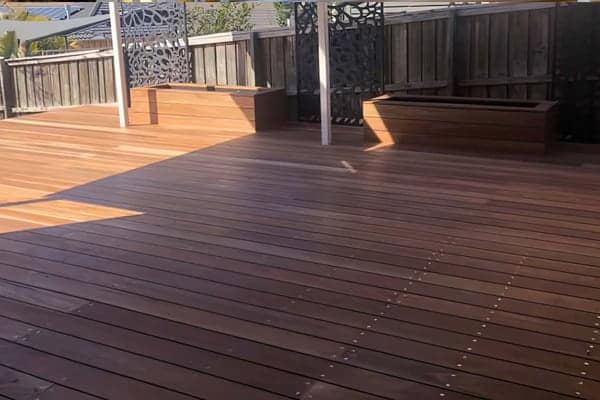 A strong and durable hardwood timber, blackbutt is a fire-resistant, striking, and supremely dense timber option.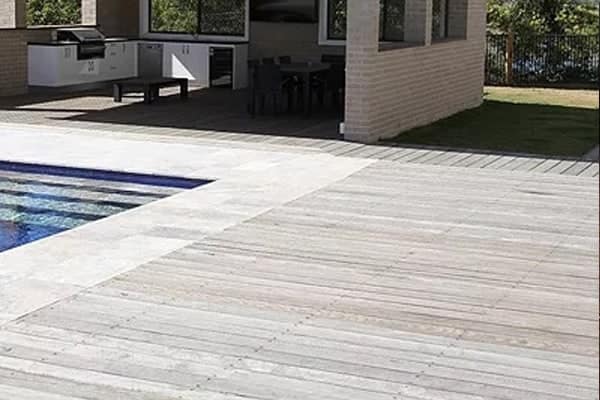 Ironbark is strong, termite-resistant, fire-resistant, and available in an array of attractive colours like deep red and pale yellow.
For a structurally sound, rustically appealing timber option, consider UV-resistant and bushfire-resistant spotted gum.
If you want a highly durable, sustainable, maintenance-free option, consider Trex Deck's environmentally friendly composite deck.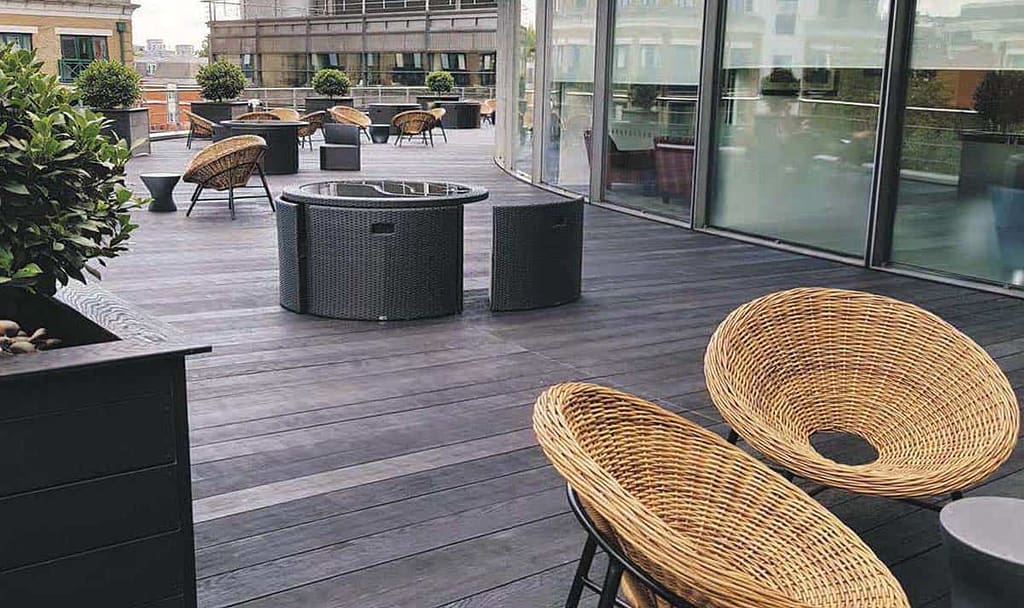 Millboard deck expertly mimics the look and feel of timber deck without the staining, maintaining, and sealing.
Frequently Asked Questions About Decking in Wollongong
What other services do you offer in Wollongong?
If you're interested in broader outdoor work, we also offer:
How long does it take to install decking in Wollongong? 
The overall time it takes to install decking in Wollongong will depend largely various factors like:
The size of the deck you choose
The complexity and level of customisation you want
The availability of timber
Weather conditions
That said, at UrbanArch, we follow the same three-step process for all of our South Coast deck building.
Step 1: Planning, Design, and Layout.
During this step, our deck builders work with you to choose timber suited to your Wollongong property, develop a design, and come up with the overall game plan to make the deck of your dreams. This is also the time when we get permits, submit council applications, and generally cross our t's and dot our i's. This step can take several weeks, and it's the longest part of the entire process.
Step 2: Foundation, Posts, and Framing
During step 2, we lay the foundation of your deck to make sure that it is structurally sound, visually stunning, and long-lasting.
Step 3: Decking, Railing, and Stairs
This is when we finalise the decking and provide any finishing touches, including railings and stairs. Getting this right and installing a stunning deck can not only help your family enjoy your outdoor space, but also increase your home's resale value over time.
How can I be sure I'm working with the right decking installers? 
Worried about choosing the right team for your decking install? You're not alone.
Installing a deck is a big investment of both your time and your money, and you don't want to wind up with something unsafe or ugly. Be sure to vet your prospective service providers and make sure that they:
Can offer workmanship and product warranties
Provide you with references and example work
Have a good local reputation
Offer comprehensive free quotes
Offer competitive pricing
Are licensed and insured
Why Choose UrbanArch Building?

Quality
We understand you are investing your hard-earned funds - so we invest our skill, patience, and energy to deliver your finished vision using quality materials - not second-hand or auction sourced.

On-Time & Within Budget
We arrive on time, and we will stick to the budget agreed upon. You'll receive a schedule of work, explaining the workflow and schedule for your project.

Attention to Detail
We do the job the way it is supposed to be done - no shortcuts and we pay attention to the small details - every single time!

Family Owned
We are a locally and family-owned business. That means, we know exactly what every home and business owner deserves.

Custom Design
We offer a custom design and if you want something a little or a lot different - we can help you out.

We Genuinely Care
We genuinely care and we are committed to our clients with exceptional levels of customer care.

Responsive
We are fast and responsive. If you ring us, we will answer you straight away.

Customer-Focused
You are our client - we will always look after you.
Benefits Of Choosing
UrbanArch Building


Excellent Local Reputation
Exquisite Timber Products

On-Time, Within-Budget Project Completion

Professional and affordable price. Would be happy to recommend to others.
Very professional and helpful.
"I have just had my deck replaced with Trex. I used your website and contacted 3 of your recommended installers...."
Tony was very professional. The Urbanarch team has completed very top quality work on our deck.
Tony was fantastic through the whole quote process, he communicated well at all times.
Professional and willing to listen to what is wanted.
"Urban Arch was the best company to deal with. Communication from the start was excellent. From the first visit, through to completion of the job. Tony's boys working on the job were great. Happy to give references to anyone considering..."
"Thanks so much tony. Can I just take this opportunity to thank you for the way you and your team approach the work you do. It's the little things that shows the value we are receiving."
"I Just wanted to say a big thank you for the work completed over the past 2 weeks. We are so happy with the final outcome and the service that we have received from Urban Arch Building. From start to finish, the process has been easy and stress free. We are so happy with the final outcome and the quality of work. The guys did a fantastic job and went above and beyond our expectations. I will be recommending you to every one I know. Thank you for your attention to detail and bringing our vison to life. We are so grateful."