Top-Quality Millboard Decking
Want a wood-look deck without the maintenance tasks and costs that come with using real timber?
Look no further than millboard decking. Our customers agree that top-quality composite material products mimic the appearance of timber decking – right down to the wood grain – so that it's near impossible to tell that it's not the real thing.
Combining the aesthetic appeal of timber with the benefits of composite decking, millboard decking is rising in popularity in NSW homes. Not only are millboard decking boards long lasting and resistant to termites, but they're also environmentally friendly. Oh, and no painful splinters if you venture outside without footwear.
The Urban Arch Building catalogue includes a wide variety of timber alternatives with colourways and grain ranging from golden oak to deep-hued jarrah. We provide custom design services with extensive attention to detail to integrate your decking with your home, garden, or pool-side needs.
We also know that time and budgets are of the essence. At Urban Arch, we provide every customer with a fast, free quote and a detailed schedule of work once we get started. Call us on 0413 185 735 today to learn how we can help.
What makes this type of deck different from other materials?
Think all decking boards are timber? Think again.
While any number of options can provide a sturdy surface, the materials they're made of are going to set them apart from one another, and fast. Many homeowners are drawn to the look (and comparably lower prices) of hardwood with rich wood grains and a variety of stains that can add plenty of design appeal. That is, until the weather starts to take its toll.
Millboard decking is one of the most unique and true-to-life decking boards available. Its unique patterning and attention to even the smallest detail from a dedicated team of craftsmen, make it one of the most realistic and beautiful boards available for your home project.
You can watch a quick video here.
What is Millboard decking made from?
As a composite decking material, millboard is made from wood-free polyurethane combined with mineral stone flour that is commonly known as resin, mineral composite (RMC) The result is a wood look without the wood maintenance and inevitable replacement that comes with it. After all, timber exposed to the elements is bound to wear down even with frequent cleaning, sealing, and termite protection.
A high-tech ultraviolet inhibitor is added to the Millboard product range to slow down any fading that might be caused by the harsh environmental conditions experienced in Australia. Glass fibres are also enclosed in the core to help provide the board with exceptional strength and durability.
And remember – with  millboard decking – there is no sanding, cleaning, oiling, or refinishing needed – ever!
Not only is it a composite material, it's actually more eco-friendly than many other types of core and cap materials. That's because it's made with reclaimed and recycled materials. Rather than a wood or sawdust pressed core, millboard decking boards repurpose polyurethane materials, keeping them out of landfills.
Polyurethane is a material that is as durable as timber but without the possibility of damage by termites or water. Because it is seamless and water resistant and has no wood content at all, the boards simply don't attract moisture or insects at all. The absence of wood fibres also means that it contains no tannins -and so is not liable to leaching and fading. Millboard deck boards are the perfect material for outdoor use, all year round.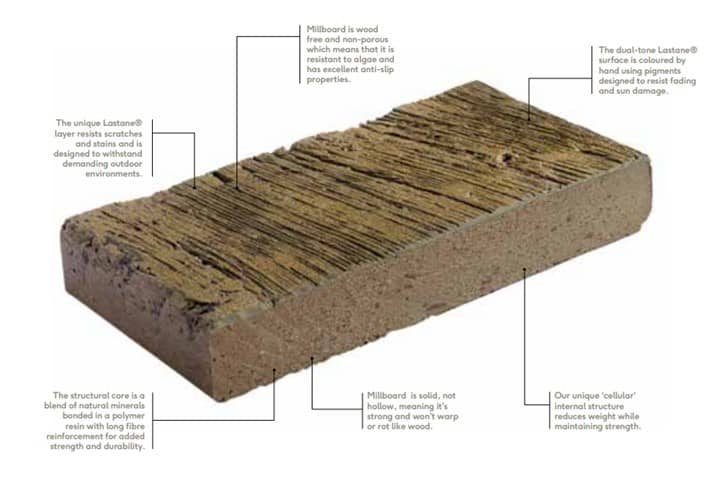 The outer cap, or finish, also offers a lot of detail with moulded lastane that is coloured and etched (or pressed) to create real-look wood grain. Not only does it look like timber, but the surface also adds traction (preventing pool-side slips, for example). Millboard decking is one of the best products to use around your pool. Not only does it look fabulous – but as a safety feature when people are running around enjoying the pool, its anti-slip properties give great peace of mind.
Millboard composite decking is probably the most natural-looking composite deck board available on the Australian market, and it looks nothing like plastic. Each board is hand finished by a master craftsman to provide an authentic wood finish so that no 2 boards are quite the same. Add that to the great range of available colours, and you have the perfect decking to complement your pool or entertaining area.
The resulting true-to-life colours and tones in each deck board show how committed the company is to its products and clients. If you are looking for a low-maintenance, natural timber-looking composite deck board that will stand out in any neighbourhood  – you can't go past the Millboard composite decking range.
What are the types of Millboard deck boards available?
Millboard Enhanced Grain deck boards
Millboard Enhanced grain is moulded from planed timber for a textured, slip resistant look and feel. It showcases the subtle nuances that only natural timber can give. Each of the 5 shades displays the beautiful grain that you would expect to see in a piece of beautiful natural timber.
The boards are manufactured to provide a visually stunning effect, not only through the colours and texture but also because of their size which makes them a  real standout. 
The size of enhanced grain boards is 176 mm wide x 3600 mm long and 32mm thick.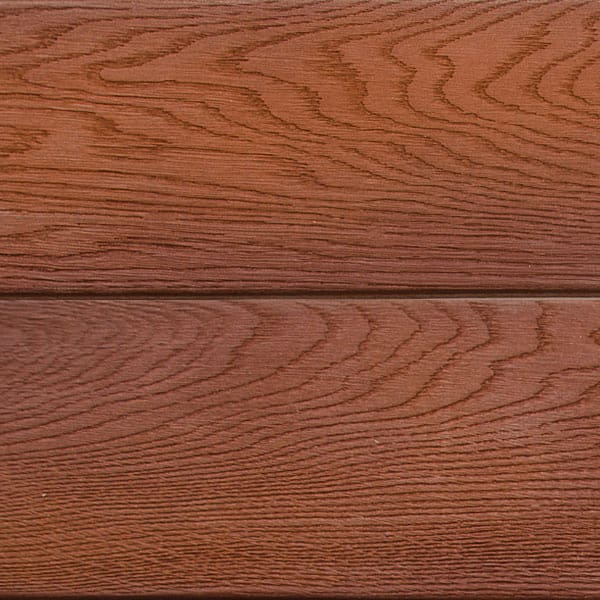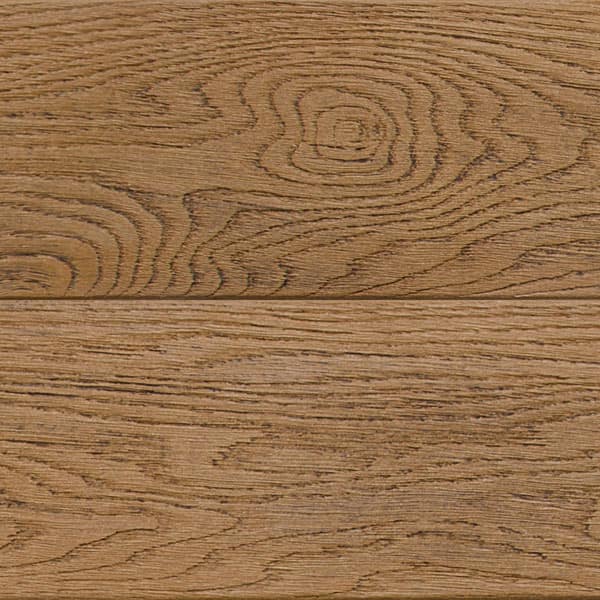 Millboard Weathered Oak deck boards
The Millboard Weathered Oak collection is moulded from 100 year old reclaimed weathered oak timber. It has a soft lived in feel and partners beautifully with other natural materials like stone and timber. The board is available in Driftwood and Vintage colours. 
The size of weathered oak boards is 200 mm wide x 3600 mm long and 32 mm thick.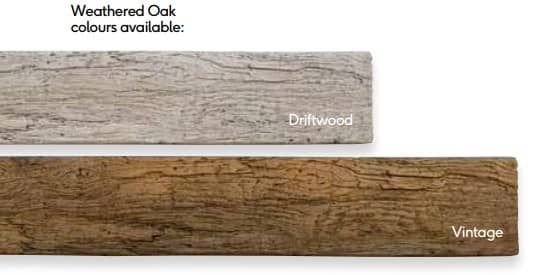 Millboard Carbonised emberred and charred deck boards.
Millboard carbonised decking perfectly complements the modern Australian contemporary feel and vibe that is becoming ever more popular in Sydney decking styles. You can mix and match rough and smooth textures with a matt or glossy finish to achieve that stunning look that will set your entertaining space apart from all the others.
Millboard carbonised boards have their inspiration in the traditional Japanese Shou Sugi Ban technique, where the surface of the timber is carefully burnt to create a stunning, permanent finish that is completely outstanding and unique.
These boards look fabulous as a wall feature or facade as well as being super practical and stunning for any Sydney deck.
The boards are available in 2 different sizes.
The emberred board is 200 mm wide x 3600 mm long x 32 mm thick.
The charred board is 176 mm wide x 3600 mm long x 32 mm thick.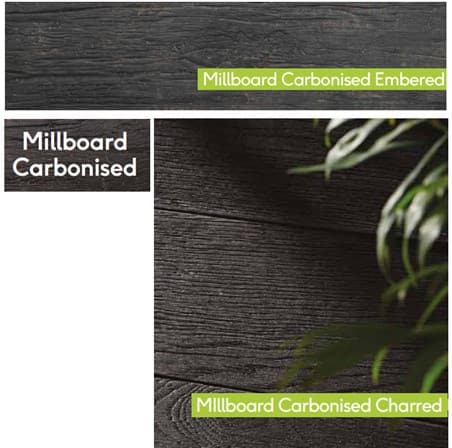 What are the advantages of Installing Millboard Decking?
Some frequently Asked Questions about Millboard Decking in Sydney
How long does it take to install Millboard decking?
When it comes to installation,  millboard has designed its product to be as straightforward to install as possible. The materials are lightweight, making them easy to handle and move to the job site. Despite being a specialty product, no special tools or equipment are required. Hidden fasteners or specialty installation clips that are fiddly and time-consuming are not required.

Stainless steel screws fasten the boards in place without the need for pre-drilling, which helps save even more time. Simply install the screw and the Lastane covering will self-close  over the screw to leave a smooth, blemish free surface.
That said, exactly how long your deck takes to put in place will come down to how large it is and how complex your design is. If you have more intricate details like fascia, inlaid designs, or stairs and levels, the installation will take longer to complete. Projects typically take 5 or more days from start to completion.
What are the Millboard warranties in Sydney?
When it comes to this product, you can expect it to last. Millboard decking  products come with a manufacturer's warranty that covers the boards from defects for up to 25 years. Professional installation and appropriate care can help your deck last even longer.
Aside from what the manufacturer offers, make sure you choose an installer that backs their work with a satisfaction or workmanship warranty, too. This can help you feel even more confident that your deck is in place to last.
How do you clean millboard decking?
Millboard is a premium composite decking board.The attractiveness of Millboard decking, as well as its looks, is how little time you have to spend to keep it looking great. Its specially formulated Lastane surface has specially designed to resist food and drink stains, as well as being highly resistant to scratching from everyday family life.
Follow these tips to keep your deck looking fresh and pristine.
Take care when moving objects like chairs and tables across your deck.

Dirt and dust can build over time. Simply wash it off with soapy water and a broom, and then hose it down.

Spills like wine and soft drinks should be washed off as soon as you can.

Animal droppings should be washed off as soon as practicable.

Stubborn marks can be removed with a little household bleach mixed with water. Always test in a small unobtrusive area first and then wash off with lots of water.
And that's all there is to it. 
How much does millboard decking cost?
Millboard is a premium composite decking board. Expect to pay a premium price of between $330 and $360 a square metre for this high-quality, unique decking board. 
Don't forget to consider the substructure and installation cost when looking at your options. 
Our team has a wealth of experience with a wide range of decking products that are suitable for the Australian climate and landscape. If you have any questions or would like some advice on board suitability for your project, Call us on 0413 185 735 today and one of our team will only be too happy to answer your questions.
Your first step is to decide on the style of decking board that best suits your style of home and its environment. Millboard decking products are one of the few boards that provide you with 2 different styles of board that you can perfectly match to your project.

Some other considerations.
When you are considering the budget for your project, Keep in mind that the figures that have been mentioned are estimates only. A lot of variables go into pricing decks out accurately, from the size of the deck, board sizes and finishes, the slope of the land, whether or not steps are required, deck lights, and so on. To budget accurately, look for a provider that specializes in millboard and request a personalised quote.
Superior to timber as far as durability and maintenance (as we mentioned above), millboard can also be superior to plastic-based decks when it comes to design. Many homeowners are drawn to millboard decking because of the wood-look design and grain not available with other composites.
Why Choose Urban Arch Building
Urban Arch provides only the best materials and service for your project.. We truly care about our customers and enjoy collaborating on custom projects that meet our clients' goals and budgets. All our work is backed with an 8-year warranty so that you can be assured of the quality of our work for you.
Does millboard decking get scratched by furniture or foot traffic?
This is a great advantage of Millboard decking material – it's virtually scratch-resistant. The boards come with a tough Lastane layer that is highly scratch resistant as well as naturally antibrasive. It's the perfect solution for commercial or residential areas that experience high use.
The tough Lastane layer covering the top of the board also makes millboard decking virtually impervious to stains and spills.
Does Millboard decking really require zero maintenance?
Millboard is zero maintenance, apart from the odd scrubbing and hosing down. Because millboard decking boards contain no timber or plastic, they are not porous (don't absorb water or moisture making them more stable than traditional decking or other composites).
Spilled drinks, dropped food and muddy footprints or paw prints won't penetrate the surface and can be just washed off.
See the cleaning hints above for more details. 
How is Millboard attached?
The Millboard company has carried out extensive trials to find the best, long lasting method of fixing the boards to the substructure.  Durafix® stainless steel screws have been designed
specifically for the millboard range of materials. There's no need to pre-drill or countersink Millboard and the unique Lastane® material self-heals, so that the screws are virtually invisible, leaving a smooth and seamless finish on the top of the boards.
Can Millboard materials be used in other applications?
Yes. Millboard products are one of the most versatile of all the composite materials available in Australia. It can be used for steps, vertical and horizontal cladding of homes and business areas, (inside and outside), ceilings, walkways, balconies, planter boxes, and much more.
If you have an idea you would like to explore, call us on 0413 185 735 for more information and one of our experienced team will be able to talk it through with you.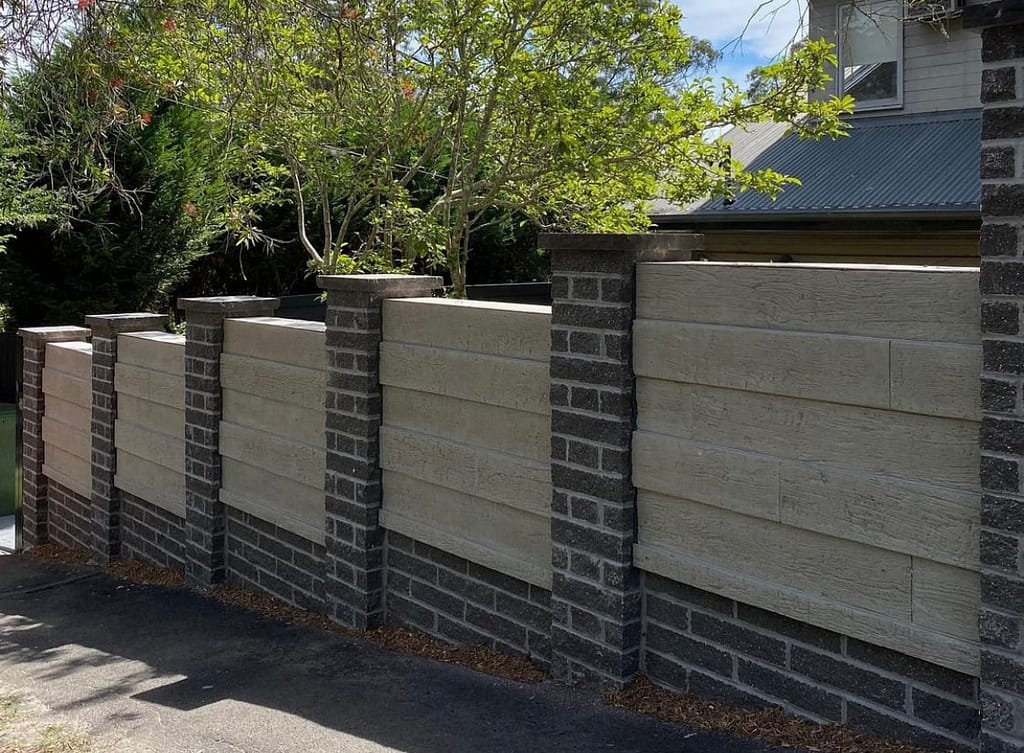 Is this type of deck fire rated?
Yes. Millboard has a rating of BAL19 for Australian Standards. That said, you'll want to take all safety precautions (just as with any other deck) and be sure to remove any embers if they touch the surface. Also, be sure to follow all local regulations for outdoor kitchens or patio heaters.
Why Choose Urbanarch Building

Quality
We understand you are investing your hard-earned funds - so we invest our skill, patience, and energy to deliver your finished vision using quality materials - not second-hand or auction sourced.

On-Time & Within Budget
We arrive on time, and we will stick to the budget agreed upon. You'll receive a schedule of work, explaining the workflow and schedule for your project.

Attention to Detail
We do the job the way it is supposed to be done - no shortcuts and we pay attention to the small details - every single time!

Family Owned
We are a locally and family-owned business. That means, we know exactly what every home and business owner deserves.

Custom Design
We offer a custom design and if you want something a little or a lot different - we can help you out.

We Genuinely Care
We genuinely care and we are committed to our clients with exceptional levels of customer care.

Responsive
We are fast and responsive. If you ring us, we will answer you straight away.

Customer-Focused
You are our client - we will always look after you.
Benefits Of Choosing

UrbanArch Building


Excellent Local Reputation
Exquisite Timber Products

On-Time, Within-Budget Project Completion

Professional and affordable price. Would be happy to recommend to others.
Very professional and helpful.
"I have just had my deck replaced with Trex. I used your website and contacted 3 of your recommended installers...."
Tony was very professional. The Urbanarch team has completed very top quality work on our deck.
Tony was fantastic through the whole quote process, he communicated well at all times.
Professional and willing to listen to what is wanted.
"Urban Arch was the best company to deal with. Communication from the start was excellent. From the first visit, through to completion of the job. Tony's boys working on the job were great. Happy to give references to anyone considering..."
"Thanks so much tony. Can I just take this opportunity to thank you for the way you and your team approach the work you do. It's the little things that shows the value we are receiving."
"I Just wanted to say a big thank you for the work completed over the past 2 weeks. We are so happy with the final outcome and the service that we have received from Urban Arch Building. From start to finish, the process has been easy and stress free. We are so happy with the final outcome and the quality of work. The guys did a fantastic job and went above and beyond our expectations. I will be recommending you to every one I know. Thank you for your attention to detail and bringing our vison to life. We are so grateful."