Your Millboard Deck Experts
Do you want a beautiful deck without the maintenance and costs of using natural timber? Look no further than millboard decking. 
A Millboard deck is the perfect solution for residential and commercial properties across Sydney. Our customers agree that top-quality composite material products, like Millboard, perfectly mimic the appearance of timber – right down to the wood grain – so it's near impossible to tell the difference.
Combining the aesthetic appeal of timber with the benefits of composite decking, millboard decking is rising in popularity in NSW homes. Not only are millboard decking boards long-lasting and resistant to termites, but they're also environmentally friendly. Oh, and (our favourite bit) no painful splinters when you venture outside without footwear!
The UrbanArch Building catalogue includes a wide variety of Millboard composite decking options for a wide range of projects in Sydney. Our Millboard decking Sydney experts provide custom design services with extensive attention to detail to integrate your decking with your home, garden, or poolside needs.
Kickstart your decking project in 2023 with the UrbanArch Millboard decking solutions.
What makes Millboard decking different from other materials?
Think all decking boards are timber? Think again.
While any number of options can provide a sturdy surface, the materials they're made of will set them apart from one another and fast. Many homeowners are drawn to the look (and comparably lower prices) of hardwood with rich wood grains and various stains that can add plenty of design appeal. The weather can be tricky, though, especially in your outdoor living space. Keep your deck looking beautiful with our high-quality Composite Decking.
A Millboard composite deck board is one of Australia's most unique and true-to-life decking boards. Its unique patterning and attention given to even the smallest detail from a dedicated team of craftsmen make it one of the most realistic and beautiful boards available for your home project.
Want to learn more about how a millboard deck stands out from conventional composite decking materials? You can watch a quick video here.
What are Millboard deck boards made from?
Millboard decking is a  composite material made from wood-free polyurethane combined with mineral stone flour, commonly known as resin mineral composite (RMC). The result is a composite decking woo-look without the maintenance and inevitable replacement that comes with traditional timber. After all, timber exposed to the elements is bound to wear down even with frequent cleaning, sealing, and termite protection.
A high-tech ultraviolet inhibitor is added to the Millboard product range to slow down any fat caused by the harsh environmental conditions experienced in Australia. Unlike traditional timber, glass fibres are also enclosed in the core to help provide the board with exceptional strength and durability.
And remember – with a Millboard, no sanding, acid washing, oiling, or refinishing is needed – it is a composite material. Still, Millboard decking is more eco-friendly than many other core and cap materials. That's because it's made with reclaimed and recycled materials. Rather than a wood or sawdust-pressed core, millboard decking boards repurpose polyurethane materials, keeping the materials out of landfills.
Polyurethane is a material that is as durable as timber but without the possibility of damage by termites or water. Because it is seamless, water resistant, and contains no wood at all, the boards don't attract moisture. The absence of wood fibres also means it contains no tannins, so it is not liable to leaching and fading. Millboard deck boards are the perfect material for outdoor use all year round.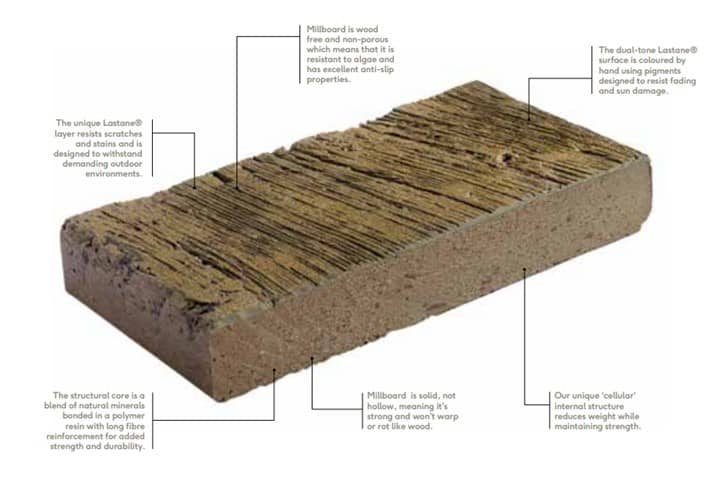 The outer cap, or finish, also offers a lot of detail with moulded lastane that is coloured and etched (or pressed) to create real-look wood grain. It looks like timber, and the surface adds traction (preventing pool-side slips, for example).
Millboard decking is one of the best products to use around your pool. Not only does it look fabulous – but as a safety feature when people are running around enjoying the pool, its anti-slip properties provide exceptional peace of mind.
A Millboard deck board is probably the most natural-looking composite deck board available on the Australian market, and it looks nothing like plastic. Each board is hand finished by a master craftsman to provide an authentic wood finish so that no two boards are identical. In addition to the fantastic range of available colours, you have the perfect decking to complement your pool, outdoor, or entertaining area.
The resulting true-to-life colours and tones in each deck board show how committed the company is to its products and clients. If you are looking for a low-maintenance, natural timber-looking composite deck board that will stand out in any neighbourhood  – you can't go past the millboard composite decking range.
The Advantages of Installing a Millboard deck
What are the types of Millboard deck boards available?

An example of the Enhanced Grain textured finish in Brushed Basalt

Millboard Enhanced Grain deck boards
Millboard Enhanced grain is moulded from planed timber for a textured, slip-resistant look and feel. This type of millboard composite decking showcases the subtle nuances that only natural timber can give. Each of the 5 shades displays the beautiful grain that you would expect to see in a piece of beautiful natural timber.
The boards are manufactured to provide a visually stunning effect, not only through the colours and texture but also because of their size which makes them a  real standout. 
The size of enhanced grain boards is 176 mm wide x 3600 mm long and 32mm thick.
Millboard Weathered Oak deck boards
The Millboard Weathered Oak collection is moulded from 100-year-old reclaimed weathered oak timber. It has a soft, lived-in feel and partners beautifully with other natural materials like stone and wood. The composite decking board is available in Driftwood and Vintage colours. Read a little of the fascinating backstory here.
The size of millboard weathered oak boards is 200 mm wide x 3600 mm long and 32 mm thick.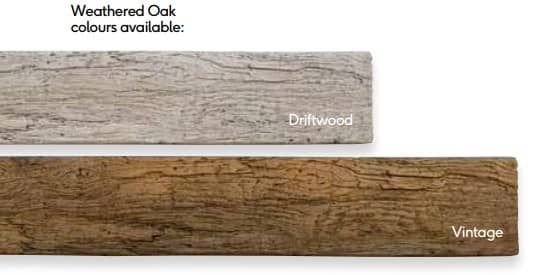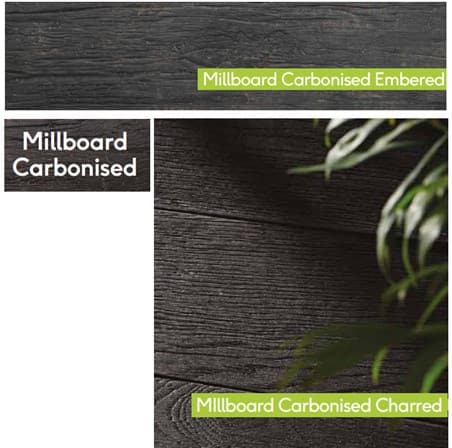 The boards are available in 2 different sizes.
The emberred board is 200 mm wide x 3600 mm long x 32 mm thick.
The charred board is 176 mm wide x 3600 mm long x 32 mm thick.
Millboard Carbonised emberred and charred deck boards.
Millboard carbonised decking perfectly complements the modern Australian contemporary feel and vibe that is becoming increasingly popular in decking styles. You can mix and match rough and smooth textures with a matt or glossy finish to achieve that stunning look that will set your entertaining space apart from all the others.
Millboard carbonised deck boards are inspired by the traditional Japanese Shou Sugi Ban technique, where the surface of the timber is carefully burnt to create a stunning, permanent finish that is completely outstanding and unique.
Millboard carbonised decking perfectly complements the modern Australian contemporary feel and vibe that is becoming increasingly popular in decking styles. You can mix and match rough and smooth textures with a matt or glossy finish to achieve that stunning look that will set your entertaining space apart from all the others.
These boards look fabulous as a wall feature or facade and are super practical and stunning for any deck in Sydney. deck 
Benefits Of Choosing
UrbanArch Building


Excellent Local Reputation
Exquisite Timber Products

On-Time, Within-Budget Project Completion

Professional and affordable price. Would be happy to recommend to others.
Very professional and helpful.
"I have just had my deck replaced with Trex. I used your website and contacted 3 of your recommended installers...."
Tony was very professional. The Urbanarch team has completed very top quality work on our deck.
Tony was fantastic through the whole quote process, he communicated well at all times.
Professional and willing to listen to what is wanted.
"Urban Arch was the best company to deal with. Communication from the start was excellent. From the first visit, through to completion of the job. Tony's boys working on the job were great. Happy to give references to anyone considering..."
"Thanks so much tony. Can I just take this opportunity to thank you for the way you and your team approach the work you do. It's the little things that shows the value we are receiving."
"I Just wanted to say a big thank you for the work completed over the past 2 weeks. We are so happy with the final outcome and the service that we have received from Urban Arch Building. From start to finish, the process has been easy and stress free. We are so happy with the final outcome and the quality of work. The guys did a fantastic job and went above and beyond our expectations. I will be recommending you to every one I know. Thank you for your attention to detail and bringing our vison to life. We are so grateful."